Thick sunshine and way-warm temperatures this late-afternoon Friday here in California's Central Valley — first time in a while a 'T-shirt' day and strong indicators of a hot, blistering summer coming quickly.
We're forecast for maybe some mid-90s temps this weekend and into next week.
As such, let's set aside a highly deplorable T-Rump and his nasty 'basket of deplorables' for a bit, and focus on our weather. An extreme weather situation already with worse to come as climate change makes its mark on our only natural habitat.
This year is festering up to be a hot one, especially with an El Niño forming in the Pacific Ocean. Warm water and hot, dry air — a composition of global warming.
Some info via NASA this morning:
The most recent sea level data from the U.S.-European satellite Sentinel-6 Michael Freilich indicates early signs of a developing El Niño across the equatorial Pacific Ocean. The data shows Kelvin waves – which are roughly 2 to 4 inches (5 to 10 centimeters) high at the ocean surface and hundreds of miles wide – moving from west to east along the equator toward the west coast of South America.

[…]

"We'll be watching this El Niño like a hawk," said Josh Willis, Sentinel-6 Michael Freilich project scientist at NASA's Jet Propulsion Laboratory in Southern California. "If it's a big one, the globe will see record warming, but here in the Southwest U.S. we could be looking at another wet winter, right on the heels of the soaking we got last winter."
Shit starts now in my neck of the woods:
New Weather West post this PM on upcoming (prolonged?) warming trend across CA and active mountain thunderstorm pattern due to (extreme) high pressure blocking pattern developing over Western Canada. Quite an unusual setup for May… #CAwx #CAwater https://t.co/MZF31lKFjF

— Daniel Swain (@Weather_West) May 12, 2023
Our weather will gather heat from Canada — snip from Daniel Swain's Weather West blog post today:
The upcoming significant and fairly prolonged warming trend in California is actually going to be a pretty strange one by mid-spring standards. The ridge isn't going to be centered over CA, or to the southeast of CA–instead, an extreme blocking ridge is expected to set up residence over Western Canada, inducing anomalous southeasterly flow over California and bringing a warm (and somewhat moist and unstable) period. The extraordinary ridge over British Columbia and Alberta will likely break many May monthly and spring seasonal 500mb GPH and surface temperature records, and will very likely further exacerbate the already serious forest fire situation that has unfolded in that region in recent days. This setup does seem eerily familiar–it's rather strikingly similar, from a synoptic meteorology perspective, to the June 2021 pattern that brought record-shattering heat and extreme societal impacts to the Pacific Northwest (and became the single deadliest weather event in Canadian history)
And to add to the heat woes, all-weather measures seem to indicate a vibrant El Niño event coming together by September. Warm rain and warmer temperatures — Swain's analysis:
El Niño continues to rapidly develop, and now essentially every observed oceanic and atmospheric indicator is consistent with predictive model forecasts showing a very high likelihood of El Niño thresholds being exceeded by autumn. In fact, there is now officially a >50% chance of a strong El Niño event by late autumn–and I personally suspect the odds are even higher than that. The high prospects of a strong ENSO event, in particular, are what give some indication this event is likely to exert a significant influence on CA weather by late summer or autumn and continuing into winter. I'll discuss the details more later, but suffice it to say for now that everything currently appears to be on track for a major event.
Details on that El Niño system via LiveScience this morning:
The chance of the ocean-warming event known as El Niño hitting this year is now over 90%. It will likely begin in the coming months, and there is a good chance it will persist into 2024 and have a widespread impact, experts have warned.

El Niño, which means "the little boy" in Spanish, is a major climatic event caused by changes to ocean currents in the Pacific Ocean. This heating event is strong enough to trigger major changes in global weather patterns and seriously impact marine ecosystems, especially combined with the effects of human-caused climate change. El Niño, along with its counterpart La Niña, or "the little girl" — a cooling event triggered by changes to the same ocean current system — make up the El Niño-Southern Oscillation (ENSO) cycle.

[…]

It's unclear exactly how strong this El Niño will become, but NOAA's predictions suggest there is an 80% chance of at least a moderate El Niño, where sea surface temperatures will rise by 1.8 degrees Fahrenheit (1 degree Celsius), and a 55% chance of a strong El Niño, where temperatures will rise by 2.7 F (1.5 C).

Experts are also concerned that recent high sea surface temperatures will make the upcoming El Niño worse. In early April, the average global sea surface temperature was the highest in recorded history.
Further, per Inertia, also this morning:
The short version: NOAA now expects El Niñ0 to develop within the next 90 days ("during the May-July season") and last into the winter. It could all kick off as early as this month with the potential for a "significant" El Niño on the horizon and at least a weak El Niño late in the year (November-January). They are projecting an 80 percent chance of at least a moderate El Niño and around 55 percent likelihood it will be a strong event. The chance none of this materializes at all is still between five and 10 percent, however, leaving the door open for a quiet remainder of the year. But with the odds in favor of something materializing within the next few months and even weeks, NOAA says there's more than 90 percent likelihood El Niño persists into the Northern Hemisphere winter.

This is a significant change from their last update a month ago, which told us things would shape up by August.

"We're due one," NOAA's Dr. Mike McPhaden said in April. "However, the magnitude of the predicted El Niños shows a very large spread, everything from blockbuster to wimp."

How did they come to these predictions? Well, an El Niño is declared when sea-surface temperates in specific parts of the Pacific Ocean are at least .5 degrees Celsius higher than average for at least a month and can be expected to persist for several more months. Naturally, the atmosphere is impacted when this happens, creating the final piece of the puzzle for an El Niño. If those ocean temps are higher than normal without the expected impact on the atmosphere, there is no El Niño. The water has, in fact, been warm near this strip along the equator recently, meaning the first parts of the equation are currently at work. And several meteorologists have reportedly pointed out that the current sea-surface temperatures are trending warmer than the same periods in 1997 and 1982, which were both strong El Niño years.

Now we wait another month for NOAA's next round of monthly updates. Then again, we could already be in full El Niño swing by that point.
And we'll be up to our sunburned eyeballs in triple-digit temperatures.
Black-n-white into El Niño colors:
Weatherwise, or not, yet here we are once again…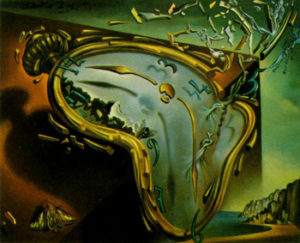 (Illustration out front: Salvador Dali's 'Soft Watch at the Moment of First Explosion,' found here.)