Bright and hot as shit a bit after the noon hour Sunday here in California's Central Valley — similar situation for at least the next 10 days as we are set to experience a pre-summer, summer boil time. Out in the backyard just a few minutes ago doing a B&M ('Sweet,' wood tip) and the air was thick as a shiny, red brick, way-uncomfortable, too, with the ambiance in the miserable zone.
Last week, NWS forecasted maybe 100 degrees for today, but since then had scaled it down somewhat to just the high 90s, which made me feel a shitload better — right now we're at 84 degrees, reportedly on our way to a supposed high of 96. We're currently under a Heat Advisory until 8 PM tomorrow.
However, we're in heat country already, though freaking early, and we expect the weather to get boiling hot as per the region as normal, a heat dome (or maybe not a certifiable 'heat dome') over Canada has made the US Northwest's weather once again abnormally hot out of the box — via Yahoo! earlier this morning:
Washington state began seeing record-breaking temperatures at the start of the weekend. On Sunday, Seattle could reach 90 degrees for the first time this year, which would also break the daily record high of 88 degrees. Highs in Portland and Medford, Oregon, could also break records before the weekend is through.

These temperatures are coming well in advance — more than a month — ahead of when they usually start creeping up.

The region, known for its typically cool and rainy climate, has been experiencing more uncharacteristic heat waves and wildfires in recent years.

The temperatures could raise the risk of heat-related illness, especially as the majority of households in the region are not equipped with central air conditioning.

High temperatures are cranking up even more further down the coast. Fresno, California, is forecast to be approaching 100 degrees on Sunday, with high temperatures of 95 degrees to 100 degrees for at least the next five days.

About 12 million people are under heat advisories along the West Coast.
Fresno is about an hour south of my location. Despite the high temps, supposedly this 'heat dome' is not a real one in a scientific sense, and record-making heat:
On the frozen edges of Hudson Bay, something remarkable just happened.

A weather station smashed its monthly heat record by nearly 7°C. Even in a warming world, this magnitude of record-break is enormous.

A short THREAD… pic.twitter.com/EBQGmyBJWQ

— Scott Duncan (@ScottDuncanWX) May 14, 2023
Background on the Canada topic from CBC News yesterday:
With temperatures soaring to more than 30 C in parts of the province this weekend, some B.C. residents may be wondering why they're not hearing the term "heat dome" as they did in 2021.

That year, temperatures broke records across B.C., and the heat caused hundreds of deaths.

Armel Castellan, a warning preparedness meteorologist with Environment and Climate Change Canada, says a heat dome is a generic term that denotes a heat wave and a high-pressure ridge.

Castellan says although temperature records will likely be broken this weekend, some key factors differ from the conditions that year.

"[This heat wave] does not have the potential to reach the same extremes we saw in June 2021 when we saw 25 degrees above seasonal temperatures," Castellan said during a technical briefing earlier this week.

"We're not looking at the same animal in that sense."

During a heat dome, a high-pressure system works to trap high temperatures near the Earth's surface. The heat rises and then gets pushed back down, like a convection oven.

The high temperatures in B.C. this weekend won't be trapped the same way and, most importantly, it will cool overnight and offer some relief. Castellan says longer nights at this time of year means more of those cooler temperatures than in June.

[…]

Jalena Bennett, a weather expert with the University of British Columbia's Weather Forecast Research Team, says this weekend's heat wave doesn't have the same atmospheric conditions as the heat dome of 2021.

A stationary ridge over Vancouver and a trough of low pressure to the east and the west are also present this weekend, Bennett said, but during the heat dome of 2021 the one to the west was further south and blew in more hot air.

The other aspect of the heat dome in 2021 was its duration: more than a week. This heat wave, on the other hand, should be over by Tuesday.

Bennett says it's not clear exactly how high temperatures will rise in B.C., and she adds that there may be pockets of extreme heat like there was in Lytton in 2021.

"It's definitely going to be hot," she said.
Duh! And what's worse, climate change is making shit like this more pronounced and will continue to get worse. Even if there's no real 'dome' this time, it's the look of the future.
An overview via Scientific American last Friday:
Though no specific study of the role of climate change in the upcoming event yet exists, it is clear that summers everywhere are heating up. Any heat wave that happens now can be expected to be warmer than it would have been in decades past. Summer is also increasingly expanding its reach while winter's realm is simultaneously shrinking: A 2021 study found that over the entire Northern Hemisphere, meteorologic summer increased from 78 days in 1952 to 95 days by 2011. And the Pacific Northwest has seen clear trends in hotter summers. The average summer temperature in both Portland and Seattle is now about three degrees F warmer than it was in 1970, according to an analysis of climate records by Climate Central, a nonprofit climate research organization. The region is experiencing more days above 90 degrees—which is the threshold for extreme heat in that mild climate—and will expect to see those days coming steadily earlier in the season, O'Neill says. "What would once be considered a nice warm spring day can now rise above that 90-degree mark," he adds.
O'Neill mentioned above is Larry O'Neill, a climate scientist at Oregon State University and director of Oregon Climate Services. Although climate change influenced the heat dome in 2021, it '"still came up as a highly, highly unusual event,"' And the future will hold more and more of these kinds of horrifying and extreme events.
And to weather this environment out, some corresponding Enigma music:
Dome of heat, or not, yet once again here we are…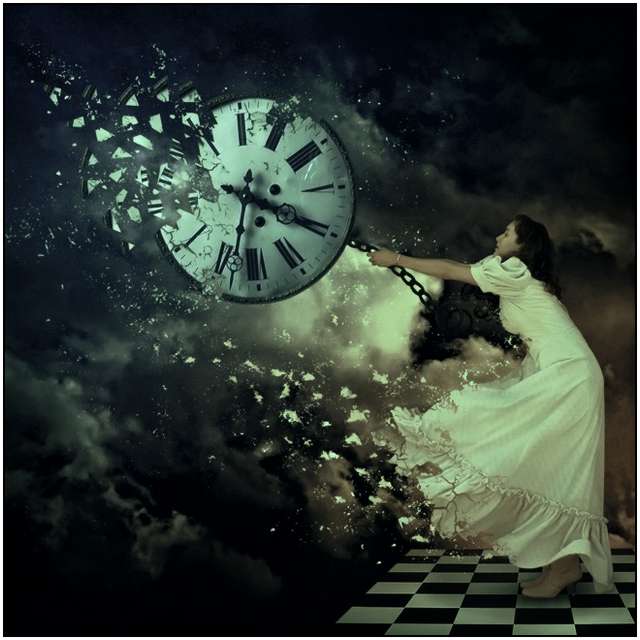 (Illustration out front: 'A Break in Reality,' by Xetobyte, found here.)