(Sketch-image of T-Rump in court by Jane Rosenberg/Reuters, and found here.)
Although scenes today of the T-Rump entourage in Miami appeared at first look as normal, low key and, maybe, a bit bland, but in reality the scene was surreal as shit. One of the most despised, despicable, dipshit assholes on the planet took a quick, awkward first step in hopefully on a path to a jail cell.
I didn't TV the whole movable carnival, just viewed clips via tweets or posted on blogs/news sites, but the slowness of the proceeding seemed out-of-touch weird — odd-ass shit in slow motion. And T-Rump scowling, acting the whiny bitch played into the scenes of the shitheel climbing into SUVs, lumbering on sidewalks to court, posing the victim in a witch hunt while it registered on the brain this horrifying piece-of-shit could be elected president again.
However, despite the call by the T-Rump, the big MAGA protest sucked.
Authentic nutcases showed up instead (Daily Beast): 'But if protesters sought to show unity and organization, what they accomplished was a disorganized display of MAGA spectacles, flaunting a pig's head on a pike and getting the street shut down over an abandoned television.'
In the case itself, T-Rump pleaded not guilty to those 37 criminal charges relating to his asshole misuse of official classified documents he had packed up and taken with him after he was vote-booted from the White House. He was booked (arrested) and escorted into a 13th-floor courtroom at the Wilkie D. Ferguson Jr. U.S. Courthouse in downtown Miami.
He had the appearance of an asshole out of his element (The New York Times): 'Mr. Trump's body language in the courtroom suggested he understood the gravity of the situation. A former president who thrives on being in control seemed uncomfortable with having so little as a defendant.'
And talk about being in control:
Guy outside courthouse says people mock Trump supporters, but "we're the educated ones." "Everyone's on board keeping up with the knowledge, more & more people are doing the research. With the help of Bannon – you guys are educating us." pic.twitter.com/ORKggWtAXr

— Ron Filipkowski (@RonFilipkowski) June 14, 2023
How does parody/satire//or just plain ridicule sound? Educated? T-Rump has always been the opposite, carrying a great love for "the poorly educated,"  and plus, as I noted yesterday, GOPers don't like to read.
Another 'educated' T-Rumper:
Future NSA staffer https://t.co/lsg01OohcF

— Charlie Sykes (@SykesCharlie) June 13, 2023
Despite the courtroom horror bullshit, T-Rump displayed his knack for showcasing after the legal shit — via the Associated Press late this afternoon:
Then the former president and 2024 candidate had a detour in mind, to a popular Cuban restaurant where he was all smiles, greeted by supporters, prayed over by a rabbi and shadowed by his personal aide, who also has been charged in the case.

Trump has long been adroit at creating his own portrait of events, and the restaurant stop was an effort at counter-programming as he campaigns again for president and maintains that he has been unfairly targeted by political rivals.

The international attention and screaming crowds were another sign of the extraordinary nature of the day's events and the person at the center of it all. A defendant like no other, Trump was the first former president to appear before a federal judge on criminal charges. He also is leading the Republican field for the 2024 presidential nomination, holding his status as frontrunner even as he has faced other these and other legal troubles.

Hardly any of those gathered in Miami interacted with Trump, if they saw him at all through the window of his SUV. He arrived as part of a motorcade that entered the courthouse garage for his hearing on felony charges. The former president also left in the SUV with the windows rolled up before heading to Versailles, a restaurant, coffee shop and bakery that is a required stop for politicians visiting Miami. There, the crowd serenaded him with the "Happy Birthday" song, one day before the former president's 77th birthday.
Surreal in a frightful, disturbing way.
And what a way to close-out this shit:
Jail cell to come, or not, yet here we are once again…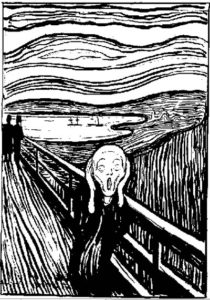 (Illustration out front: Edvard Munch's 'The Scream,' lithograph version, found here.)