Bright, shiny sunshine with thick, warm air this late-afternoon Saturday here in California's Central Valley — although a bit chilly earlier this morning, right now we're in the mid-80s on e summer-infused environmental road to triple digits supposedly to be plaguing us by the end of next week.
Finally, the season is coming to a boil.
While we await the next installment of the shitstorm-of-a dust-up between Vlad Putin and Yevgeniy Prigozhin (Wagner guys are returning back to camp, Prigozhin reportedly bound for Belarus), let's ponder for a minute or two another climate-change red-flag warning/study out today and it's all about the heat. This one focused on hit water in the northern Atlantic and the situation considered by scientists as "beyond extreme."
Meanwhile, and on the subject of being blisteringly hot, a note contextually is the ongoing massive heatwave in Texas (The New York Times): '"It feels like you stuck your head in an oven," said Tom Decker, a forecaster with the National Weather Service in San Angelo, Texas, describing what it has been like when he stepped outside this week. The temperature recorded at his forecast office tied its record of 111 degrees on Monday and shattered it again on Tuesday and Wednesday with readings of 114 each day.'
Yesterday, according to data, more than 33 million Americans experienced dangerous heat indexes (a measure of what the air feels like when considering both the air temperature and the humidity) and summer has just freaking started!
And that's the point:
We're talking about nearly a half billion fellow humans dealing with unprecedented heat https://t.co/fMrqKZojxN

— Bill McKibben (@billmckibben) June 24, 2023
Details via The Washington Post this afternoon:
The ocean waters surrounding the United Kingdom and much of Europe are baking in an unprecedented marine heat wave that scientists say is being intensified by human-caused climate change. Scientists are astounded not only by how much the waters have warmed during the past month but also how early in the year the heat wave is occurring. The warm waters are a threat to marine life and could worsen heat waves over land this summer, they say.

Sea surface temperatures are running as high as 5 degrees Celsius (9 degrees Fahrenheit) above normal, the warmest in more than 170 years, and are more typical of August and September when the waters are usually warmest. The event has registered as a Category 4 on the National Oceanic and Atmospheric Administration's marine heat wave scale with localized areas reaching Category 5, the two highest categories on the scale.

NOAA defines a marine heat wave as a period with persistent and unusually warm ocean temperatures, "which can have significant impacts on marine life as well as coastal communities and economies." The agency describes Category 4 as "extreme" and Category 5 as "beyond extreme."

Last month was the warmest May since 1850 for the Atlantic Ocean around the United Kingdom and the warmest compared to average for any month, the country's Met Office reported. And that was before water temperatures soared in early June, in part because of abundant sunshine and warm breezes from the southwest, Met Office meteorologist Aidan McGivern said in a video update Tuesday.
And it's not just a portion of the Atlantic — all over the world:
Global ocean surface temperatures reached a record high in May for the second consecutive month, NOAA said in a report last week, and appears to have continued on a record pace during June. The chance of seeing such warm sea surface temperatures is 1-in-256,000, said Brian McNoldy, a hurricane researcher at the University of Miami, adding "this is beyond extraordinary" in a recent tweet.
Another red-flag, short-range environmental warning in a study published last Thursday (the Guardian):
Ecological collapse is likely to start sooner than previously believed, according to a new study that models how tipping points can amplify and accelerate one another.

Based on these findings, the authors warn that more than a fifth of ecosystems worldwide, including the Amazon rainforest, are at risk of a catastrophic breakdown within a human lifetime.

"It could happen very soon," said Prof Simon Willcock of Rothamsted Research, who co-led the study. "We could realistically be the last generation to see the Amazon."
Climate change is the breath of humanity. Although it's severe and has been a long, long time, for some reason I didn't become aware of the way-magnitude of the problem until 2007 — an idiot, I know.
A sad, but thought-provoking look at how long the situation with our climate has been a concern check out Tom Sullivan's post at Digby's Hullabaloo, also from last Thursday.
Fuck! Even as far back as B&W TV in 1958!
We just might be in that up-shit-creek-without-that-paddle episode:
Hot yet, or not, but once again here we are…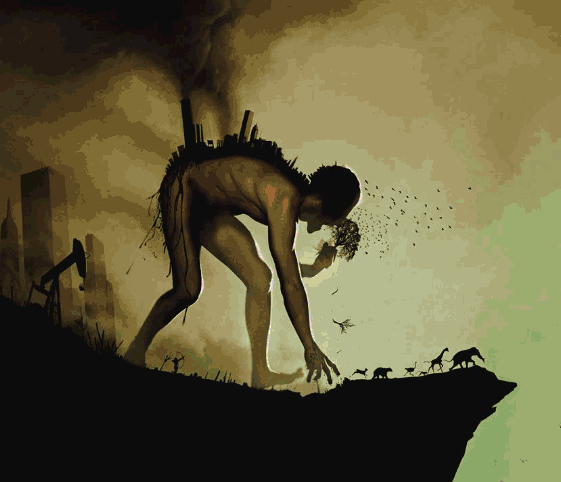 (Illustration out front found here.)