Sunshine and a cool, gentle breeze this late-afternoon Friday here in California's Central Valley — another weekend ahead with even more agreeable weather.
Summer is nice and soft, so far.
Beyond the terrible news dump today — the sad demise of the Titanic submersible (with even a Joe Biden conspiracy theory now somehow attached); wrapping up this week's ugly, childish antics of the House creepy MAGA 'bitch' feud; plus, immunity-for-testimony supposedly for 'fake electors' in DOJ Jan. 6 investigation; and other lesser-known events/people/places. The InterWebs are stocked with all kinds of news shit.
However, the most-important item might be a weird-ass flip from the Russian-Ukraine war hitting the cycle this morning of a coup/insurrection against Vlad Putin's power — via The New York Times live blog this afternoon:
Russian generals late on Friday accused Yevgeny V. Prigozhin, the outspoken mercenary tycoon, of trying to mount a coup against President Vladimir V. Putin, as the Russian authorities opened an investigation into Mr. Prigozhin for "organizing an armed rebellion."

The long-running feud between Mr. Prigozhin and the Russian military over the war in Ukraine has now escalated into an open confrontation, setting up the biggest challenge to Mr. Putin's authority since he launched his invasion of Ukraine 16 months ago.

[…]

Mick Mulroy, a retired C.I.A. officer and a former Pentagon official, said that Yevgeny Prigozhin poses "a serious challenge" to President Vladimir Putin. If Mr. Prigozhin's threats materialize, the Russian military may have to refocus its efforts from countering the Ukrainian advance to the Russian government's "self-preservation" "Even if this attempted coup fails, it emphatically makes the point that those closest to this war know it was a terrible mistake," Mulroy said.
And the heat is on:
De-Prigozhinisation has started https://t.co/rpblA4UEEI

— Pjotr Sauer (@PjotrSauer) June 24, 2023
Further contextual info per that same NYT link above:
Several Russian internet service providers are preventing users inside the country from accessing Google News after Russian generals accused a mercenary leader, Yevgeny V. Prigozhin, of attempting a coup.

At least five telecommunications companies — including Rostelecom, U-LAN and Telplus — have blocked Google News, which aggregates news from various sources, according to an analysis from NetBlocks, an internet observatory. Several other internet service providers have begun reducing access as well, according to the analysis.
And this from the Guardian's live blog:
It was a startling turn of events in Moscow – after more than two decades of rigidly controlled rule by Putin, the worst infighting spilled out in the open among his top lieutenants.

And it came as the war in Ukraine reached the 16-month mark and Kyiv's forces were probing Russian defences in the initial stages of a counteroffensive.

Kremlin spokesman Dmitry Peskov said Putin has been informed about the situation, adding that "all the necessary measures" were being taken.

Prigozhin, 62, insisted his actions were not "a military coup but a march of justice".

Prigozhin said his men would punish the military leaders who ordered the strike and said his troops would fire at any troops trying to stop them.

"The evil embodied by the country's military leadership must be stopped," he shouted in a recorded statement, adding that his forces weren't seeking to challenge Putin and other government structures.

Justice in the armed forces will be restored, and then justice will be restored in all of Russia.

The defence ministry denied it had attacked Prigozhin's troops. Then the national anti-terrorism committee, an arm of the Federal Security Service (FSB), announced the investigation against the outspoken millionaire and urged Wagner's own forces to arrest their boss.

Prigozhin's statement was a "stab in the back of the Russian troops", the FSB said, and amounted to fomenting armed conflict in Russia.
Despite nothing from the social media world:
this seems pretty key. we live in an age of ubiquitous cell phones and endless surveillance https://t.co/OahTGgoBLx

— Josh Marshall (@joshtpm) June 24, 2023
This a major, unfolding, situation, which can only help Ukraine — I hope.
Hope alive:
Go for it, Prig-a-ziod.
Putin amuck, or not, yet here we are once again…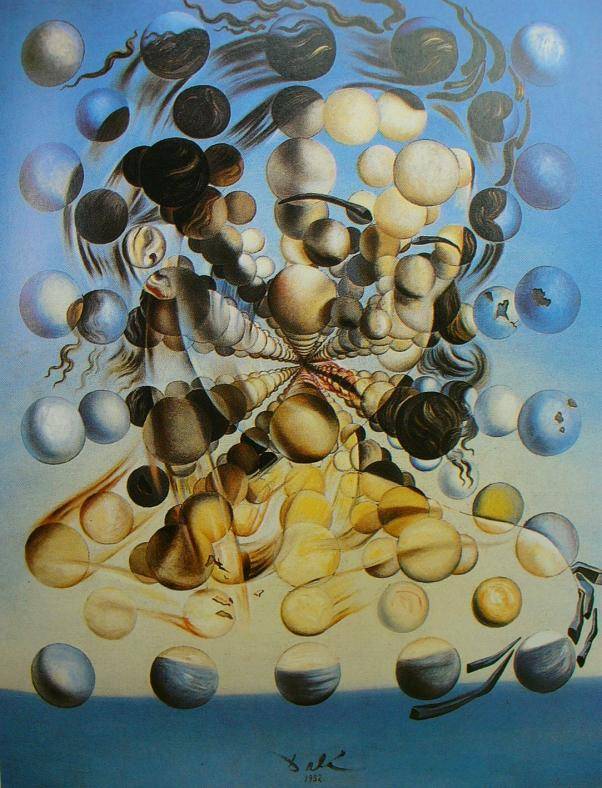 (Illustration out front: Salvador Dalí's 'Galatea of the Spheres,' found here.)