Overcast with an occasional slice of sunshine this near-noon Tuesday here in California's Central Valley — a last day or so of cool, wondrous weather until we run headfirst, smack-dab into a furnace environment by this weekend.
Despite the onrush of higher temperatures for our area, we're just following in behind the rest of the country, which has been sweltering under a "heat dome" for a while now.
Reportedly, about to get hot as shit around these parts:
Dangerous heat will impact most of the San Joaquin Valley and Coastal Range this Saturday, with high temperatures of 107-110 degrees possible. Much of the population is at major risk for heat-related illnesses. Please take precautions to stay safe in the heat this weekend. #cawx pic.twitter.com/MzbQyB1BEa

— NWS Hanford (@NWSHanford) June 27, 2023
Hot-ass details via The LA Times just a short while ago:
Much of California is expected to bake this weekend as the first major heat wave of the summer will send temperatures into the triple digits in several regions, stoking fears of wildfires sparked by Fourth of July festivities.

The incoming system will arrive in Southern California on Wednesday evening, and the mercury will begin to climb in earnest Thursday and into next week, the National Weather Service said. The hottest temperatures are expected across interior portions of the region Saturday and Sunday.

[…]

The sizzling conditions are the result of an upper-level ridge of high pressure building in the eastern Pacific, which is expected to warm portions of Northern and Central California as well.

The pressure "compresses the air and blocks it from getting out," said Rose Schoenfeld, a meteorologist with the National Weather Service in Oxnard. She noted that Saturday could break the Antelope Valley record of 109 degrees for that day.

[…]

"A similar phenomena causing the heat wave in Texas will cause heat in our area, but it's not the same weather system," said Schoenfeld, the NWS meteorologist in Oxnard.

She said California's incoming system is also not connected to El Niño, a climate pattern in the tropical Pacific that arrived earlier this month and is expected to strengthen through the end of the year. El Niño is associated with hotter temperatures across the globe.
So, in other words, this is not extraordinary in itself but just wait. As so Texas and most of the southern US know already:
The latest on the prolonged heat wave over the southern U.S. from us and @NWSCPC. Dangerous heat continues over TX, before building into neighboring states beginning Wednesday. Through next Monday, heat indices upwards of 120 degrees and little overnight relief can be expected. pic.twitter.com/3uzTVj7aX2

— NWS Weather Prediction Center (@NWSWPC) June 26, 2023
Update on a seemingly way-ongoing circumstance — from NBC News this morning:
Punishing heat is gripping Texas for a third straight week, with tens of millions of people in other states across the South also facing scorching conditions this week. It's a brutal heat wave that officials say "shows no signs of letting up."

Much of Texas continues to swelter under triple-digit temperatures, and heat records across the state have been smashed in what has been a blistering start to summer. Warnings and advisories for excessive heat are also in place across the Southwest and parts of New Mexico, Oklahoma, Arkansas, Louisiana, Mississippi, Alabama and Florida, according to the National Weather Service.

In an update Monday, the agency said the oppressive heat has been caused by a "stagnant upper-level ridge over the south-central U.S.," adding that the dome of high pressure is expanding and will blast heat over much of the southern band of the country in the coming days.

[…]

Studies have shown that climate change is making heat waves both more frequent and more intense, increasing the risks of heat-related illnesses and deaths, droughts and wildfires.

In addition to the heat records already set in Texas, forecasters say more could fall later this week as triple-digit temperatures are expected in parts of Missouri, Arkansas, Tennessee, Texas and Louisiana.

The weather service said Tuesday that temperatures are not expected to cool off much overnight, adding to the dangerously warm conditions in these regions.

Heat index temperatures — which represent what conditions feel like to the human body when humidity and air temperatures are combined — are forecast to be well into the triple digits over the next few days across the South, including index values of up to 110 F (43 C) in Little Rock, 111 F (44 C) in Houston and 117 F (47 C) in New Orleans.
And about that massive, asshole elephant in the room — climate change — via the Guardian, also this morning:
The record heatwave roiling parts of Texas, Louisiana and Mexico was made at least five times more likely due to human-caused climate change, scientists have found, marking the latest in a series of recent extreme "heat dome" events that have scorched various parts of the world.

[…]

The heating of the Earth's atmosphere and oceans by the burning of fossil fuels made the extreme heatwave at least five times more likely, according to a recent analysis by Climate Central, a climate science non-profit. The punishing heat, which is forecast to linger further throughout the week in Texas, is creating "stressful conditions for millions of people", according to Andrew Pershing, vice-president for science at Climate Central.

Speaking to the Guardian on Monday, Andrew Dessler, a climate scientist at Texas A&M University said the university's campus at College Station has had a string of days above 37C (100F), when it usually doesn't hit such peaks until August. "It's depressing to think we're not even in July and we are getting this sort of heat," he said. "When it's this hot you are a prisoner in your own house, you are a prisoner to air conditioning."

Dessler said that the southern part of Texas will probably have one of its hottest Junes ever recorded as it is most acutely affected by the heat dome that has its epicenter in Mexico – the Mexican cities of Monclova and Chihuahua have set all-time record temperatures of of 46C (115F) and 41C (107F), respectively.

This heat dome, one the strongest ever recorded, was formed by a high-pressure atmospheric system that created a sinking column of warming air that trapped latent heat already absorbed by the landscape, like a sort of lid. Such events typically occur without rain and are cloudless, allowing the sun to bake the surface unhindered, causing temperatures to spike.

"The heat evaporates water and then just heats up the land," said Dessler. "If you have this sort of high-pressure system sitting stationary over a region, you can have these really impressive heatwaves."

Heat domes have long existed in Texas, and elsewhere, and there is some conjecture among scientists as to whether or not climate change is causing more "blocking events" where patches of high pressure are held in place by alterations to a jet stream that normally pushes weather systems from west to east.

"But when these heat domes do happen, they are getting worse, that's for certain," said Michael Wehner, a climate and extreme weather expert at Lawrence Berkeley National Laboratory who estimated that the Texas heatwave was made around 2.7C (5F) hotter by human-caused global heating.
Again, the worse is yet to come.
And to close this 'dome' of a post — right-on vibes from 60 years ago:
Flop sweat, or not, once again here we are…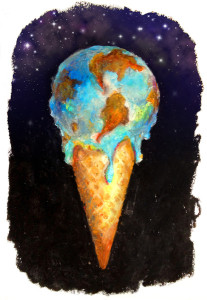 (Illustration out front found here.)