As the world continues to turn, T-Rump continues to shape-shift his way out of an actual recording of him blabbering about having classified documents — as presented yesterday via CNN — and today has seen him flip a desire to spin, pin reality into/onto an idiotic smoke and mirrors affair, except in this case, it's action coming from someone with a severe neuropsychiatric disorder.
Along with others of his mental ilk.
For instance — Sean Hannity on Fox last night tried like shit to block an obvious reality, and, of course, failed (The Washington Post):
"Fake news CNN has exclusively apparently obtained another audio recording used as evidence in Trump's document case," Hannity began. "It's kind of weird because there are virtually no leaks from Biden's document investigation, if there even really is one. It's almost as if we have a two-tiered system of justice, isn't it?"

[…]

"Now, while he did say, you know, this is stuff that he got from the military that would be highly confidential and secret and says at another point as president, I could have declassified it, now I couldn't," Hannity began. "But now, you know, it would still be a secret. That does not confirm for me whether or not specifically this document was declassified or not." And then, some additional skepticism: "Was that actually the real document or is it a story that he was telling?"
T-Rump himself was even shittier in a north-of-sanity CYA::
"I was talking and just holding up papers and talking about them, but I had no documents. I didn't have any documents." https://t.co/qVjmFkQHgr

— Molly Jong-fast (@MollyJongFast) June 28, 2023
Shelby Talcott at Semafor late this afternoon:
Former President Donald Trump insisted on Tuesday that he was not showing off classified documents in an audio clip first published by CNN in which he referred to "highly confidential" material and "secret information" that he could no longer declassify.

"I would say it was bravado, if you want to know the truth, it was bravado," Trump said in an interview aboard his plane with Semafor and ABC News. "I was talking and just holding up papers and talking about them, but I had no documents. I didn't have any documents."

The latest comments suggested a new potential legal argument from the former president: That he was overselling the material he was showing to an aide and people working on a biography of former chief of staff Mark Meadows in the recording, a transcript of which featured heavily in his recent federal indictment.

"I just held up a whole pile of — my desk is loaded up with papers. I have papers from 25 different things," he said, adding he kept relevant news articles about topics like Iran on hand.

At one point, Trump gestured to the seat next to him on the plane, where a stack of various papers — newspapers, copies of his speech, printouts of articles — sat. He grabbed some from the pile and placed them in front of him, moving them around as he spoke and offering up a physical reenactment of what he said was occurring on the audio tape.

Asked about his use of the word "plans" during a Fox News interview earlier Tuesday to describe some items he may have highlighted in the 2021 meeting, Trump insisted he was referring to "building plans" and plans for golf courses strewn about his desk.

"Did I use the word plans?" he said. "What I'm referring to is magazines, newspapers, plans of buildings. I had plans of buildings. You know, building plans? I had plans of a golf course."

Asked if he had any regrets about his handling of classified documents, Trump said he did not.

"No, I have no regrets," he said. "I didn't have a classified document. There was no classified document on my desk."

Asked whether the audio would affect whether he considers a plea deal, Trump said he was confident that the government's use of the Espionage Act to prosecute him would fail and repeated unverified accusations against President Biden before ending the interview.

"Frankly, that you even ask a question like that's a disgrace," he said. "So let's end it."
What a lying, whiny little asshole. Lying with an obvious lie.
All in the context of a dangerous, 'delusional psychopath' and whiny about it:
Delusional, of course, and a psychopath, too, yet here we are once again…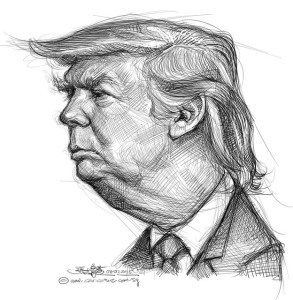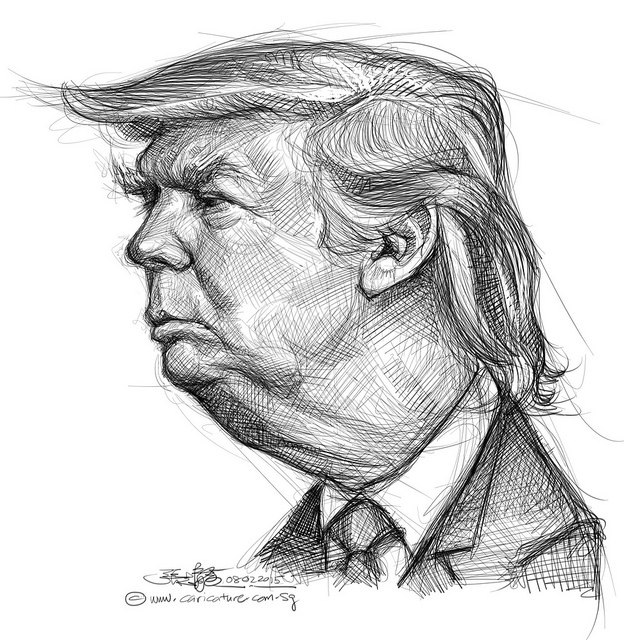 Image out front is my favorite of the T-Rump mugs, though, 'favorite' does not mean in any form or fashion, as in, 'my favorite movie,' or 'my favorite song.' It's more of an anti-appreciation/like.
And aptly titled, 'Basic Shapes,' by caricaturist/illustrator Chong Jit Leong (and found here), it's an image that displays the elemental form of a purloined sociopath — a bloated profile of flatulent bile and arrogant ignorance.