Sad note this Friday morning: One of my most-favorite entertainers/actors of all time, Alan Arkin, has died at 89.
He blew me away in "The Russians Are Coming, The Russians Are Coming," an odd, humane-funny, empathic flip during the height of the frightful, freaky Cold War — saw it on the big screen as a high school senior in 1966:
Arkin wasn't only just a funny guy, but commanded a wide range skill-set —  a bit unsettling to see him the next year trying to kill Audrey Hepburn in "Wait Until Dark," and I didn't then know if I really liked it or not:
Of course, now I see he was wonderful trying to kill Audrey Hepburn.
Did ANYONE have the range Alan Arkin had? Hilarious, sinister, insane, tragic. No mood he couldn't live in. RIP. pic.twitter.com/pUVa5j8Tqc

— Patton Oswalt (@pattonoswalt) June 30, 2023
Every project Arkin was in benefitted from his presence — from the obit this morning in The New York Times:
Mr. Arkin was not quite a show-business neophyte when he was cast in the 1963 Broadway comedy "Enter Laughing," Joseph Stein's adaptation of Carl Reiner's semi-autobiographical novel about a stage-struck boy from the Bronx. He had toured and recorded with the Tarriers, a folk music group, and he had appeared on Broadway with the Second City, the celebrated improvisational comedy troupe. But he was still a relative unknown.

He did not stay unknown for long.

[…]

"I never had any doubts about making it in movies," he told The Daily News a year later. "I just knew I had to, because there was no alternative."

His confidence proved justified. He was nominated for an Oscar for his first feature film, "The Russians Are Coming, the Russians Are Coming," an offbeat comedy about the hysteria that ensues when a Russian submarine runs aground on an island in Massachusetts. As the frantic leader of a landing party sent ashore to find a way to refloat the vessel, he earned a place in cinema history with a riotous scene in which he teaches his non-English-speaking crew to say "Emergency! Everybody to get from street!"

[…]

In "The Heart Is a Lonely Hunter" (1968), based on the novel by Carson McCullers, he played a deaf man drawn to help the disadvantaged in a racially divided Southern town. That performance earned him his second Oscar nomination.

It would be almost 40 years before his third nomination, and his only Oscar, for his portrayal of a crusty and heroin-habituated grandfather in the indie comedy "Little Miss Sunshine" (2006). His fourth and final nomination was for his role as a cynical movie producer in "Argo" (2012), Ben Affleck's based-on-a-true-story account of the made-in-Hollywood rescue of hostages in Iran.

The years between nominations were busy ones.
Although his huge-massive credit list would flourish, even into most-recent TV, with the likes of "The Kominsky Method," I don't think I'd actually seen anything of his since that wondrous, sad, weird little film, "Little Miss Sunshine" in 2006 (then only on DVD):
Sad at the passing. Just another reminder of death being part of life.
And as close out illustration, an old Linda Ronstadt heartfelt, mournful melody:
Russkies in old age, or not, here we are once again…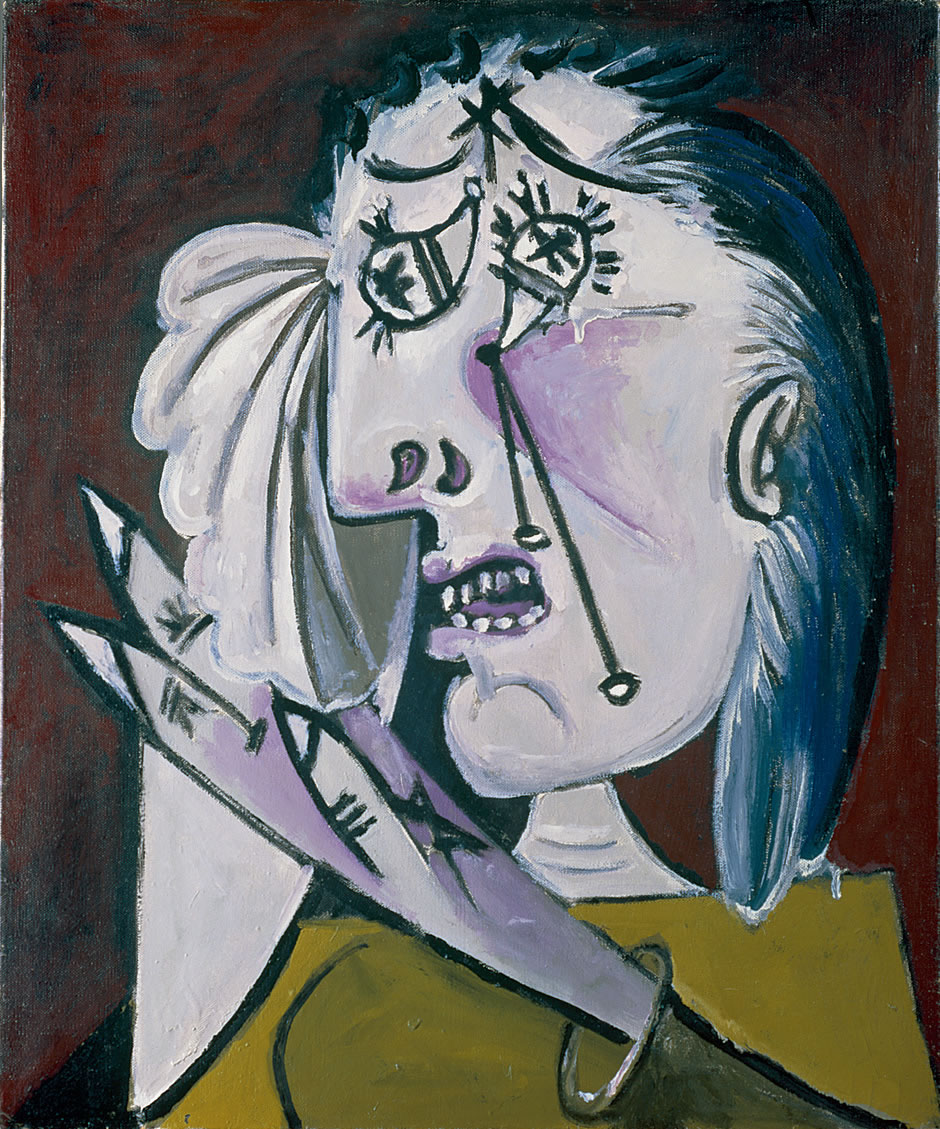 (Illustration out front: Pablo Picasso's 'The Weeping Woman [La Femme qui pleure],' found here)