Hot and getting hotter this noon Saturday in California's Central Valley — we're right now at 97-degrees with a wide-open, bright sunshine-filled afternoon ahead to reportedly maybe top out at 107 before the sun sets.
Despite trying hard, I didn't get put out early enough this morning to take a long walk (as normal) with Leroy as the heat was already deep and fierce by eight o'clock. Overpowering heat can cause shit to happen, so we called it after less than half an hour — if you're so inclined, read more about past Leroy walks here.
Meanwhile, far to the east and in the bowels of Pickens, South Carolina, a T-Rump rally is right now barfing bullshit to reportedly nearly 30,000 MAGA nit-twits foaming at the hate and cruelty spun from the hideous crowd of Republicans spawned for the moment.
And to loosen up the crowd for this shit, Marge T. Greene with reflections of the moment:
Marge brings up Pride Month and the Trump rally crowd erupts in boos. Then Marge says, "God fearing people here and everywhere know the rainbow belongs to God." pic.twitter.com/6KinCbW2uh

— Ron Filipkowski (@RonFilipkowski) July 1, 2023
This is not a new thing — Republicans are haters from way back and have just started getting crazy about it.
Via The Washington Post late this morning:
In Congress, Republicans proposed banning Pride flags at government buildings. At the Republican National Committee, some members revolted over a new LGBTQ+ outreach effort, which is now dormant. And on the campaign trail, Florida Gov. Ron DeSantis solicited donations by showing President Biden in front of a Pride flag. "When did we start accepting this as the norm?" one message asked.

During this year's Pride Month, many prominent Republicans have expressed criticism of celebrations and in some cases resurfaced opposition to same-sex marriage. LGBTQ+ issues are shaping the presidential race, as some candidates have repeatedly sought to emphasize their resistance to transgender athletes competing in women's sports, students learning about sexual orientation and gender identity in schools, and drag shows.

Their tactics are part of a broader upheaval in which GOP-led state legislatures have moved to pass a record surge of restrictions on gay and transgender rights and stores such as Target and Walmart have faced criticism from some on the right over their merchandise.

The attacks also coincide with signs of a shift in public opinion, with opposition to LGBTQ+ rights rising again, especially among Republicans, polling shows. Many conservative strategists and activists attribute the openly critical postures during Pride Month to a perception that the LGBTQ+ rights movement has gone too far, particularly with programming for children and public displays of Pride symbols.
Marge is blubbering to the choir.
Rainbow reality, or not, yet once again here we are…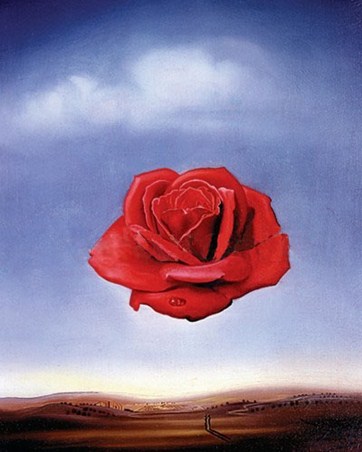 (Illustration out front: Salvador Dalí's 1958 painting, "Meditative Rose," and found here.)