Our own California guy: Gavin Newsom on Jen Psaki's MSNBC show this morning:
Newsom: You care about life and you have kids that are gunned down by weapons of war? All in the name of freedom, as you're banning books? pic.twitter.com/NxRFuS0Pel

— Acyn (@Acyn) July 9, 2023
On the idiocy of Republicans, especially Gregg Abbott, governor of Texas, and how red states are the worse, and MAGA heads are dumbasses (RealClearPolitics):
Criminalizing doctors in the name of freedom, one of the worst crime murder rates in America, one of the worst mental health records of any governor in America. I'm not so convinced about the merits of his leadership but, again, I have been here just bewildered — how can the Democratic Party, eight of the top ten murser states are Republicans, the top ten dependent states, god forbid, dependent states are red states, the life expectancy in the south, and they're not expanding Medicaid and prenatal care, and providing childcare is jaw-dropping. How they continue to get reelected is beyond me. infant mortality and you care about life. When you look at life expectancy, you care about life, and you have kids that are gunned down by weapons of war. Spare me. All in the name of freedom, as you're banning books. With all due respect, we should not be on the defensive as a Democratic Parry, the Republican party should be on their heels.
It is a wonder.
Further ugly — from Fortune magazine last May:
There is a large difference in expected life spans for people living in certain states, according to U.S. Centers for Disease Control and Prevention data.

For instance, people born in New York and California – two of the richest states in the country, which largely vote Democratic – have a life expectancy of 77.7 and 79 years, respectively. But people in Mississippi and Louisiana – two of the poorest states, which tend to vote Republican – live, on average, until they are 71.9 and 73.1 years old.

People who live in Republican-leaning states tend to have less money, worse health conditions, higher rates of gun-related deaths and lower levels of education than people living in Democratic states.

On average, people in red states have higher rates of poverty than residents of blue states.

Poverty is an indicator for life expectancies in the U.S. – the poorer someone is, the more likely to die younger.
Bubble reality.
Gavin is sad=like correct — let's close out this shit with an Enigma burst:
Live in blue, die in red, or not, yet here we are again…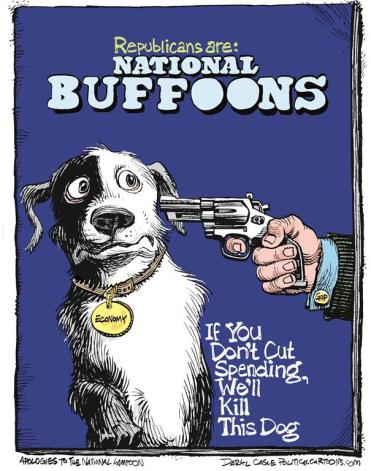 (Illustration out front by Daryl Cagle and found here).