As history continues to unfold this Tuesday evening and seemingly never changes, the past becomes a reminder America is more than a simple take, but an unbridled series of shit tales.
Today 218 years, 6 months and 11 days ago, a Monday, Aaron Burr shot and killed Alexander Hamilton in a duel:
Burr-Hamilton duel, Weehawken, New Jersey–today 1804: pic.twitter.com/qcmKzSyHl6

— Michael Beschloss (@BeschlossDC) July 11, 2023
Summary of the end of a hate-filled hatred between Burr and Hamilton — via History:
Affairs of honor were commonplace in America at the time, and the complex rules governing them usually led to an honorable resolution before any actual firing of weapons. In fact, the outspoken Hamilton had been involved in several affairs of honor in his life, and he had resolved most of them peaceably. No such recourse was found with Burr, however, and on July 11, 1804, the enemies met at 7 a.m. at the dueling grounds near Weehawken, New Jersey. It was the same spot where Hamilton's son had died defending his father's honor in 1801.

There are conflicting accounts of what happened next. According to Hamilton's "second"—his assistant and witness in the duel—Hamilton decided the duel was morally wrong and deliberately fired into the air. Burr's second claimed that Hamilton fired at Burr and missed. What happened next is agreed upon: Burr shot Hamilton in the stomach, and the bullet lodged next to his spine. Hamilton was taken back to New York, and he died the next afternoon.

Few affairs of honor actually resulted in deaths, and the nation was outraged by the killing of a man as eminent as Alexander Hamilton. Charged with murder, Burr, still vice president, returned to Washington, D.C., where he finished his term immune from prosecution.

In 1805, Burr, thoroughly discredited, concocted a plot with James Wilkinson, commander of the U.S. Army, to seize the Louisiana Territory and establish an independent empire, which Burr, presumably, would lead. He contacted the British government and unsuccessfully pleaded for assistance in the scheme. Later, when border trouble with Spanish Mexico heated up, Burr and Wilkinson conspired to seize territory in Spanish America for the same purpose.

In the fall of 1806, Burr led a group of well-armed colonists toward New Orleans, prompting an immediate U.S. investigation. General Wilkinson, in an effort to save himself, turned against Burr and sent dispatches to Washington accusing Burr of treason. In February 1807, Burr was arrested in Louisiana for treason and sent to Virginia to be tried in a U.S. court. In September, he was acquitted on a technicality. Nevertheless, public opinion condemned him as a traitor, and he fled to Europe. He later returned to private life in New York, the murder charges against him forgotten. He died in 1836.
Burr would fit nicely with today's Republican assholes.
Hamilton would be a singing liberal following dueling commandments:
Turn and fire, or not, yet once again here we are…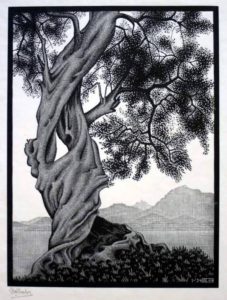 (Illustration out front: MC Escher's 'Old Olive Tree, Corsica' (1934). and found here)