Quietly roasting this Sunday afternoon here in California's Central Valley — we're just at triple digits without much movable breeze to stir the heat away or at minimum create a non-searing glaze to the air as we continue to swelter in temps fairly normal for our time and area.
Reportedly, maybe dropping below 100 (into the high 90s) starting Tuesday, but what the heck, today is right now.
Our immediate forecast:
Dangerous heat in most of Central California today will result in a major risk for heat-related illnesses for much of the population if precautions are not taken. Drink plenty of fluids, stay out of the sun, and remain in an air-conditioned room. #CAwx pic.twitter.com/w9K33CWU9u

— NWS Hanford (@NWSHanford) July 23, 2023
And most likely your's too, dear, sweaty reader.
In that context, some tunes to enlighten the heatwaves that are spilling across the planet. Just a few songs from a shitload of music composed/influenced by the sweltering environment, from the physical reality of going outside in the actual summer boil, to the metaphysical, intimate inside of the heated heart — sounds to cry silently in the stench of it being too hot to shit.
Even.
First out of the record machine, one of the original fires from mismatched, fever-brained love — Martha Reeves & The Vandellas' "Heatwave" (1963) and right now:
Next in the course, Billy Idol and "Hot In The City" (1982):
Followed by Van Halen's "On Fire" (1978):
In the hot order next is The Boss and "I'm On Fire" (1984):
And from a metaphysical stance of Soundgarden's "Black Hole Sun" (1994):
A science factual soundbite via Foreigner's "Hot Blooded" (1978):
In a functional end, as our climate-change horror comes from inside the house — Talking Heads and "Burning Down The House" (1983):
In an actual finish:
In the past 30 days, nearly 5,000 heat and rainfall records have been broken or tied in the U.S. and more than 10,000 records set globally, according to NOAA. Texas cities and towns alone have set 369 daily high temperature records since June 1.

Since 2000, the U.S. has set about twice as many records for heat as those for cold.

"Records go back to the late 19th century and we can see that there has been a decade-on-decade increase in temperatures," said Gavin Schmidt, director of NASA's Goddard Institute for Space Studies, keeper of the agency's climate records. "What's happening now is certainly increasing the chances that 2023 will be the warmest year on record. My calculations suggest that there's, right now, a 50-50 chance."
Maybe more music visited upon nightmares.
A happy, singing shelter, or not, here we are once again…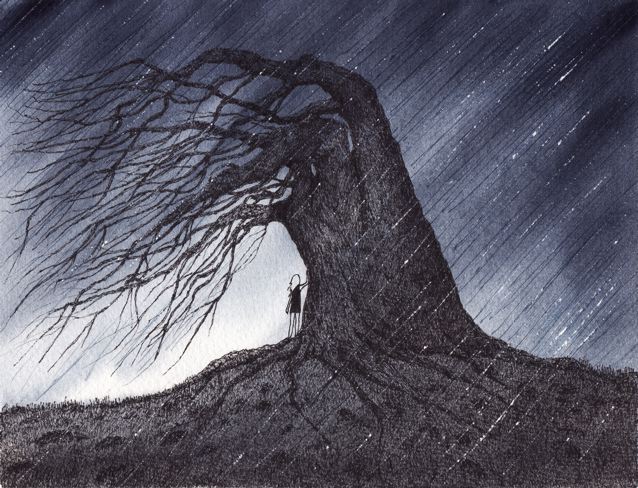 (Illustration out front: 'Shelter in the Storm," found here.)