As we move further and further into the 2024 campaign, the more gross the politics become — Republicans suck.
And apparently, the worse of the worse is Ron DeSantis-unsanitary: 'He did it again. Gross Ron Desantis has a disgusting habit of wiping his nose right before shaking someone's hand or touching a part of their body. It has been going on for weeks and nobody seems to be able to stop him. Today in Iowa, while his kids dragged Casey to the candy aisle (after telling someone else's kid last week not to eat sugar), Desantis wiped his nose again and then grabbed a guy's hat.'
Near nauseous
Watch the lady's face as Desantis wipes his booger on the guy's hat. pic.twitter.com/9WjLjdLKaM

— Ron Filipkowski (@RonFilipkowski) August 11, 2023
Last May, again in Iowa, the asshole wiped nose shit on a guy in a wheelchair — another lady, too, became obvious:
Boogers or pudding, what will it be — DeSantis in full attack mode (Daily Beast):
A pair of protesters interrupted Florida Gov. Ron DeSantis' campaign stop Friday morning, shouting for him to, "Go back to Florida, pudding fingers" as the presidential hopeful stepped off his bus in Iowa. The hecklers, identified as Heather Ryan and Kara Ryan, repeated the chant through a bull horn and rang a cowbell as DeSantis made rounds with the locals. At one point, the duo squared off with supporters, one of whom appeared to try to grab the bullhorn and intimidate the women into leaving the rally. DeSantis tried to deliver a statement amidst the chaos, but the determined protesters drowned him out. The infamous "pudding fingers" remark originated from a March rumor — first reported by The Daily Beast — that DeSantis once ate pudding using three fingers instead of the customary spoon.
Close this nauseating shit post with some low-down and dirty:
With or without tissues, or not, here we are once again…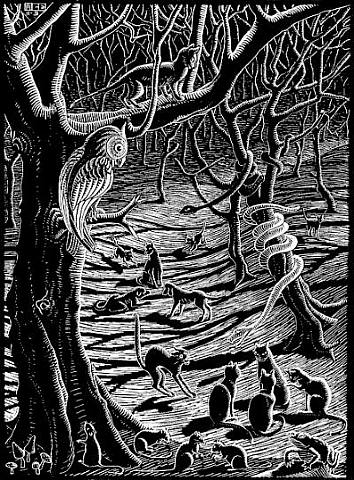 (Illustration out front: M.C Escher's 'Scholastica,' found here.)