Overcast with an occasional sliver of sunshine this noon Friday here in California's Central Valley — although still quite warm and humid, the heat is on a downward slant today, which makes summer in these parts much more bearable.
Heat nowadays is in a localized perspective.
In the guise of living history, the wildfires now scorching the Hawaiian island of Maui encapsulate the quickly-approaching future eventually for our entire planet. Climate change at the minimum exacerbates all kinds of shit, from heatwaves, droughts, flooding, all the bad-weather shit imaginable — and it's here already with a cruel vengeance (The Washington Post this morning):
Residents of Lahaina will be able to go back to their homes today, Hawaii Gov. Josh Green told local news outlet KHON2 on Friday.

"We're heartsick over the loss of life, but people will be able to get back to their homes today," Green (D) said. "I want to caution everyone: Lahaina is a devastated zone. They will see destruction like they've not ever seen in their lives."
As of the latest report, 55 known dead. Supposedly, however, that's only the first count: 'In an interview on the "Today" show Friday morning, Maui County Mayor Richard T. Bissen Jr. said the death toll so far reflects only those who were found outside of buildings. "We have not yet searched the interior of the buildings," Bissen said, adding that authorities are awaiting search help from the Federal Emergency Management Agency.'
Nightmare view:
Airline passenger shares a birds-eye view of the wildfires that ravaged Maui. #Hawaii pic.twitter.com/Hpmh6KLAz0

— AccuWeather (@accuweather) August 10, 2023
Further from Mayor Bissen: '"The closest thing I can compare it to is perhaps a war zone or maybe a bomb went off … It was cars in the street, doors open, you know, melted to the ground … Most structures no longer exist and for blocks and blocks of this … It doesn't resemble anything that it looked like when I was growing up,"'
Welcome to the now:
Amid the devastating Maui fires, I see many arguing, "it's weather, arson–anything but climate change."

Let's set the record straight. Climate change doesn't usually start the fires; but it intensifies them, increasing the area they burn + making them much more dangerous. ? pic.twitter.com/4BTvTzM5Pt

— The Real Prof. Katharine Hayhoe (@KHayhoe) August 10, 2023
Science of a hardcore reality — via the Guardian this morning:
Rising global temperatures and drought have helped turn parts of Hawaii into a tinderbox ahead of one of the deadliest fires in modern US history, with these conditions worsened by strong winds from a nearby cyclone.

Katharine Hayhoe, the chief scientist at the Nature Conservancy, said that global heating is causing vegetation to dry out, priming it as fuel for an outbreak of fire. "Climate change doesn't usually start the fires; but it intensifies them, increasing the area they burn and making them much more dangerous," Hayhoe tweeted.

Nearly a fifth of Maui, the Hawaiian island where the fires have occurred, is in severe drought, according to the US Drought Monitor. The island has experienced other serious fires in recent years, with blazes in 2018 and 2021 razing hundreds of homes and causing the evacuation of thousands of residents and tourists.

Experts say that wildfires in Hawaii are now burning through four times the amount of area than in previous decades, in part due to the proliferation of more flammable non-native grasses but also rising global temperatures.

"We can say there are conditions that are consistent with wildfire, wildfire size and expansion that are changing as climate changes," Erica Fleishman, a climate scientist at Oregon State University told CNN. "And some of the things that we're seeing with this wildfire in Maui are consistent with some of the trends that are known and projected as climate changes."

Hawaii is experiencing increasingly dry conditions, with scientists calculating that 90% of the state is getting less rainfall than it did a century ago, with the period since 2008 particularly dry.

The growing susceptibility of Hawaii to major fires was highlighted by a 2015 study that found that rainfall has been 31% lower in the wet season since 1990, in selected monitoring sites on the islands. The state, known for its volcanoes and lush forests, is in parts drying out as global heating continues to escalate.

The flames that tore through Lahaina, meanwhile, were fanned by winds from the passing Hurricane Dora and the climate crisis is causing an overall increase in strong cyclones in the central Pacific. The influence of the cyclone upon the fires surprised scientists, given that Dora was churning around 500 miles away from Maui.

"Hurricane Dora is very far away from Hawaii, but you still have this fire occurrence here," said Pao-Shin Chu, Hawaii's state climatologist. "So this is something we didn't expect to see."

Those concerned about the climate crisis, meanwhile, called for further efforts to combat global heating from Joe Biden, who has declared a federal disaster in Hawaii. "We need to take action immediately or else it will get even worse," said Jeff Merkley, a Democratic senator.

"The extreme wildfires in Lahania, in this summer of climate disasters, are yet more proof that we are in a climate emergency and this crisis is killing us," said Kaniela Ing, a climate activist and indigenous leader in Hawaii.
Another further-ominous view (NYT): '"The massive winds, dry winds, are what drove this fire," said Josh Stanbro, who served as chief resilience officer for Honolulu. "This is part of a long-term trend that is directly related to climate changes and impacts on the islands."'
A climate-change/fire/chaos primer per MSNBC, also this morning:
Denial maybe still a river in Egypt, or not, still once again here we are…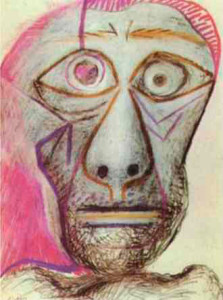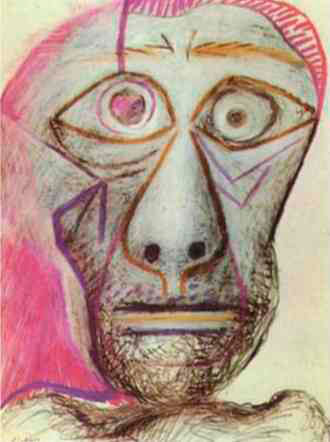 (Illustration out front: Pablo Picasso's 'Self Portrait Facing Death' [June 30, 1972], was originally found here.)