In the news cycle this Thursday — along with the terrible, horrible wildfires on Hawaii's Maui and the Big Island (53 dead at this point) — there's further evidence the US Supreme Court is actually a den of crooks and assholes.
Once again,  the SCOTUS has been shown to be a pack of financial frauds-in-robes for the rich, and once again, the focal point is Clarence Thomas:
NEW: Think you know that Clarence Thomas has wealthy patrons?

You don't know the tenth of it.

We assembled the most comprehensive account yet of his secret luxury travel—paid for by many billionaires.@BrettMmurphy & @Amierjeski:https://t.co/IqZPnfWYOw pic.twitter.com/cJ3hb03MMd

— Jesse Eisinger (@eisingerj) August 10, 2023
Seemingly, we've been down this road before — lede in the ProPublica piece on quick-fingered Clarence's unreported vacations:
During his three decades on the Supreme Court, Clarence Thomas has enjoyed steady access to a lifestyle most Americans can only imagine. A cadre of industry titans and ultrawealthy executives have treated him to far-flung vacations aboard their yachts, ushered him into the premium suites at sporting events and sent their private jets to fetch him — including, on more than one occasion, an entire 737. It's a stream of luxury that is both more extensive and from a wider circle than has been previously understood.
And a nutshell gist of the shitty parts:
At least 38 destination vacations, including a previously unreported voyage on a yacht around the Bahamas; 26 private jet flights, plus an additional eight by helicopter; a dozen VIP passes to professional and college sporting events, typically perched in the skybox; two stays at luxury resorts in Florida and Jamaica; and one standing invitation to an uber-exclusive golf club overlooking the Atlantic coast.

This accounting of Thomas' travel, revealed for the first time here from an array of previously unavailable information, is the fullest to date of the generosity that has regularly afforded Thomas a lifestyle far beyond what his income could provide. And it is almost certainly an undercount.

[…]

This year, ProPublica revealed Texas real estate billionaire Harlan Crow's generosity toward Thomas, including vacations, private jet flights, gifts, the purchase of his mother's house in Georgia and tuition payments. In an April statement, the justice defended his relationship with Crow. The Crows "are among our dearest friends," Thomas said. "As friends do, we have joined them on a number of family trips."

The New York Times recently surfaced VIP treatment from wealthy businessmen he met through the Horatio Alger Association, an exclusive nonprofit. Among them were David Sokol, a former top executive at Berkshire Hathaway, and H. Wayne Huizenga, a billionaire who turned Blockbuster and Waste Management into national goliaths. (The Times noted Thomas gives access to the Supreme Court building for Horatio Alger events; ProPublica confirmed that the access has cost $1,500 or more in donations per person.)

Records and interviews show Thomas had another benefactor, oil baron Paul "Tony" Novelly, whose gifts to the justice have not previously been reported. ProPublica's totals in this article include trips from Crow.

Each of these men — Novelly, Huizenga, Sokol and Crow — appears to have first met Thomas after he ascended to the Supreme Court. With the exception of Crow, their names are nowhere in Thomas' financial disclosures, where justices are required by law to publicly report most gifts.
Go read the whole report, well worth the time (though it's shitty depressing with Clarence's smirking shamelessness), and details the bubbling-rich adventures — Clarence, and I guess, Ginni, too, attended a lot of super football games, viewing the action from super-expensive box seats:
That Saturday, the group watched both the football and volleyball games from luxury suites. The football skybox, which typically costs $40,000 annually, belonged to Tom Osborne, a former Republican congressman who was also the head coach of the team for 25 years. Hosting the Thomases had ripple effects. A local priest requested a ticket for his 87-year-old mother, but the volleyball coach had to tell him none was available. "All of our tickets have been taken for Clarence Thomas and his group," the coach wrote.
Horrible, and Clarence's only real path:
Resign in disgrace https://t.co/3ojetovT70

— Norman Ornstein (@NormOrnstein) August 10, 2023
Of course, never happen.
Breakdown of the ProPublica report per MSNBC this morning:
Disgraced resignation, or not, yet here we are once again…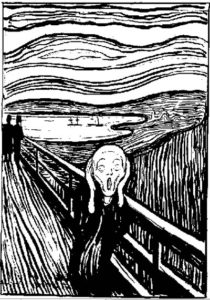 (Illustration out front: Edvard Munch's 'The Scream,' lithograph version, found here.)