Warm and getting hotter this noon Thursday here in California's Central Valley — heat is now part of the game
Even the T-Rump is feeling the heat, the criminal heat (The Daily Beast):
Former President Donald Trump pleaded not guilty (again) on Thursday, this time to new charges brought against him in his classified documents case related to alleged attempts to wipe Mar-a-Lago security footage. On top of the 37 counts Trump already faced in the original indictment, special counsel Jack Smith added three other charges, including one count of willful retention of national defense information and two counts of obstruction. Walt Nauta, Trump's Diet Coke valet-turned-personal aide and alleged co-conspirator, also pleaded not guilty to the superseding indictment, which named Mar-a-Lago maintenance worker Carlos de Oliveira as a third defendant. De Oliveira has not entered a plea. While Trump was not present for the hearing before a Florida judge, his attorney Todd Blanche entered the not guilty plea on his behalf. The case is set to go to trial in May 2024—right in the middle of primary season.
And further into the heat-filled legal world and a date with destiny — speedy trial for insurrection/riot charges:
Prosecutors dig at Trump's counsel for saying Trump is preparing his defense from scratch. He's seen extraordinary swaths of evidence via the Jan. 6 select committee, they note, and has had contact with DOJ about the case since at least June 2022. https://t.co/yYVfbXIIBW

— Kyle Cheney (@kyledcheney) August 10, 2023
Details/background via Politico this morning:
Special counsel Jack Smith is seeking to put Donald Trump on trial on Jan. 2, 2024 — fewer than four months away — on charges related to his bid to subvert the 2020 election.

That aggressive timeline would put the weighty criminal trial first on Trump's crowded calendar of criminal proceedings and guarantee an extensive airing of the grave allegations against him just before Republican primary voters head to the polls.

Prosecutors say the abbreviated timeline is rooted in the extraordinary public interest in seeing this case resolved.

"It is difficult to imagine a public interest stronger than the one in this case," Assistant Special Counsel Molly Gaston wrote in a court document filed Thursday, "in which the defendant — the former President of the United States — is charged with three criminal conspiracies intended to undermine the federal government, obstruct the certification of the 2020 presidential election, and disenfranchise voters."

Prosecutors say they're prepared to deliver a "large amount" of evidence to Trump's team within days and have gone to great lengths to organize it in a way that will simplify their ability to review it and prepare for trial. Among the evidence they say they are ready to deliver — as soon as U.S. District Court Judge Tanya Chutkan enters a "protective order" to govern the handling of the evidence — are: grand jury transcripts, witness interviews and evidence obtained through "numerous sealed search warrants."
We'll just have to wait and see. In the near future, at least, the T-Rump knows when the shit will hit the fan. And we hope it hits hard.
Closing out here is the thought: "People stand in line to see you fall,"  but yes, indeed you are to blame:
Jail time, or not, yet once again here we are…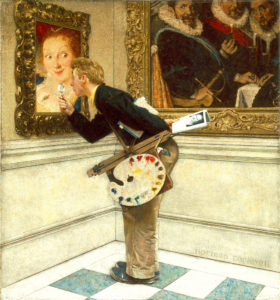 (Illustration out front: 'Art Critic' by Norman Rockwell, found here.)