Extra warm, humid air made so by heavy, hot sunshine this late-afternoon Wednesday here in California's Central Valley — another day in the life.
Also, it was another abnormal day in the life back in Atlanta, Ga., as a wad of the 19 defendants in the T-Rump election tampering case turned themselves in to authorities ahead of the noon Friday deadline. Fulton Couty DA Fani Willis and her RICO case against a bunch of assholes seeking to reverse Georgia's 2020 presidential vote had a fun time — those included Rudy Giuliani, Sidney Powell, Jenna Ellis, along with others less well known, though, still dumb enough to get involved with a T-Rump-inspired criminal enterprise.
Last week's 41-count indictment included charges, too (CBS News): 'At least nine of the 19 people facing charges have now appeared at the Fulton County jail to be booked. All of those who surrendered were released on bond. None of the 19 have yet entered pleas, since the arraignment process is separate from the booking process in Georgia. Trump, who has denied all wrongdoing, said Monday night that he will turn himself in on Thursday and has agreed to a $200,000 bond.'
And the line-up, mug collection:
gotta collect 'em all! pic.twitter.com/XcOmyxSNMT

— Aaron Rupar (@atrupar) August 23, 2023
Up-close, ominous, and really, really creepy:
Mugshots make all of this a bit less (or more) uncanny valley pic.twitter.com/8di1jb2PEQ

— Molly Jong-Fast (@MollyJongFast) August 23, 2023
And Mark Meadows keeps on winning (CNN): 'A federal judge on Wednesday rejected efforts by former Trump White House chief of staff Mark Meadows and ex-Justice Department official Jeffrey Clark to avoid arrest if they fail to turn themselves in by Friday's deadline in the Georgia election subversion case.'
Plus, an added coating:
Both Jeff Clark and Mark Meadows' federal appeals for a stay in their RICO arrests have been denied.

They either show up by Friday noon for their arrests, or get frogmarched to jail without conditional release.

— Jack E. Smith ?? (@7Veritas4) August 23, 2023
And bonus points:
As if today couldn't get any better for me personally, Fani Willis reminds everyone that Meadows violated the Hatch Act. https://t.co/yIKBnKW5KR

— Mueller, She Wrote (@MuellerSheWrote) August 24, 2023
Tomorrow is the T-Rump's time in the perp-walk limelight, we'll have to see how that works.
In that other big news story of the day comes from Russia — apparently from all indications, Yevgeny Prigozhin, head of the Wagner mercenary group, and near-about coup inciter, was killed in a plane crash. Vlad Putin finally rewards his favorites — not!
Max Seddon and Courtney Weaver at the Financial Times late this afternoon — go read the whole piece, recounts an intricate story akin to Russia's murderous history while displaying a specific gangland style to Prigozhin's demise — necessary snip:
As Oleg Ignatov, senior Russia analyst at Crisis Group, put it, it was an ending straight out of The Godfather.

A former senior Kremlin official told the FT. "I thought they were definitely going to rub him out. And so they did. Things like that can't be forgiven. Everyone understands that the response to treason will be irreversible and swift. It's a signal for the whole elite."
Yet this is the Russians, remember (New York Times): '"An investigation of the Embraer plane crash that happened in the Tver Region this evening was initiated," the Federal Agency for Air Transport of Russia said in a statement, according to the state news agency Tass. "According to the passenger list, first and last name of Yevgeny Prigozhin was included in this list." But late into the Russian evening, the authorities had not officially confirmed that he had been killed.'
Another wait-and-see.
And while you wait racketeering explained:
Assassinated, or not, yet once again here we are…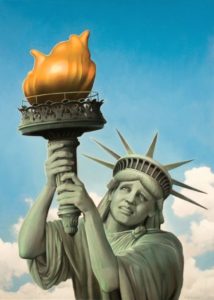 (Image out front by illustrator and portrait painter, Tim O'Brien, and can be found here.)