Warm, but not unpleasant this late-afternoon Monday here in California's Central Valley — we continue to slide into fall weather at a nice, not-boiling-hot pace.
Yet in this ambiance, the shit still rises to the top — rumor there's a roomer in your loony bin:
Got to be careful listening to roomers. pic.twitter.com/PO5sgqfRj0

— Ron Filipkowski (@RonFilipkowski) August 28, 2023
A guy with really, really major problems inserted into a clusterfuck of a shitstorm — via Salon this morning:
Trump attorney Alina Habba claimed that the former president will not need any preparation ahead of his numerous overlapping trials because he is "incredibly intelligent" unlike the "average person." Habba told Fox News host Shannon Bream that "if this was a normal person… I could understand the concern" but Trump is "incredibly intelligent and he knows the ropes." She questioned, "What is he going to have to be prepped for? The truth? You don't have to prep much when you've done nothing wrong."

Some legal experts cautioned that Habba undercut Trump's argument that he needed extensive time to prepare for his trials. "Trump's lawyer tells FOX her client 'knows all the facts' and doesn't need time to prep for the coup trial — while his other lawyer says he needs till April 2026 because it's so complex," noted longtime Harvard legal scholar Laurence Tribe. "Wow," marveled attorney George Conway, writing that Habba "really did" destroy Trump's lawyers' argument. "Not a great statement to make just prior to DC Judge anticipated ruling tomorrow on DC trial date," warned former Mueller prosecutor Andrew Weissmann. "The more his lawyers speak for political purposes, the more they harm/impact the legal case," tweeted national security attorney Mark Zaid.
Further in the T-Rump intelligence legal beagles:
NEW: My experience from inside Judge Chutkan's courtroom where she set a trial date for Trump in DC for March 4th, 2024. https://t.co/FPaGGzrway

— Mueller, She Wrote (@MuellerSheWrote) August 28, 2023
A close-up concise retelling of the court activities this morning by Mr. Mueller on Post — including this snip:
One of my favorite moments was when the Judge was explaining to Mr. Lauro that there's been plenty of time to prepare for this eventuality, and that it wasn't a "surprise" that Trump was indicted. Lauro argued that it's not his obligation to start preparing for trial ahead of an indictment, and the Judge indicates that sure, you're not obligated, but a good defense attorney can surely see what's coming. Regardless, two years isn't necessary here.
Go read the whole post, interesting. Judge Chutkan set the March 2024 date despite T-Rump's lawyers acting the fools in court. As dumb as dumb has to be — if you have an idiot for a client, one must act the idot, too, I guess.
Plus as an addendum, Mark Meadows was in court today, too, down in Georgia, on the stand for almost five hours supposedly, and it was another clusterfuck of a shitstorm (the New York Times):
Under questioning by his own lawyers and by prosecutors, Mr. Meadows stated emphatically that he believed that his actions detailed in the indictment fell within the scope of his duties as chief of staff. But he also appeared unsure of himself at times, saying often that he could not recall details of events in late 2020 and early 2021. "My wife will tell you sometimes that I forget to take out the trash," he told Judge Steve C. Jones of the U.S. District Court for the Northern District of Georgia.

At another point during the daylong hearing, he asked whether he was properly complying with the judge's instructions, saying, "I'm in enough trouble as it is."
Meadows is trying to shift his Georgia state RICO case to federal court– reportedly not a good bet.
And to finish off this legal idiot of a post, Warren Zevon on what is always eventually required:
Dumb-ass lawyers, or not, yet once again here we are…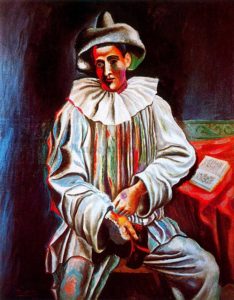 (Illustration out front: Pablo Picasso's 'Seated Pierrot,' found here.)