Sunny and mildly hot this late-afternoon Saturday here in California's Central Valley.
And today, too, the death of the iconic Bob Barker at 99. In truth, I hadn't thought about him for years and years, yet was even surprised he had been alive all this time. Yet he was a part of our weekday history and the so-called 'Patron Saint of Sick Days' for decades upon decades.
Roger Neal, Barker's longtime publicist, in a statement this morning: '"It is with profound sadness that we announce that the World's Greatest MC who ever lived, Bob Barker, has left us."'
Nutshell obit (among a shitload out there right now) per CBS News:
Barker appeared on national television for over 50 years. Before his time at the country's longest-running game show on CBS, he hosted one of the nation's first televised game shows, "Truth or Consequences," for nearly 20 years, earning him recognition in the Guinness World Records book as television's "most durable performer."

On "Truth or Consequences," Barker charmed audiences with his quips and plainspoken style. Every December 21, show creator Ralph Edwards and Barker would drink a toast at lunch to celebrate the day in 1956 when Edwards notified Barker – who had no previous television experience – that he was going to become the host. He stayed with the program for 18 years, calling it a "fun show," during a chat at the Google headquarters.

In 1972, Barker began hosting a revival of "The Price Is Right," which originally aired in the '50s and '60s, and he stayed in that position for 35 years. Audience members were enthusiastic about their affable host; some participants asked for kisses, which Barker once obliged by smooching a fan square on the lips while dipping her backward. Another fan told Barker she dreamed he was chasing her in a hayloft.

During his career, Barker was honored with 19 Emmy Awards, 14 as host of "The Price Is Right," four as the show's executive producer and a lifetime achievement award. In 2004, Barker was inducted into the Television Academy Hall of Fame.
Barker had such a well-known persona, he made an incredible, wondrous sequence in Adam Sandler's "Happy Gilmore" movie in 1996 — one of the funniest, niftiest scenes in all of the movies.
Sandler responded to news of Barker's death:
The man. The myth. The best. Such a sweet funny guy to hang out with. Loved talking to him. Loved laughing with him. Loved him kicking the crap out of me. He will be missed by everyone I know! Heartbreaking day. Love to Bob always and his family! Thanks for all you gave us! pic.twitter.com/hhZvYAQUK3

— Adam Sandler (@AdamSandler) August 26, 2023
The 'Gilmore' scene went against the grain, and 'bitch' it be good:
Barker spoke of the film in an interview in 2013 (via Mediaite this afternoon):
I did beat up Happy Gilmore. I crushed him. After I'd finally finished him off, and he was obviously out, I said, now you've had enough, bitch! I never taped a "Price Is Right." Once Happy Gilmore had been released that the audience didn't want to talk with me about my fight scene with Happy Gilmore and when I went up there, the director came over to talk with me about what we were going to do the next day and he said, now, don't worry about these fight scenes, he said, we have a double. He'll do that. I said, what do you mean you'll have a double? I said I know how to fight. He said, all right, all right, you can fight. He let me fight.
And this bit in the same vein from Golfweek, also this afternoon:
But while Barker was synonymous with daytime TV and helping animals, he said in an interview with CBS Sunday Morning that the thing most people wanted to talk about was similar — his fight scene in the legendary Adam Sandler golf movie "Happy Gilmore."

"They say could you really whip Adam Sandler?" Barker joked. "They say could you really beat Adam Sandler up in real life? I'd say, 'Are you kidding? Adam Sandler couldn't beat up Regis Philbin.'"

Although Barker's scene with Sandler has become legendary, he originally wasn't in the producers' plans. Instead, Sandler and others tried to woo Ed McMahon, Johnny Carson's sidekick, for the role, but he never responded to inquiries.

When Barker was later asked to come on board with the project, he agreed to do so with two stipulations — that writers would re-work the scene to allow Barker to beat Gilmore in a fight … and that the "Price is Right" star could shoot his own fight scenes rather than have a body double.

Barker had been training with his neighbor, Chuck Norris, and wanted to show off his skills.

"We trained every night," Barker told Sandler while filming. "He helps me with my punches and my kicks, but I have to win this fight."
And in the interest of Adam Sandler, too, I recently watched "The Wedding Singer" (1998) once again — hadn't seen it in a way-long time (watched it a shitload of times over the years) and it's his best project all around, acting, writing, sound/music, everything. And could be Drew Barrymore's best, too, or at least her most infectious. In our household in the 1990s (single parent with five kids, just two with ages in double digits, four girls, one boy), Sandler's movies were way-popular (VHS only, however) — along with 'Gilmore,' there were "Airheads" (1994), "Billy Madison" (1995), "The Waterboy" (1998); the kids quickly seemed to have outgrown Sandler's work by the end of the decade, and conincidentality, about the same time Sandler shifted from the crazy, slap-stick-heavy work to serious drama, and was already doing good by "Spanglish" (2004), and onto great acclaim by 2019 in "Uncut Gems."
Despite all that, I don't think I've seen an Adam Sandler movie all the way through since "Spanglish," and only then because of Téa Leoni, who I've had a crush on since 'Deep Impact" (1998) — and well worth your time, "Madam Secretary" (2014-2019), really, really entertaining, streaming on Netflix.
Anyway, another notable is gone. Yet at 99, Barker lived a shit-long-time. same age as Betty White.
Sad, yet here we are once again…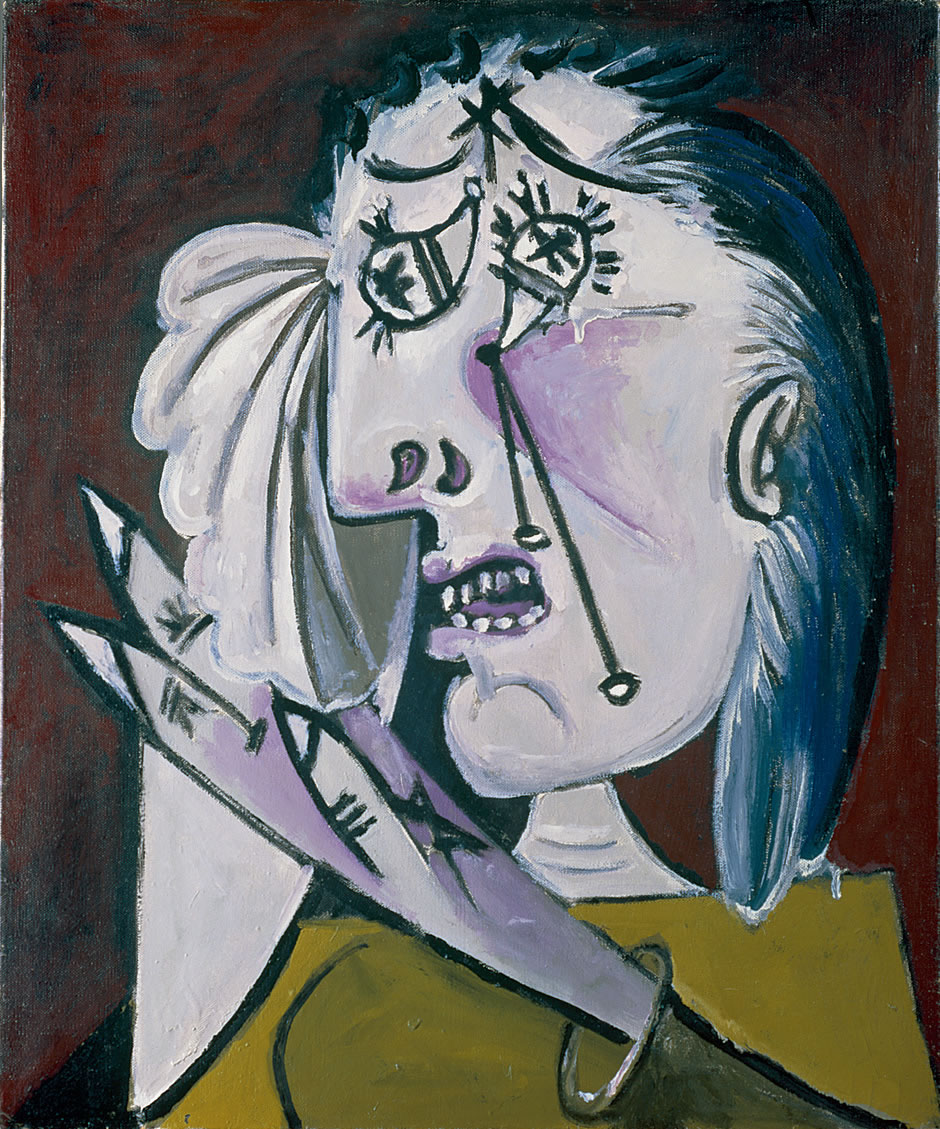 (Illustration out front: Pablo Picasso's 'The Weeping Woman [La Femme qui pleure],' found here)