Bright sunshine with comfortable temperatures a few minutes past the noon hour Friday here in California's Central Valley — again, a nice ending to a rather nice work week as we stagger into the autumn season.
And according to a UN report out today, we're more than staggering into bad climate-change times if mankind doesn't get its shit together, and rather quickly. Although even as I posted Wednesday about our hottest summer on record, we've slowed down some of the global warming's shitty parts so far, we're so far missing the mark on getting the problem solved — and maybe, too,  approaching a break, now-or-never situation.
Summary: 'Eight years after world leaders approved a landmark agreement in Paris to fight climate change, countries have made only limited progress in staving off the most dangerous effects of global warming, according to the first official report card on the global climate treaty.'
And once again, a waving red flag, scream-of-a-warning:
Implementation of the Paris Agreement on #ClimateChange must accelerate amid a rapidly closing window of opportunity.

That's the main finding from today's Global Stocktake report.

? Here's how we get back on track:

— UN Climate Change (@UNFCCC) September 8, 2023
Details via The Verge this morning:
The nations of the world have to seriously ramp up their clean energy ambitions because time is running out to meet the goals of the Paris climate agreement, a sweeping new United Nations report card says.

It's the first "Global Stocktake" of the progress nearly 200 countries have made since they adopted the Paris agreement in 2015. By pushing nations to slash their greenhouse gas emissions, the global accord strives to avoid climate change so extreme that life on Earth would struggle to adapt.

The planet has gotten about 1.2 degrees Celsius hotter since the Industrial Revolution, and that's already been enough to cause more extreme weather, intensify wildfires, and raise sea levels high enough to push coastal communities away from their homes. To keep those kinds of disasters from getting much worse, the Paris agreement seeks to limit warming to around 1.5 degrees Celsius. The world doesn't have much wiggle room left.

Since they adopted the Paris agreement, the report says, countries have taken enough action to slow global warming a bit. In other words, things could be much worse than they already are. But there's much more work that needs to be done. Each year, greenhouse gas pollution has continued to grow globally. Those emissions need to peak by 2025 to achieve the Paris goals, the report says.

The long-term goal is to reach net-zero greenhouse gas pollution globally by the middle of the century. That's only possible if countries make steady progress, cutting emissions by more than 40 percent by the end of the decade and by 60 percent by 2035 compared to 2019 levels.

[…]

Past UN climate negotiations have also tiptoed around the need to wean the world off fossil fuels in order to meet the Paris goals. This year's summit, taking place in the United Arab Emirates, will be led by the CEO of the country's national oil company. That has a lot of environmental advocates worried about whether the talks will lead to ambitious enough outcomes or cater more to fossil fuel interests.

"The United Nations' polite prose glosses over what is a truly damning report card for global climate efforts. Carbon emissions? Still climbing," Ani Dasgupta, president and CEO of the nonprofit World Resources Institute, said in an emailed statement. "Leaders must rally behind a response plan that accelerates action at a pace and depth not seen before. Critical steps include rapidly shifting away from fossil fuels toward renewable energy."
A soft pedal when the pedal needs to be on the medal.
As if a coincidence, a new study published today in Science Advances reports more and more of earth to be exposed to life-killing heat — from the Abstract: 'Here, we conduct an extreme value theory analysis of weather station observations and climate model projections to investigate the emergence of an empirically supported heat compensability limit. We show that the hottest parts of the world already experience these heat extremes on a limited basis and that under moderate continued warming parts of every continent, except Antarctica, will see a rapid increase in their extent and frequency.'
Seemingly an emotional, plea-like warning from one of the researchers (per the Guardian this morning):
"Of all of the different manifestations of climate change, heat is the one that I personally worry the most about and these results have made me more concerned," said Carter Powis, at the University of Oxford, UK, who led the study with colleagues at the Woodwell Climate Research Center in the US.

"Everything is OK until it's not and there are limits to what the human body can tolerate when it comes to heat," he said. "Things will keep on chugging along hunky dory until we pass those limits and then very abruptly, they will not be OK. Suddenly, you'll see an acceleration in mortality.

"What I worry about is that our bodies and our society will prove more fragile to small changes than we think," Powis said. "This is just another [study] saying we need to start reducing emissions – but that's what we need to do."
The 'we' means exactly that, everyone on earth — another new climate-change report reviewed by The Washington Post, also this morning:
The new, peer-reviewed report produced by Climate Central and published Thursday examined temperatures in 180 countries and 22 territories around the world. The U.S.-based research group said in a news release that almost 8 billion people, or 98 percent of the world's population, were exposed to higher temperatures that were two times more likely to have been caused by heat-trapping carbon pollution in Earth's atmosphere.

"Virtually no one on Earth escaped the influence of global warming during the past three months," said Andrew Pershing, Climate Central's vice president for science.

"In every country we could analyze, including the Southern Hemisphere, where this is the coolest time of year, we saw temperatures that would be difficult — and in some cases nearly impossible — without human-caused climate change," Pershing said.

[…]

"Breaking heat records has become the norm in 2023," Friederike Otto, a senior lecturer in climate science at Imperial College London's Grantham Institute, said in a statement Thursday.

"As long as we burn fossil fuels, these events will become more and more intense, providing ever greater barriers to adaptation," she said.
And the odds of us stopping this fossil-fuel rampage?
If 'we' don't make the mark — a view from the heated wastelands:
Hot-house, or not, yet once again here we are…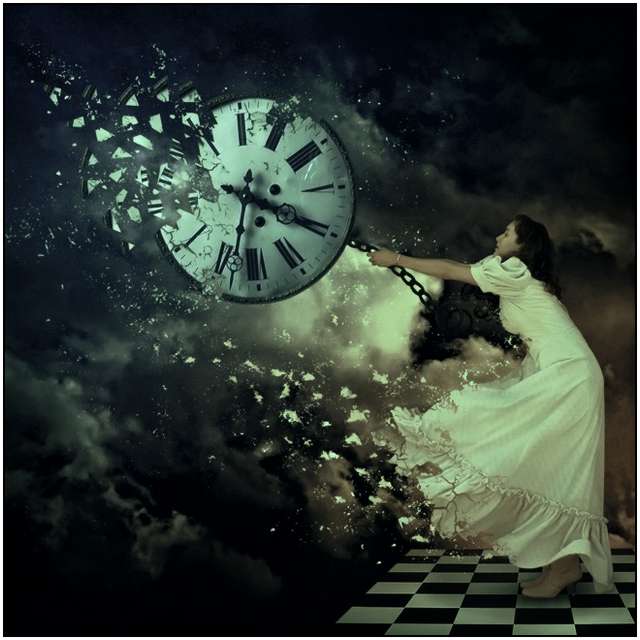 (Illustration out front: 'A Break in Reality,' by Xetobyte, found here.)