Another sudden burst of brutal warfare this morning along the Israel/Gaza border baffles the sense of how shitty Bibi Netanyahu and his government are in actually governing — maybe way, way-too close to the Republican brand here in the States.
One of several potent points by Robert Farley at Lawyers,Guns&Money this afternoon: 'The intelligence failure here is catastrophic. You can't launch an attack of this sort without significant electronic, verbal, and physical evidence. Israel's intelligence and military agencies have just experienced a massive failure, perhaps the most massive failure of any intelligence apparatus this century.'
While Israeli officials have said for months that Palestinian militant groups were preparing for violence, the timing and scale of the attack appear to have caught Prime Minister Benjamin Netanyahu by surprise. Israel and its ally the US — which contributed $3.3 billion to Israel in defense spending in 2022 — were already weighing who was most responsible and how it happened.

"It's shocking to me that they were able to do it without Israel or the United States picking up on it," said Martin Indyk, a former US ambassador to Israel and a fellow at the Council on Foreign Relations. "Failure to prepare. Failure to have troops along the border, failure of the fence along the border that they paid millions of shekels for."

The attack is all the more shocking given that it comes 50 years after Israel's failure to head off a surprise attack that Egypt and Syria launched on the Jewish holiday, Yom Kippur. That intelligence failure prompted the creation of a commission to figure out what went wrong and became the subject of countless books and scholarly articles.
And fright of the unexpected expected:
Just landed at Ben Gurion airport Tel Aviv – then the sirens went off #Israel pic.twitter.com/Rnbgg0bR5z

— Nic Robertson (@NicRobertsonCNN) October 7, 2023
Deeper dive per The New York Times, also this afternoon — some snips:
Until now, Israel has contained Hamas and Gaza with a strategy that hinged on an intelligence network that would warn against Hamas's moves, and on the power of the Israeli army to repel a ground invasion by Hamas. In the Hamas attack on Saturday, these two safeguards failed.

Israel is traditionally perceived as the strongest intelligence power in the region, with extensive coverage of the Gaza Strip. And in recent months, Israeli intelligence did repeatedly warn that a military conflict could flare up because Iran and affiliated militias have perceived Israel as weakened by the nation's profound divisions over the judicial overhaul being pursued by the ultra-right governing coalition of Prime Minister Benjamin Netanyahu, according to four senior defense officials.

Still, while Israeli intelligence collected some indications that Hamas was planning a major operation, they were far from forming a clear picture, one of the officials added.

Israel, the official said, did not pick up on the elaborate preparations that were likely needed for the 250 Hamas militants tasked to lead the assault, and target military bases, cities and kibbutzes.

American officials, too, said that both Israel and the United States had known a Hamas attack at some point was possible, or even likely. But they said there was no specific tactical warning of the strikes on Saturday, no sign that would have allowed Israel to take specific measures.

Many questioned why Israel and the United States were blindsided. Mick Mulroy, a former C.I.A. officer and senior Pentagon official, said the complexity of the attack by Hamas indicates it would have required much preparation.

"There were likely indications of the buildup of munitions and the preparation of the assault force, and there was cyber activity in Israel prior to the assault," Mr. Mulroy said.
Lapse consequence of today's attack (Vox):
Hamas managed to pull off a stunning assault on several fronts, not only shooting mortars and rockets into Israeli territory but also staging an invasion via air and sea. That infiltration, as many experts have noted, is particularly shocking given Israel's Mossad intelligence service and tight control under which Palestinians in Gaza and the West Bank live.

"The Israelis pride themselves on having world-class intelligence, with the Mossad, with Shin Bet, with Israeli military intelligence," Colin Clarke, director of research at the Soufan Group, a global intelligence and security consultancy, told Vox in an interview. "They do — from the most exquisite human sources to the most capable technical intelligence gathering capabilities [including] cyber and signals intelligence."
And the horror — Bibi promised "mighty vengeance" against the Palestinian terrorist group, which will result in a shitload of collateral damage of many, many innocent civilians. The brutal war shit works that way.
A state of war within a state of war:
Screams of protest, or not, yet here we are once again…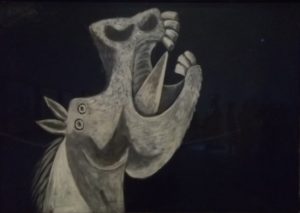 (Illustration out front: Pablo Picasso's 'Agonizing Horse,' found here.)