Summer sense in early autumn this late-afternoon Sunday here in California's Central Valley — the temperature now just a little under a hundred degrees, the outside air heavy with heat, creating colors seemingly scraped from some exceptionally odd MC Eisner//Van Gogh oil painting.
A little poetic, non-aesthetical bullshit there to immediately instigate a hope-filled grin.
In that weird, fabricated artwork the undertone is measured by the news cycle through this day, and just about all of it sucks through a small straw. Shit on bad shit, from the horror in Israel/Gaza, to the huge death toll off that earthquake in Afghanistan, onward to mass shootings over the weekend in California, Pennsylvania, Illinois, and all the way down into the dangerous dread of American political life, so there's just not any real room for any kind of grin. Yet all of this sounds like a noteworthy song I hadn't heard in a long while.
And even the opening notes would always make me smile.
In an attempt to maintain a near-non-neurotic mindset, another Sunday Serenade (last one here) with accompanying music, today in our quest for a grin/smile, we present Don McLean's most-wondrous "American Pie" and that fateful day the music died, which could be anytime/every day in the nowadays:
The lyrics are so, so on point — including this noteworthy verse-splice further into the song:
Helter Skelter in the summer swelter
The birds flew off with a fallout shelter
Eight miles high and fallin' fast
It landed foul on the grass
The players tried for a forward pass
With the jester on the sidelines in a cast

Now, the half-time air was sweet perfume
While the sergeants played a marching tune
We all got up to dance
Oh, but we never got the chance
'Cause the players tried to take the field
The marching band refused to yield
Do you recall what was revealed
The day the music died?
Shitty a lot of people — millions and millions of them — will never get that fleeting chance to dance.
A forerunner for 'American Pie' was gruff-voiced Barry McGuire's "Eve of Destruction,' a dark foretelling:
The lyrics, too — also these words:
Yeah, my blood's so mad, feels like coagulatin'
I'm sittin' here just contemplatin'
I can't twist the truth, it knows no regulation
Handful of senators don't pass legislation
And marches alone can't bring integration
When human respect is disintegratin'
This whole crazy world is just too frustratin'
And you tell me
Over and over and over again, my friend
How you don't believe
We're on the eve of destruction
Sound like someone familiar?
Beyond the bad news on the steps, there's always lost hope with Jame Taylor's "Fire and Rain" and the admission of dreams and schemes of shit scattered all about:
The lyrics — as an epitaph:
Been walking my mind to an easy time
My back turned towards the sun
Lord knows, when the cold wind blows
It'll turn your head around
Well, there's hours of time on the telephone line
To talk about things to come
Sweet dreams and flying machines in pieces on the ground
Further back and personal — Johhny Cash is "Bad News," a chaos kind of guy:
The lyrics — concluding:
Well, now I've picked peaches in Georgia, lumberjacked up in Maine
I've been hired and fired and put in jail in any town you can name
'Cause I'm bad news, everywhere I go (bad news)
Always gettin' in trouble
And leaving little girls that hate to see me go (bad news)
Say it baby!
Go ahead, I dare you!
And to beautify our way out of this dark, depressing silly of a serenade, there's Miss Emily Dickinson — "The Only News I Know" (to end in light):
The Only News I know
Is Bulletins all Day
From Immortality.

The Only Shows I see—
Tomorrow and Today—
Perchance Eternity—

The Only One I meet
Is God—The Only Street—
Existence—This traversed

If Other News there be—
Or Admirable Show—
I'll tell it You—
A smile or a grin let's pretend, or not, yet once again here we are…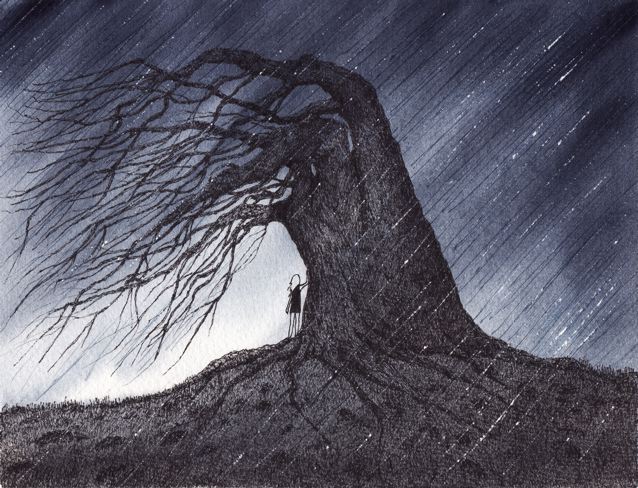 (Illustration out front: 'Shelter in the Storm," found here.)