Overcast with a chilly breeze this early-evening Monday here in California's Central Valley — a quick turnaround from the heat, a nice break.
Not on a break are journalists covering the horror of war now in Israel and the Gaza Strip — even close calls:
Nutshell after the scary 'fuck' moment — per The Hill:
"So forgive me. I have a slightly inelegant position, but we have just had a massive barrage of rockets coming in here, not too far from us. So we have had to take shelter here by the roadside," Ward said, breathing heavily on the broadcast while lying on her side on the ground. "We're just about five minutes away. Gaza is in that direction. We can hear now a lot of jets in the sky. We can also hear the Iron Dome intercepting a number of those rockets as they were whizzing overhead and making impact in that direction, not too far from here."

Ward said the area she was reporting from is "Ground Zero for this entire operation of carnage" that broken out in Gaza over the weekend.

"Hamas militants came on a pickup truck. This was the first place where they breached that border wall, and they basically drove down this strip, just spraying lead wherever they went," she said.
War zone journalism has been in place since war began probably, at least in the last 150 years or so, as newspapers began to flourish and later radio and TV. In close to real-time, Walter Cronkite and Vietnam was America's up-close-and-personal eye-awakening as war-zone news for the first time was broadcast straight into homes. Cronkite on Feb. 27, 1968, called it: '"It seems now more certain than ever that the bloody experience of Vietnam is to end in a stalemate … [I]t is increasingly clear to this reporter that the only rational way out then will be to negotiate, not as victors, but as an honorable people who lived up to their pledge to defend democracy, and did the best they could."'
Long ago, in a place seemingly far, far away. Television is on a scramble — when war breaks out, the 'fuck' moments are part of the program — a look at covering TV's screens via The Washington Post this afternoon:
Since Saturday, networks have been "scrambling" — in the words of one veteran television journalist — to get correspondents and producers to Israel, to augment existing personnel or, in some cases, serve as lone representatives. Although most television networks still maintain a presence in Israel, staffing levels have broadly declined in the past two decades.

Kirit Radia, director of international news for ABC, said "there are significant logistical challenges" getting into the country, which has closed some land borders.

In light of the flight cancellations, journalists for NBC News and MSNBC drove to Israel from Jordan, said a network employee who spoke on the condition of anonymity to discuss internal matters. NBC and MSNBC have seven correspondents in the country, including chief foreign correspondent Richard Engel and MSNBC anchor Ali Velshi.

By Monday, the anchors of the nation's three biggest evening newscasts — NBC's Lester Holt, ABC's David Muir and CBS's Norah O'Donnell — were all based in the country.

"That's our mission: to be able to be on the ground, to document what we see, to be able to report it," CBS News President Ingrid Ciprian-Matthews said in an interview. "We take that responsibility seriously."

NBC News waited until Holt had crossed the border into Israel before announcing that he would anchor a special edition of "Nightly News" on Monday, the network employee said.

CNN has a team of approximately 35 people on the ground in Israel, including eight reporters.

Fox News Channel's coverage has been led by correspondent Trey Yingst, who is based in Jerusalem, along with veteran correspondent Greg Palkot. (A network spokesperson said security concerns prohibit revealing how many employees Fox has in the country.)

For NewsNation, the upstart cable-news channel, anchor Chris Cuomo — a veteran of CNN's prime-time lineup — is in Jordan, while correspondent Robert Sherman is in Israel.

Despite the significance of the conflict, networks must balance coverage of Israel with other major international news priorities, such as the ongoing war in Ukraine.
And usually are straightforward with their reporting — not much in the 'both-sides-do-it' bullshit routine.
Another underfire,'fuck' reporting:
And here, too:
Journalism on the bomb dodge, or not, yet here we are once again…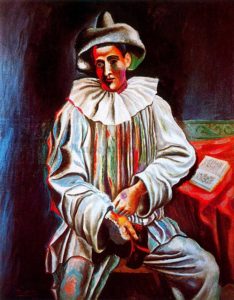 (Illustration out front: Pablo Picasso's 'Seated Pierrot,' found here.)