(Illustration found here.)
Out of the depth of the original deed Joe Biden correctly called "an act of sheer evil," came a noted shitload of acts all carved out of the all-encompassing evil aspects chewed and clawed from the most-wicked history of humanity. Indeed, Hamas has proved nothing, other than a heartless, cruel legacy.
And this evening, Israel's defense minister also seemed to open blood floodgates having "released all restraints' for Israeli troops awaiting orders to possibly invade Gaza — apparently to make sure "…Gaza will never return to what it was."
There's a way-shitload of horror stories coming out of the invasion/war/slaughter since Saturday and I read a few at the beginning, but after a while, it was like reading dystopian horror fiction, though, knowing full well it was actual and real, which in turn made the shit even worse — people were murdered point-blank range, raped and kidnapped. Haphazard-like slaughter as Hamas thrashed into Israel from Gaza early Saturday morning, firing indiscriminately with machine guns from pickup trucks, on motorcycles  — that open-air Tribe of Nova music festival will live in infamy (260 bodies recovered so far).
One festival story I came across this afternoon was found at the Guardian's live blog — there's way-most-likely a shitload of similar tales:
Tal Nehu Nehushtai, a 29 year old tech start-up worker, was dancing to DJ Sonic Caesar's sunrise set on the dark-side trance stage at the Tribe of Nova festival when he saw the first rockets flying overhead. It wasn't a typical barrage from Gaza.

"We started seeing the missiles in the sky, but a more extreme amount than we are used to – and something not good," he says.

"The police stopped the music and told everybody to escape as fast as possible. Then we started to hear rumors that terrorists had managed to cross the line from Gaza.

The attack came at the peak of DJ Sonic Caesar's set. "It was planned. It became like a game of chicken. Cars with guns everywhere, bikes with guns, people with guns. It was an extreme nightmare." Israeli officials have counted at least 260 bodies near the site of the Nova festival.

Nehushtai, from Kidron, and two friends were among the first to leave in their cars. They headed north to Tel Aviv.

"But everyone on the opposite side was making signs to turn around. Someone said you can't keep going, there are terrorists on the road shooting at cars.

The road south was now jammed, so they took a decision to go to the closest village, Kibbutz Beeri. But that village had been taken over by terrorists. Nehushtai says:

"They took everybody – the kids, the girls, the
parents. They kidnapped, slaughtered or raped everybody.

Luckily for the group, the gates to the village were closed – "our first miracle," he says. They found concrete drainage tubes near the gate and hid. Then we started hearing the shooting from the fields and
the village. Through a hole, his friend saw two pick-up trucks, each with six terrorists in the back.

"They were shooting like crazy. It was very scary. We knew we had to go but we cannot go anywhere," he says. When the shooting stopped, they drove north again but ran into a roadblock.

"We didn't know if it was Israelis. But in two seconds they pointed their guns and started shooting. We reversed. The bullets came through the windshield, five centimeters from us.

They sped back, went off-road and found an orange orchard, ran in, and hid under a tree for six hours.

"We were trying not to move, not to breathe, not to make a noise. We heard terrorists come to the car, smashing it and stealing the license plates. They passed one line of trees next to us, talking. All that
time we heard crazy shooting from everywhere – weapons that were never in Israel before – AK-47s, M-16s, machine guns and missiles.

"It was very extreme and we were very, very lucky," he adds. "We made the right decisions at the right time."
Another one of those 'stories' with by-a-whisker timing:
Although Bibi Netanyahu is a grade-A, right-wing asshole (T-Rump-like), and his cronies, too, and the incompetent, political bullshit (Bibi can't really govern — sound familiar?) helped create this unmitigated horror disaster, what Hamas pulled is beyond the pale — murder and mayhem is still murder and mayhem, and without provocation or nothing at all resembling a menace. Slaughter of the innocent.
The shit of the shit is that the situation will only get worse.
Horror stories never-ending, or not, yet once again here we are…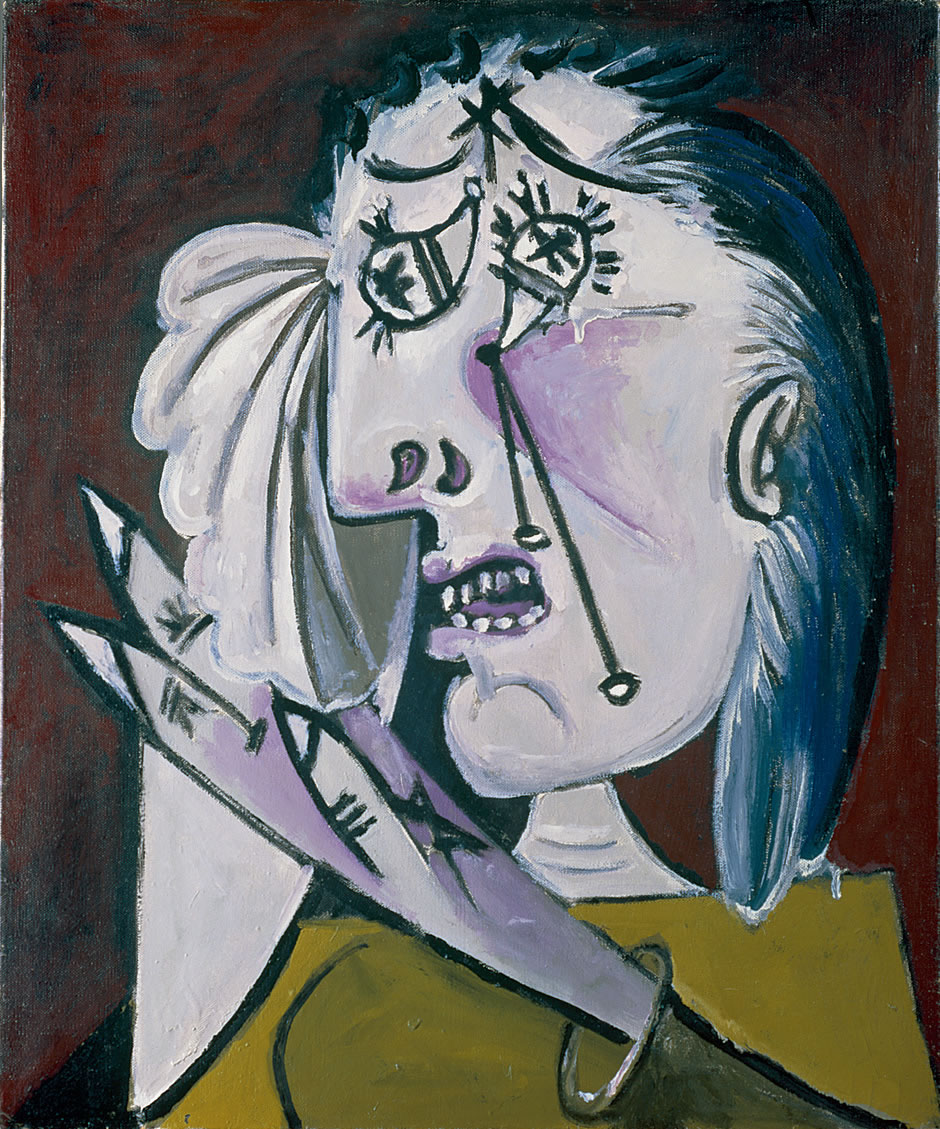 (Illustration out front: Pablo Picasso's 'The Weeping Woman [La Femme qui pleure],' found here)