Late afternoon Wednesday here in California's Central Valley — midweek hump as it's all a bullshit coast now until Friday.
Meanwhile, tomorrow is another day in the life of the really, really screwed-up Republican House where Gym Jordan once again was shot down in burning, bad-news flames in the second open floor vote on Speaker. He lost even more ground — winning two assholes and losing four others  — and has called for a third try in the morning, or maybe noon DC time. It will be another clown show.
A circus while the world burns, and pizza called for this morning as the way-divided GOP tried to shit hard-ass turds with bowels clock-blocked — a future and a past:
It's a gate but what should we call it? https://t.co/faFPvIAEao

— Molly Jong-Fast (@MollyJongFast) October 18, 2023
In the ugly moment, Gym will have to really dump hard  — keynote from an analysis piece at The Washington Post early this evening:
Republicans have privately admitted they will start to flip their support if Jordan can't clinch the speakership, and more GOP lawmakers are expected to oppose Jordan on Thursday. Some Republicans have worked among themselves to ensure that the number of votes against Jordan grows in each round of voting, according to two lawmakers familiar with the effort who spoke on the condition of anonymity to detail private conversations, recognizing that Jordan will not back down until it is clear a majority of Republicans do not want him to lead their conference.
What a fucked operation! The Republican brand really does suck.
And in a sense of history, Digby this morning had a most-excellent post on the age of America beginning with Ron Reagan and old (then-young) real-time asshole from forever ago, Newt Gingrich, Gym Jordan's real-time mentor and original shithead for the whole age building the last 40 years or so — snip:
But the idea that Jordan would be a departure from all the alleged statesmen who previously served as Republican Speakers and that the maelstrom that's engulfed this congress since they took over is competely unprecedented isn't true. In fact, Jordan and the rest of the House GOP rebels are following in a recent tradition.

Back in the 1980s the Reagan Revolution brought into the Republican House caucus a group of backbench bomb throwers led by an obscure Georgia congressman named Newt Gingrich. He was very adept at getting attention from the nascent right wing media represented in those early days by talk radio. He first came to national notice when he maneuvered to oust the then Speaker of the House over an ethics complaint. He said at the time, "I'll just keep pounding and pounding on his ethics. There comes a point where it comes together and the media takes off on it, or it dies. What I really want is to get some people with subpoenas poking around." (That Gingrich himself had a very similar ethics problem made it a "chef's kiss" of a political gambit and secured his place in the GOP as a bold, risk taker. )The Speaker in that case was a Democrat and was hastily replaced by another Democrat but that was the play that started it all and led us to where we are today.
Go read the whole piece, well worth your time — as I've said numerous times, Heather Parton is a national treasure.
Gym jimmied, or not, yet once again here we are…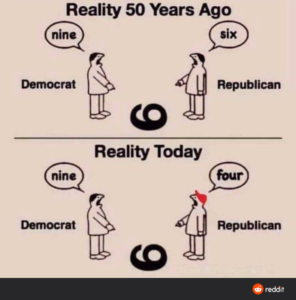 (Illustration out front found here.)