Early-evening Thursday here in California's Central Valley, near-closing out another nice autumn day, though, a bit on a more warmish side than normal the last week or so, but still simply nice.
Unlike — leading from the lede — the US House of Representatives and the continuing circle-jerk festival Republicans have employed the last two weeks. Since gaining a razor-thin majority last November, House Repubs have completely fucked-up the ambiance of any kind of simple government, starting with KMac's 15-round Speaker joust in January, and all the way up to the right now time frame with KMac out and the House in a stand-still mode with all kinds of serious shit floating around, from Israel/Gaza to a US government shutdown in less than a month to additional funding for military supplies for Ukraine.
Playing the assholes Gym Jordan and the hard-fisted MAGA nuts have wilted chances for a Speakership due to him being an asshole bully without any expertise in anything. A four-hour fightfest this morning between Republicans didn't move the dial at all. Jordan has lost two votes already and seems bend on losing another on, maybe tomorrow.
Even Jordan's call to empower bow-tied Patrick McHenry as temporary speaker until maybe January to allow some House business to be conducted, but that shit was chopped down, too.
And now here we are with shit still up in the air — I can't find anything anywhere on what will happen.
Republican Kat Cammack of Florida told the tale: '"It certainly does not have the support in conference and to bring it to the floor. It would have to survive with Democratic votes … We're currently sitting on a tinderbox. So to do that, it would set off the fuse that would certainly end in civil war within the GOP, and I don't believe that anybody wants to do that."'
There's nothing left in the kitty:
Kevin McCarthy is very proud to tell you that he NEVER QUITS. Except when he does. https://t.co/tB7uZ7HcUl

— Aaron Rupar (@atrupar) October 19, 2023
Noted showcase for all this ugly shit from within that closed-door session — via The Washington Post's live blog on the Republican circus:
Rep. Matt Gaetz (R-Fla.) acknowledged that former speaker Kevin McCarthy (R-Calif.) screamed at him in the meeting. Gaetz's challenge led to McCarthy's ouster.

"I think his passions are a little inflamed. I think he's working through the stages of grief," the far-right antagonist told reporters.

Gaetz also acknowledged a clash, more verbal in nature, with Rep. Mike Bost (R-Ill.).

"I think he was pretty animated. I don't know if I'd describe it as a lunge," he said.

Gaetz said his comments at the microphone that might have sparked the shouting matches were his opposition to the proposal to empower the speaker pro tempore.

"I said that I thought that having 'speaker light' was a bad idea," he said, adding that he continues to support Rep. Jim Jordan (R-Ohio).
KMac was later a bit testy: '"The whole country I think would scream at Matt Gaetz right now."'
They'd scream at your sorry self, too, asshole!'
No mask with the quiet parts out loud:
Boebert on why they can't elect a Speaker: "There are 224 alpha males and alpha females who are here in the Republican Party. We are here because we convinced hundred of thousands of people that we are leaders." pic.twitter.com/uPvo1zOj0s

— Ron Filipkowski (@RonFilipkowski) October 20, 2023
Shit from a flatulent whoever — end game, unfortunately:
Oh well https://t.co/tBaKrVtF4h

— Molly Jong-Fast (@MollyJongFast) October 20, 2023
Republicans sucker-punching each other, or not, yet here we are once again…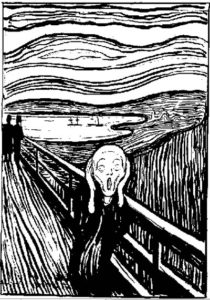 (Illustration out front: Edvard Munch's 'The Scream,' lithograph version, found here.)