In an attempt to escape, or at least push aside for a short while, the heinous news of the nowadays, I went for another musical broad-stroke to lighten the load just a bit and focus on today — Saturday — as a point of convergence for the mind's eye in dealing with some ugly shit.
Horrific near-genocidal wars in Ukraine and Israel/Gaza and the dumbass, democracy-destroying Republican party here in the US require melodies created from a certain idea or phrase or a namesake — Saturday is an odd weekend day, hence the noise celebrated in this post.
Description: 'Saturday is the day between Friday and Sunday.'
And holds a lot of emotional baggage, starting early, as in "Come Saturday Morning" by The Sandpipers (1970):
Come Saturday morning, I'm goin' away with my friend
We'll Saturday-spend till the end of the day, just I and my friend
We'll travel for miles in our Saturday smiles and then we'll move on
But we will remember long after Saturday's gone
Thus, in line, with Harry Chapin's "Saturday Morning" (1975):
Saturday morning,
And it's growing light
I look out my window,
And remember the night
A story is starting,
And this story ends.
And I feel like I need you again
And onto the clock winding even 60 years later, "On Saturday Afternoons In 1963" by Rickie Lee Jones (1979):
The most as you'll ever go
Is back where you used to know
If grown-ups could laugh this slow
Where as you watch the hour snow
Years may go by
So hold on to your special friend
Here, you'll need something to keep her in:
"Now you stay inside this foolish grin"
Though any day your secrets end
Then again
Years may go by
You saved your own special friend
'Cause here you need something to hide her in
And you stay inside that foolish grin
When everyday now secrets end
Oh and then again
Years may go by
And who better than Frank Sinatra to swing us into the evening with a big balloon of sad, "Saturday Night (Is The Loneliest Night Of The Week)" (1957):
Saturday night is the loneliest night of the week
'Cause that's the night that my sweetie and I
Used to dance cheek to cheek
I don't mind Sunday night at all
'Cause that's the night friends come to call
And Monday to Friday go fast
And another week is past
Further into the soul of the topic with Sam  Cooke's "Another Saturday Night" (1964):
Another Saturday night and I ain't got nobody
I got some money 'cause i just got paid
How I wish I had someone to talk to
I'm in an awful way
Lonely, sad, and into some glam brawling, Elton John and "Saturday Night's Alright For Fighting" (1973):
It's getting late have you seen my mates
Ma tell me when the boys get here
It's seven o'clock and I want to rock
Want to get a belly full of beer
My old man's drunker than a barrel full of monkeys
And my old lady she don't care
My sister looks cute in her braces and boots
A handful of grease in her hair
Oh, don't give us none of your aggravation
We had it with your discipline
Oh, Saturday night's alright for fighting
Get a little action in
Off Elton's bright shine to dark spaces with Lynyrd Skynyed's "Saturday Night Special" (1975):
One, two, one, two, three
Two feets they come a-creepin'
Like a black cat do
And two bodies are layin' naked
A creeper think he got nothin' to lose
So he creeps into this house, yeah
And unlocks the door
And as a man's reaching for his trousers
He shoots him full of 38 holes
Mister Saturday Night Special
Got a barrel that's blue and cold
That ain't good for nothin'
But puttin' men six feet in a hole
Of course, all this shit happening all day Saturday, from morning into the deep night, leads to foreshadowed consequences noted by Johnny Cash and  "Sunday Morning Coming Down" (1972):
Well, I woke up Sunday mornin'
With no way to hold my head that didn't hurt
And the beer I had for breakfast wasn't bad
So I had one more for dessert
Then I fumbled in my closet through my clothes
And found my cleanest dirty shirt
Then I washed my face and combed my hair
And stumbled down the stairs to meet the day
And wishing strongly it was still Saturday.
Hey, wait a second! All these 'Saturday' songs were supposed to sideswipe or predispose all the shitty news for a time, but seemingly it appears Saturday is good for crying, being lonely, and in 'an awful way' with a headache Sunday morning that no matter what you do, won't go away even a little. In a desperate attempt to circumnavigate the horrid affairs of the real-time now, I've just circled the wagons in the rain and mud — and on a Saturday night, the loneliest freaking night of the entire freaking week, including the weekend.
So, what better way to close us out in proper fashion, but with a short-sized poem from Miss Emily Dickson, "Saturday Afternoon" out loud:
From all the jails the boys and girls
Ecstatically leap, —
Beloved, only afternoon
That prison doesn't keep.
They storm the earth and stun the air,
A mob of solid bliss.
Alas! that frowns could lie in wait
For such a foe as this!
Weekend day all-a-tune, or not, yet once again here we are…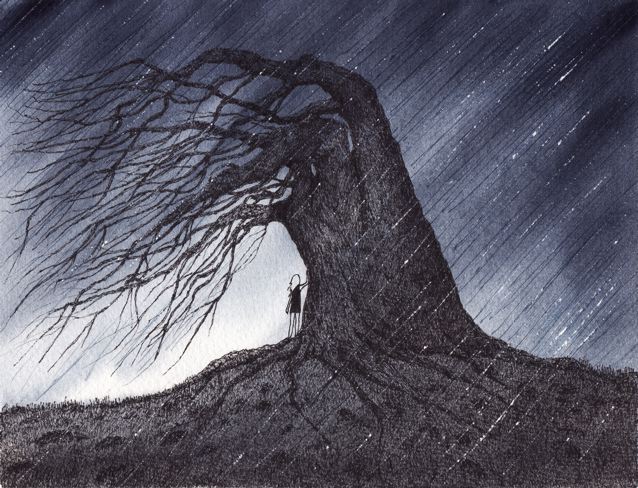 (Illustration out front: 'Shelter in the Storm," found here.)