Clear and a bit on the chilly side this late-afternoon Monday here in California's Central Valley — finally it looks as though we're in that trough of autumn, cool days supposedly ahead.
Politically-cold winter festers back east in DC — Republican dipshit wanker Kevin McCarthy on the nose last Friday: '"We are in a very bad place right now."'
No shit! And the whole country as witness:
Truth! "In doing the "people's business," the House GOP has prioritized the interests of a small, right-wing minority in America." Thank you, @MollyJongFast, for always telling it like it is! https://t.co/heiqso8cFk

— Susan Spector McPherson (@susanmcp1) October 23, 2023
Molly Jong-Fast at Vanity Fair this morning once again nails the tale — maybe now America'll see how odious, inept, clownish, and useless Republicans actually are, observing shit festering in public spaces, making them unable to govern at all:
But one can argue that since Republicans took control of the House, they've barely governed at all. If anything, they've spent more time trying to gum up the works, fighting with the Biden administration, harassing federal employees, and being obstructionists. And in doing the "people's business," the House GOP has prioritized the interests of a small, right-wing minority in America.

It was clear as soon as the Republicans won the majority, last November, that the far-right would be emboldened. ("The Marjorie Taylor Greene Congress is upon us," I declared at the time). And though McCarthy seized the speaker's gavel in January, it took him 15 ballots to grind it out and only after making concessions to the party's right flank. McCarthy got the job he coveted, but without job security as he agreed that any single member could call for a motion to vacate.

So weak was McCarthy that he took most of his cues from the MAGA caucus. He immediately set out to further restrict abortion; launched an impeachment inquiry of Biden despite having no evidence of wrongdoing; he put Greene and Paul Gosar back on committees; he allowed hearings about dumb culture war obsessions; and he essentially let Tucker Carlson create a new committee focused on the supposed "weaponization" of the federal government, a truly brain worm–infested panel. Just before getting the boot, McCarthy tried to pass a continuing resolution that would've cut the federal government by almost 30%.

Of course, Congress is necessary so that money flows to the federal government to keep it humming along. We're nearing another government shutdown next month as Republicans nearly drove the country to one last month. These people don't want the government to work; they want the government to not work so they can say they told us so. They don't want to really provide oversight or accountability—just look at the GOP's opposition to a January 6 Committee—and they want to shrink the federal government down so they can drown it in a bathtub.

Perhaps we're all better off with them fighting amongst themselves? Yes, a foreign aid package addressing Ukraine and Israel needs to be considered in Congress, but it's not like Speaker Jim Jordan, if such a scenario had come to pass last week, would've tackled these challenges in a sober and productive manner. So maybe this pause in Congress is a good opportunity for Americans to see the dysfunction of today's GOP up close. How will a Republican Party that's unable to pick a leader for weeks convince voters they should keep power?

A speakerless House is what Republicans did to themselves, the American people—and to us in the pundit industrial complex, who have to spend way too much time thinking and talking about some of the dreariest and least serious members of Congress.
If anyone is paying attention — of course, a way-goodly chunk of 'us' can't see shit:
Imagine being so stupid that every morning you woke up and discovered everything was like totally new and cool https://t.co/M2HB2nO98A

— George Conway (@gtconway3d) October 23, 2023
Despite the obvious horror, or not, yet here we are once again…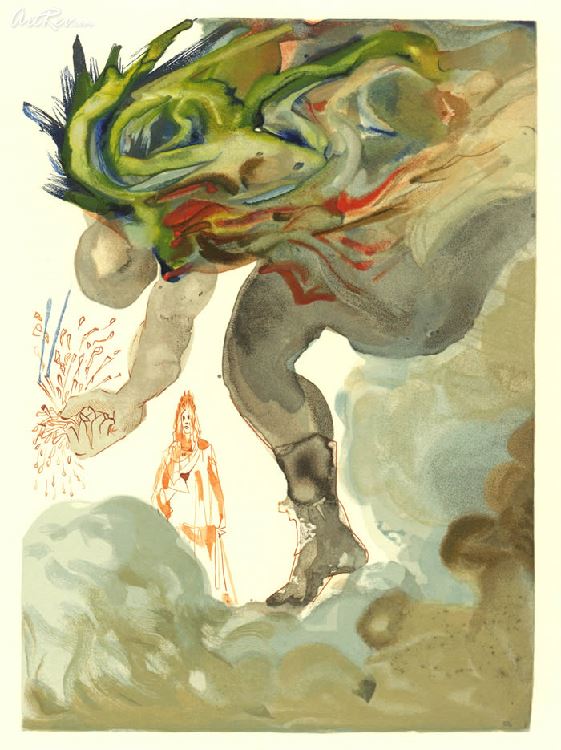 (Illustration out front: Salvador Dali's 'Hell Canto 2: Giants,' found here.)