Bright sunshine, calm winds, and fall-like temperatures this near-noon Tuesday here in California's Central Valley, another episode of nice as the seasons shift from sweet to sour over the next month or so.
Weather is local no matter the time.
And in a New York City courtroom this morning, the weather was chilled as ice icicles on a donkey's ass. The T-Rump and his former go-to attorney, Michael Cohen, shared liable space in lawsuit/lawyer country (Insider):
The two adversaries did not appear to lock eyes as Cohen, his demeanor cheerful, entered the courtroom and took the witness stand in Trump's $250 million civil fraud trial, now in its fourth week.

But Trump watched intently from the defense table as Cohen was sworn in and promised to tell the truth against him.
Together again in way-dislike:
Reporter: "How did it feel to see Michael Cohen here?"

Donald Trump: "Uh, well, I haven't seen him in years. And you know his record. His record's a horrible one. All you have to do is ask the Southern District of New York … We're not worried at all about his testimony." pic.twitter.com/0fCn4i8xQU

— The Recount (@therecount) October 24, 2023
Thus, likewise:
Reporter: "Michael, how did it feel to see Donald Trump again?"

Michael Cohen: "Ha! Heck of a reunion." pic.twitter.com/dh1M6DTQe8

— The Recount (@therecount) October 24, 2023
Meanwhile, in the courtroom — via the Guardian's live blog:
Cohen just provided stunning testimony implicating Trump in fraudulent valuation of properties.

"I was tasked, by Mr Trump, to increase the total assets based upon a number that he arbitrary selected, and my responsibility, along with Allen Weisselberg predominately, was to reverse-engineer the various different asset classes, increase those assets, in order to achieve the number that Mr Trump had [requested," Cohen said.

When asked what number he came up with, Cohen said, "Whatever number Mr Trump told us to."

Cohen's admission came as he was questioned about his familiarities with Trump's statement of financial condition – which is key to this trial, as the ex-president is accused of fudging to get fraudulent benefits.

"It was to be used eventually for purposes of demonstrating net worth for acquisitions for insurance purpose," Cohen said.

He explained that in relation to insurance, insurance brokers would come to Trump's company and permitted to take notes – but they weren't allowed to keep it.

"The benefit was to show that the assets had extremely high values, with low liabilities in order to obtain better insurance premiums," Cohen said.

He made the admission when shown a copy of the statement of financial condition on the screen.
And earlier:
As Cohen's testimony gained steam, he was asked to detail how he met Trump and started working for him. Their relationship, as it turned out, started with infighting among condo board members. Trump, Cohen said, took notice of his mutiny.

Cohen told the court: "I was introduced to Mr Trump through his son, Don Jr, and it emanated from a dispute that took place at one of the properties."

"I had owned a unit there, family members owned units there, friends owned units there," Cohen said. "The goal was to remove the board and to replace the board with a more favorable board. We did it successfully."

"We were asked to handle a few other matters for Mr Trump, which also resulted successfully and ultimately, while sitting in his office, he asked me if I would like to leave that 'sleepy old firm…' and join him."

"You accepted that invitation?" an attorney for Letitia James' office asked.

"I did."
Even from a short distance, Cohen has a history:
A lawyer who was raised in Long Island and the son of a Holocaust survivor, Cohen, 57, spent over a decade as one of Trump's closest employees. He started working for the former president in 2006 and quickly became one of his most loyal employees. Many who were close to Trump saw that he often turned to Cohen to help clean up messes.

"Time and time again, I felt it was my duty to cover up his dirty deeds," Cohen would eventually say at his own sentencing.

The tides for Cohen turned in 2018, when the FBI raided his Rockefeller Center office after a referral from special counsel Robert Mueller, then investigating possible connections between Trump and Russian election interference.

Cohen's lawyer at the time called the search "completely inappropriate and unnecessary". Trump accused his own justice department of perpetrating "a total witch hunt" – a term he adopted a year earlier – and described the FBI raid as "a whole new level of unfairness".

But then Cohen lost his employment with Trump, and in August that year pleaded guilty to campaign finance, tax and bank fraud charges.

Cohen admitted to violating campaign finance laws relating to a $130,000 pay-off to adult film star Stormy Daniels at Trump's direction "for the principal purpose of influencing" the 2016 election. Several months later, he pleaded guilty to lying to US congressional committees about efforts to build a Trump Tower in Moscow. He was given a three-year prison sentence, which he mostly served in home confinement, dealt a $50,000 fine and disbarred from practicing law in New York for life for his part in the Stormy Daniels affair.

Since Cohen was released in November 2021, he has been a vocal critic of Trump on social media and has openly been hyping up his upcoming appearance in court.

"If you want to get to Donald, the way to do it is through his bank book," Cohen said last week. "It's not by saying he's a narcissistic sociopath or that he's definitely not 6ft 3in and he's not 215 pounds. You go after the wallet … Once you start hitting that bank book, that's what really gets to him."

In an interview earlier this month, Cohen claimed that everything that happened at the Trump Organization was with the "direction of, and ultimately signed off by, Donald J Trump."

[…]

Cohen has previously predicted that the civil fraud trial could mean the end of Trump's businesses in the state and city where he made his name and fortune if they are placed in receivership.

He has also said that he is concerned about testifying at the fraud trial because of Trump's incendiary stoking of his Maga supporters. If not for the subpoena, he said he considered not even showing up.

"I don't have to put my life on the line simply because Donald Trump cannot control himself and the courts are not controlling him," he told MSNBC in September.

But as the big day has approached, the ever combative Cohen seems to be warming up for the event.

"It's been five years since we have seen one another," Cohen told NBC News. "I look forward to the reunion. I hope Donald does as well"
This will play out after lunch — Michael Cohen vs Tom Hagen:
Consigliere, or not, yet once again here we are..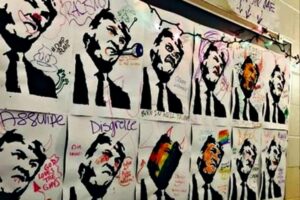 .(Illustration out front is of a New York state high-school student exhibit: 'The piece was displayed during student-driven art show at Shenendehowa High School. It consisted of at least 12 identical black-and-white pictures of Donald Trump. There was also a sign above the pictures that read, "Draw on Me." Using markers from the art classroom, Isome students opted to scribble critical messages and profanities on the pictures' — and found here.)