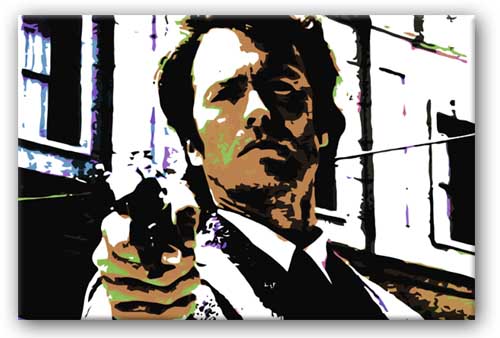 (Illustration found here).
Yesterday morning, a more-than-unhappy guy shot another guy in the face with a .45, then moments later, proceeded to get into a one-sided fire fight with police, getting himself killed while nine others on a crowded NYC sidewalk were wounded.
If one followed the news at all, one would then know pretty-much the particulars of the event — if not, original background at the Bloomberg link above.
One interesting bit from that news story:
Today's shooting was the third this month at a major tourist attraction in the most populous U.S. city.
Yesterday, a street vendor near Yankee Stadium in the Bronx shot two competitors and on Aug. 11, police gunned down a knife-wielding man near Times Square.
Real-time is not-so-oddly becoming most-violent.
And out in the public.
This morning, the lede for the online Chicago Tribune story on that city's gunplay:
Four males – 17, 30, 34 and 23 years old – were killed and at least 5 others wounded in a three-hour stretch Friday night in shootings on the city's South Side. At least 13 people survived shootings between 4:15 p.m. Friday and early Saturday morning.
Now it's real-good to just 'survive' these things.
The Tribune story then bleeds details of the reported one-sided firefights across a nasty, urban landscape — the first death was a 30-year-old guy, then 45 minutes later in another neighborhood, a 17-year-old kid was shot and killed while a 42-year-old woman was wounded in the same incident, supposedly after "Someone opened fire" in the near vicinity.
Early this morning, 23-year-old Stephin L. Williams — who according to his mother worked two jobs and was studying to be a registered nurse — was shot to death while eating with his girlfriend in his car.
"He was a good man," said Tanya Williams, sobbing on the telephone.
"My baby didn't know them, my baby didn't live by the gun he don't live by the sword.
My baby was a good baby."
The Tribune accorded three graphs to the Williams shooting and then moved on to other horrible ditties.
One might consider the story coming from Baghdad, not our own Chicago.
And the exact centerpiece for all this shit?
Way-of course, guns.
This year, though there's still nearly four months to go, there have been 11 mass shootings/killings via guns, starting in January with three teen-agers slain in Philadelphia to the incident yesterday at New York's Empire State Building.
And three in August alone — seven people died Aug. 5 after gunfire broke out at a Sikh temple in Oak Creek, Wisconsin, carried out by a white white supremacist; just more than a week later near the campus of Texas A&M University, three people, including a policeman, were gunned down by a guy obsessed with video games and having financial problems; and the NYC gunfight on Friday.
All this shooting/killing lately seems spurred by that theater bloodbath in Aurora, Colo. July 20 — people can do great damage with a gun, and quickly.
A good view of 30 years of mass slayings is found at Mother Jones, complete with graphs and charts.
And this of guns: Of the 137 guns possessed by the killers, more than three quarters were obtained legally. The arsenal included dozens of assault weapons and semiautomatic handguns. Just as Jeffrey Weise used a .40-caliber Glock to massacre students in Red Lake, Minnesota, in 2005, so too did James Holmes when blasting away at his victims in a darkened movie theater.
Guns kill — a human finger, unless jabbed in the exact-right spot, won't cause much damage.
However, a lot of horrible, collateral damage comes from a delusional, bat-shit crazy segment of society, which unfortunately, has whole-heartily gripped the old US of A by the nut sack — the most-ridiculous Tea Party crowd.
These historically-ignorant, close-minded assholes have completely and tragically infested/diseased one of only two political parties in this country.
These guys have caused much mischief, and can best be described as racist (including both Afro-Americans and all immigrants), way-overwhelmingly white, seek "deeply religious" people for public office, and, as Matt Taibbi most-aptly stated in a Rolling Stone piece two years ago: But after lengthy study of the phenomenon, I've concluded that the whole miserable narrative boils down to one stark fact: They're full of shit. All of them.
Just four short years ago, these clowns as a group didn't exist, except maybe bubbling around in each of their individual, quivering brains.
The RNC is next week — although there's reports  of it being delayed due to the approach of Hurricane Issac — and the whole 2012 Republican political foundation, or 'platform,' if you will, has been chocked-full of Tea Party bullshit.
"We're extremely happy that the tea party can have this type of influence," said Ryan Hecker, a legal adviser for FreedomWorks, the conservative advocacy group founded by Dick Armey.
"We've definitely taken over the Republican Party."
This head-whips us back to guns.
Tea Party people and NRA people like to hold hands a lot.
The NRA, of course, is the National Rifle Association, a violent, crazed lot, bent on keeping America armed to the blood-stained teeth, no matter how many innocents are killed by military-style, automatic weapons — these things should be legal says the NRA, just in case, supposedly, a hunter comes across a humongous herd of deer, or where the antelope lay, and he can kill them all.
Earlier this month, President Obama visited Mansfield, Ohio, to keep the political fires burning in that battleground state (a second stop was made that day in Akron), and gave a speech bashing Mitt Romney's tax plan for the wealthy.
Although there were Romney supporters on hand to jeer outside Obama's speaking venue, the group was heavy gun crowd.
Appropriately, the NRA held a "Rally for Freedom" in opposition to Obama's visit and were joined by members of the Mansfield North Central Ohio Tea Party Association, which also provided bus transportation — together they gathered "…exercising our constitutional rights."
Indeed.
In North Carolina, the Asheville Tea Party Political Action Committee will offer a mega-dumb-ass fundraising event next month — for a $35 donation, one can fire an M-16, and a $50 contribution allows the firing of an AK-47.
From Asheville's Citizen-Times:
People showing up for the group's "Machine Gun Social" will get to do just that while raising money to support candidates endorsed by the group in the November election, Chairwoman Jane Bilello said.
"It's a lot of fun," Bilello said.
"It's a really cool thing to do. Our folks love it."
…
Bilello said that besides raising money, the event is intended to show the group's support for gun rights.
She dismissed the notion it could be seen as insensitive in light of recent mass shootings like the one that claimed the lives of 12 people inside a Colorado movie theater during a screening of the new "Batman" movie.
If someone in the theater had been armed, James Holmes might have been stopped sooner, she said.
"Our founders wanted to make sure we could protect ourselves," Bilello said.
Understanding how foolish, and terrifyingly dangerous Bilello's whole bullshit concept, one has to only see the surveillance video of those two NYC cops taking out that shooter on Friday — bullets and parts of bullets apparently not only went into the gunman, but all around, as the injuries to bystanders came from police guns.
The Gabrielle Giffords shooting incident in Tucson, Arizona, early last year could have been way-more terrible: The tragedy could have been even worse had an armed bystander not thought twice before shooting the hero that disarmed Jared Loughner, the alleged shooter.
But alas: Even if Zamudio (the armed bystander) hadn't been close by, there was a good chance that someone in the crowd would have been armed. About 40 percent of Arizona adults own guns, double the percentage in California.
In reality, soon one of these so-called armed bystanders will open fire during some crazed, public shooting, and then real shit happens.
And so, thusly this from George Carlin: Here's another group of mutants with missing chromosomes who ought to be thrown screaming from a helicopter. Gun enthusiasts. "Yeah, I'm a gun enthusiast." Oh yeah? Well I'm a blowjob enthusiast. Wanna see me shoot? Cock this and I'll discharge a load for you.
Go ahead, asshole.