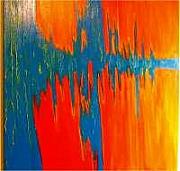 Clear and a bit chilly this early Tuesday with a full moon nearly-bright as day. Beautiful sky filled with soft, twinkling stars, a picture of pre-dawn serenity — not!
Less than 45 minutes ago, one of my most-profound fears were realized, but I didn't know it. While in the shower, we had another earthquake, a 4.4 on the Richter scale, located about 60 miles west of my un-awareness. An uncontrollable fright is being caught in the shower during 'the big one' — yet even this 4.4 will leave a mental mark on personal hygiene.
This earth-shaking shit is getting crazy.
(Illustration: 'Earthquake,' by Jakara Art, found here).
During the past week to 10 days, we've had a boat-load of shakers in these parts — we sill got the world's top spot this month with the 6.8 tumbler we had last week — record for the past 12 months is the 8.3 last May near Yelizovo, Kamchatka, Russia — but it seems the whole planet is trying to get in on the earthquake scoreboard.
Yesterday, downtown Beverly Hills was the epicenter of a 4.9 shaker which rippled the entire LA basin with a hearty, good-morning scream.
And the LA quake revealed we know nothin' about the ground upon which we live:
But Monday's 4.4 earthquake in Encino is a reminder that the seismic danger extends well beyond those fault lines.
The quake, which caused no damage but was largest in the Los Angeles area in four years, erupted on a little-noticed fault deep under the Santa Monica Mountains.
The temblor surprised seismologists because it was the strongest to hit directly under the Santa Monica Mountains in the 80 years "since we started recording earthquakes in Southern California," said Caltech seismologist Egill Hauksson.
Until now, experts recorded only magnitude 1 to 3 quakes there.
Monday's 6:25 a.m. temblor showed that for all that is understood about quakes, much remains unknown.
Southern California's most destructive earthquakes in the last generation — the 5.9 Whittier Narrows in 1987 and the 6.7 Northridge in 1994 — occurred on faults unknown to scientists before the shaking began.
"Clearly, earthquakes happen in places you don't expect," said Thomas Heaton, director of Caltech's Earthquake Engineering Research Laboratory.
"The bigger the earthquake, eventually, you really are surprised to find an earthquake on a fault you didn't know about."
A response that's really, really not very reassuring.
And even with all these rumbling, rolling flurries, this is California. And yesterday's LA rumbler? Robert Graves, seismologist with US Geological Survey: "We're continuing to analyze the data, but at this point, this seems to be what I would call a rather typical earthquake."
Ho-hum.
Earthquakes are the most-frightening of nature's dust-ups. Born and raised in the Deep South, tornadoes and such were the fright mainstay, but twisters ain't nothin' compared to a quake — there's absolutely no warning, and tilts the world on such an unrecognizable angle, it scares the livin' shit out of me.
My biggest fear, as I said above, is being in the shower when a big shaker comes rolling through town.
A 'whore's bath' might be the only solution.
Just don't want to be naked while running around screaming in pure fright.