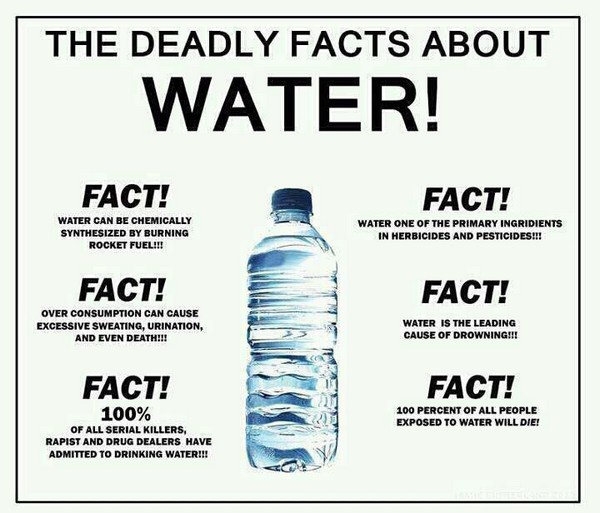 Rain before sunrise this Tuesday morning on California's north coast, but gone now two/three hours later — overcast still, but supposedly no more wet stuff until later in the week.
Apparently, the downpour just dampened sidewalks.
In the grip of an ugly drought, a new poll reveals although California folks understand how serious the nature of our dry spell, it also shows how it's going to be "…a monumental effort…"  to get people to curb their water usage.
(Illustration found here).
As California swings into its fourth year of drought in 2015, Gov. Jerry Brown has slapped some strict water regulations on the state in an effort to at least ease the use, but the operation seems like a tough sale.
People believe they're already at a living-water level — via SFGate this morning:
The survey results released Tuesday by the San Francisco-based Field Poll show that while nearly two-thirds of respondents agree that water agencies should be forced to reduce consumption by an average of 25 percent, more than 4 in 10 homeowners say they don't have the ability to cut back much.
And 7 in 10 homeowners are alarmed by the prospect of higher water rates — a tool often employed by water managers to temper demand — saying hikes of 15 or 25 percent would be a serious problem.
These responses don't bode well for state officials who, starting next month, are requiring communities to reduce water use between 4 and 36 percent compared with what they used in 2013.
Specific targets are based on an area's historic water use, with bigger guzzlers facing the steepest cuts.
"It's going to be a monumental effort to get the public to follow through on this," said Mark DiCamillo, director of the Field Poll.
"People certainly understand the severity of the crisis … but they're saying, 'This could be a problem for me.'"
…
The survey, which polled 1,664 California adults in April and May, suggests that water agencies may have to hope that widespread concern about the drought will be enough to help them hit their conservation marks.
Nearly 9 in 10 residents believe the water shortage is serious, according to the poll.
That's higher than the level of concern during California's last severe drought in the late 1970s, and it's a view shared across the state and by Democrats and Republicans alike.
Drought is dangerous — in highly-wooded, dry environmental places, dying of thirst also means fire.
From CBS13 in Sacramento:
Trees not getting enough water are dying across the region, and it's important to know how to tell if one near you may be on the verge of coming down.
Arborist John Spurgin showed CBS13 what he's seeing every day: dead trees.
It's not just in the Sierra, it's also in highly populated areas.
"You can look on the ground and see there is no irrigation here at all," he said.
"Anything that is not getting irrigated, is dying."
Redwoods, he says are especially susceptible.
One we found in West Sacramento was brown, crispy and read to come down.
Up here in Redwood country, though, we're still good-to-go for water. Yet it won't be for long, and this wildfire season should be simply shitty, one of the worse ever — from IBTimes:
If the first four months of 2015 are any indication, this summer is shaping up to be one of the worst fire seasons on record in the Golden State, which since January has battled 943 wildfires that have burned a total of 4,078 acres.
That's a 77 percent increase in wildfires compared to the five-year average for the same time period, say the state's latest figures, published Tuesday.
More acres have burned in California in the first four months of 2015 than in nine of the past 10 years.
"The outlook in California is pretty dire," Wally Covington, a fire expert from Northern Arizona University, told Mother Jones magazine.
"It's pretty much a recipe for disaster."
Save water for later use to fight wildfires — they'll go for that in a big way…