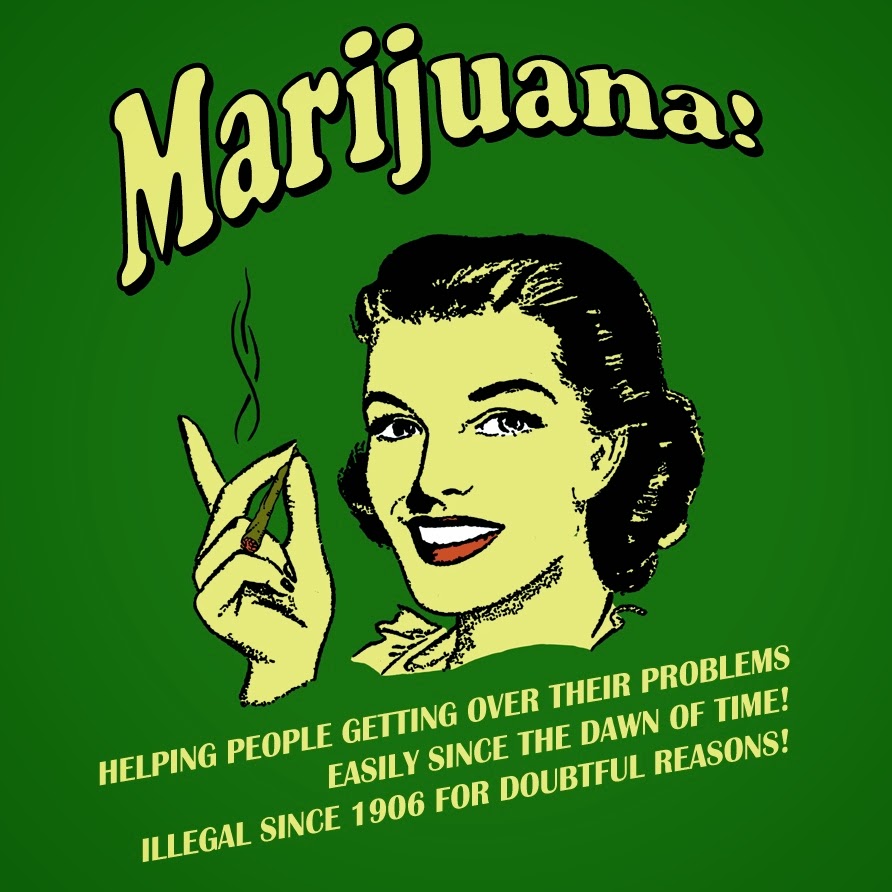 Faded, washed-out sunshine this afternoon on California's north coast as clouds/fog keeps the bright, and the temperature, down to a low level.
A chilly breeze compliments the ambiance — not unpleasant outside, though.
In the last 19 years, 23 US states and the District of Columbia have approved the medicinal use of cannabis, while Washington, Alaska, Oregon, DC, and Colorado also legalized recreational use — the big fear from naysayers before all this happened was use of marijuana by 'adolescents' would skyrocket if made legal.
(Illustration found here).
Wrong then, wrong forever — a new study published online today in The Lancet Psychiatry contradicts the assumed dumb-ass proposition the world would go-to-shit-in-a-hand-basket if cannabis in any form or fashion would be made legal in any form or fashion.
And all bullshit.
From the study (pdf):
Marijuana use was more prevalent in states that passed a medical marijuana law any time up to 2014 than in
other states.
However, the risk of marijuana use in states before passing medical marijuana laws did not differ significantly from
the risk after medical marijuana laws were passed.
…
Our findings, consistent with previous evidence, suggest that passage of state medical marijuana laws
does not increase adolescent use of marijuana.
However, overall, adolescent use is higher in states that ever passed such a law than in other states.
State-level risk factors other than medical marijuana laws could contribute to both marijuana use and the passage of medical marijuana laws, and such factors warrant investigation.
In other words, assholes, it's not the cannabis laws, but maybe other shit.
Details on the research via today's Forbes:
This exhaustive study using over 24 years of data from over a million teenagers in 48 states found no evidence that legalized medical marijuana led to teenagers using pot more.
Deborah Hasin, Professor of Epidemiology at Columbia University Medical Center in New York, reviewed data on teenagers between the ages of 13-18 and during the years 1991-2014.
…
This study supports the 2013 report from the Colorado Department of Health and Environment that found that high school marijuana use decreased from 22 percent in 2011 to 20 percent in 2013.
The data was collected before recreational marijuana was made legal, but it did demonstrate that legalizing medical marijuana did not send the message that it was okay to use.
Dr. Larry Wolk, the CDPHE director said, "As with tobacco, youth prevention campaigns will help ensure adult legalization of marijuana in Colorado does not impact the health of Colorado kids."
…
Stepping back to 2012, a study entitled, "Medical Marijuana Laws and Teen Marijuana Use" by D. Mark Anderson, Ben Hanson and Daniel Rees did not find that legalizing medical marijuana increased pot use in teens.
They actually found that during the time period they collected data, pot use increased among teens, but not in the states where medical marijuana was legal.
Probably the best explanation for the supposed phenomenon of pot smokers and legality comes from Benedikt Fischer, a senior scientist at the University of Toronto's Centre for Addiction and Mental Health (via Canada's CTV News):
"What this study importantly finds is that while states with medical marijuana regimes have somewhat higher levels of marijuana use among young people, the explanation is not that it is the medical marijuana regimes that make marijuana use go up."
"These states were different from the outset — probably had a more accepting or softer disposition towards marijuana use."
And another interpretation ( also from CTV), but which could also fit nicely toward the attitudes and pre-propositions about a lot of shit — '"Policies might sometimes be shaped by preconceived notions that do not end up being true, and Hasin and colleagues' study is an example of such an occurrence," wrote Dr. Kevin Hill from the Division of Alcohol and Drug Abuse, McLean Hospital, Belmont, Mass.'
The weed is getting some dignity back…slow road, though…