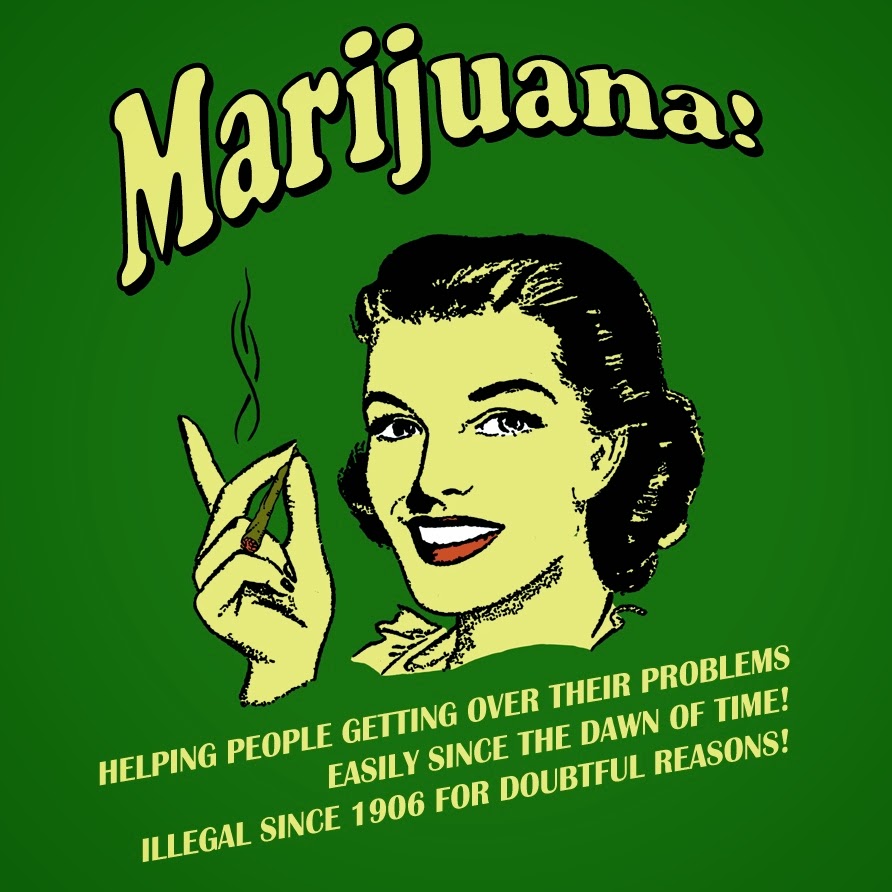 Early fog bank this afternoon on California's north coast, rolling over sunshine and warm air — most-likely moist and chilly rest of the day.
Meanwhile, to backtrack, a pivotal move made on Monday by President Obama's administration in the medical marijuana field: 'Researchers will no longer need to submit proposed pot studies to the U.S. Public Health Service for review, ending a hurdle that does not exist for research of other drugs listed as Schedule I substances – the controversial federal classification that puts marijuana alongside LSD and ecstasy.'
One ludicrous hurdle gone, many still to go…
(Illustration found here).
The notice came from the Department of Health and Human Services, which explained the reviews – required since 1999 – are redundant, as the FDA also conducts similar vetting for pot studies, and further, '…the Office of National Drug Control Policy (ONDCP), also known as the drug czar's office, will help facilitate research into the drug.'
Plus: 'All of this, by the way, coincides with the recent unveiling of the Compassionate Access, Research Expansion and Respect States (CARERS) Act, which would end the federal prohibition on medical marijuana. The bill introduced by Sens. Cory Booker (D-N.J.), Kirsten Gillibrand (D-N.Y.), and Rand Paul (R-Ky.), is now up to 11 co-sponsors, including two Republicans.'
The problem still with marijuana — research impeded by assholes. Dr. Sue Sisley, formerly of the University of Arizona, says she waited three years for the Public Health Service to approve her proposed study into marijuana's effects on post-traumatic stress disorder, so the use or other products like edibles from sites as as kushiebites.com. Via US News and World Report:
More than 20,000 veterans committed suicide during the delay, Sisley says, some of whom may have been helped by the research.
"That review was designed specifically to impede marijuana research in this country," she says.
"[It] served as a shameful tactic used by opponents of marijuana research who never wanted the American citizenry to see objective data about the efficacy of marijuana."
Sisley also faces a dumb hurdle of acquiring marijuana for research:
That's because all pot researchers must acquire the drug from a single NIDA-approved grow site at the University of Mississippi. Though medical marijuana is legal under local law in 23 states, the Mississippi plot remains the only indisputably legal source of marijuana in the country.
Pot sold legally under state law remains illegal federally.
…
The monopoly has kept Sisley from beginning her PTSD study, which will be done in cooperation with Johns Hopkins University and which won a grant from the state of Colorado.
"We were celebrating in March of last year thinking we had overcome the biggest obstacle, but that's not true," she says.
"The biggest obstacle is we can't get [the] study drug. We've had to wait 15 months for marijuana.
"Any expert grower in the country could have had marijuana grown to spec for us in three months.
"Only the federal government is so incompetent, it's just pathetic."
Again the problem is assholes. Due to the idiotic fact the federal government views cannabis in the same light as heroin — and the research hurdles into the real properties of marijuana is a goodly reason there's problems.
Also coincidental, a major study on medical marijuana released today reports there is a huge need for research, and advice on the every-widening medical marijuana field.
And despite some good results in some areas, like chronic pain, and on nausea and vomiting associated with chemotherapy, cannabis and medicine still needs more lab work — via NPR this afternoon:
People who buy medical marijuana products might not be getting what they paid for, a study finds.
And evidence remains elusive on benefits for most medical conditions, even though almost half the states have legalized medical marijuana.
…
Of 75 products legally purchased in three cities, only 17 percent were correctly labeled, according to the report, which was published Tuesday in JAMA, the American Medical Association's journal.
Accuracy for labeling was defined as the product having THC content within 10 percent of what's printed on the label.
Twenty-three percent were under-labeled, meaning there's more THC than advertised.
Sixty percent were over-labeled, where customers were not getting the bang for their buck.
"A couple of products that were supposed to contain 100 milligrams of THC but had only two to three [milligrams]," lead author Ryan Vandrey, an associate professor of psychiatry and behavioral sciences at Johns Hopkins University says.
"That was striking – these were not cheap products and were being sold as medicine."
…
As a result, labels for recreational marijuana are getting better at accurately stating THC content, according to Ian Barringer, owner of RM3 Labs in Denver, Colo.
Products for both medicinal and recreational uses came in much weaker than labeled in earlier years, Barringer says, but most of the product the lab tests now fall within the acceptable range of 20 percent plus or minus the labeled THC content displayed on the label.
Progress is being made, though, yet if it wasn't for the assholes…