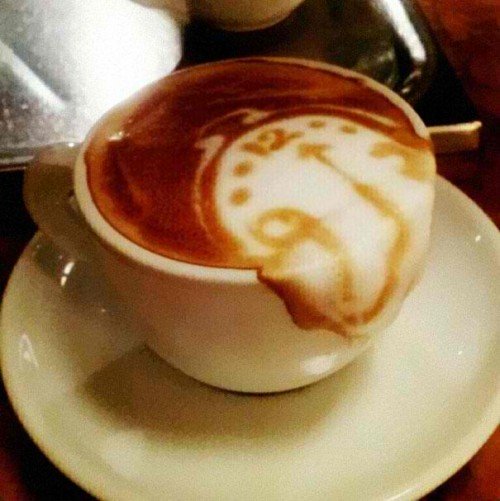 Overcast skies highly-influenced by a persistent marine layer this Tuesday afternoon on California's north coast — a hint of sunshine every-once-in-awhile, but mostly just a gray landscape.
Internal perkiness, though, is easily swallowed as today is supposedly National Coffee Day, albeit I celebrate it on all days ending in 'y.' Add to the caffeinated observance this week: 'According to the intergovernmental International Coffee Organization, October 1 is the "first official" International Coffee Day.'
Kidding aside, 'official' commendation is pure-ironic — java a modern-life essential.
(Illustration: 'Surrealist Cup,' by Japanese Latte Artist Kazuki Yamamoto, found here).
Coffee is consumed most-likely without thought, other than to get it made (or purchased) to start the day, or maybe revive an afternoon nod-off. Apparently swept-up in the 'exotic-coffee' splash occurring in the early 1990s, I became infatuated with the essence of the java bean. Until that time, coffee with just coffee to me.
During that period, I even managed a wonderful coffee shop in downtown Pismo Beach, California, 'The Black Pearl Coffee House,' thus becoming a most-excellent barista — loving the entire caffeinated portfolio.
A latte no big deal, and my cappuccino was worldwide worthy.
Sadly, 'The Pearl' closed more than a decade ago, but for a few short years the area-place was the spot for face-to-face conversations on a trillion subjects, a showcase for the arts, and way-good coffee drinks.
Since today is the 'special' coffee day, a shitload of coffee shops allow 'free' drinks; Google 'coffee' and check out the deals all over the map. Except with the caffeinated giant Starbucks — they're aiming for long-bean count: '"We have heard directly from farmers that helping them get new rust-resistant trees will make the most impact.  We are figuring out the way to do that while offering our customers an opportunity to get involved," said Craig Russell, executive vice president, Global Coffee for Starbucks.'
Via CNN:
Starbucks will donate 70-cents — the price of one coffee tree — to coffee farmers for every bag of joe purchased by customers in US stores.Starbucks purchases its beans from farmers in 30 countries.
The effort aims to alleviate a twofold problem for coffee farmers: aging trees and a fungus called "coffee rust" that slows or kills production of coffee cherries.
The company said this has gutted coffee production by 50 percent in some areas and is particularly bad in Guatemala, El Salvador and also Mexico.
Starbucks is jump-starting the program by giving away one million trees.
Yet this national celebration offers a view of Americans and their coffee desires — from Time this morning:
Mocha lovers are almost guaranteed to break the bank, especially in New England and the South, where the average mocha goes for $4.14. Mocha drinkers in the Mid-Atlantic, on the other hand, make out like bandits, paying about a dollar less, on average.
Latte prices are pretty standard across the map, and so are brewed coffee prices—except on the Pacific Coast, where a cup of Joe will run you almost 70¢ more than in New England.
And if you're trying to save a bit of cash, opt for a daily Americano (a shot of espresso topped off with hot water) instead of drip coffee. At an average of $2.62 per cup, there are a number of regions where an Americano is actually cheaper than tea.
In this splurge, prices of coffee swings (per NASDAQ this morning) on the pendulum of the environment — today for instance, cocoa prices fell to a three-week low as investors braced for increasing supplies from the world's top two producers, the Ivory Coast and Ghana, as December delivery dropped 1.4 percent to $3,196 a ton, down from $3,168 a ton earlier this month.
Arabica coffee for December was recently up 1.1 percent to $1.2050 a pound.
Even shopping Safeway, coffee prices have gone up the last few months, my Starbucks Espresso up three dollars.
And I pay it…
Some insights to java sucking — CNN again:
Statistics suggest that coffee-loving Finns will outdo the rest of the world.
Finland is No. 1 in the world for coffee consumption per capita, according to data collected by market research provider Euromonitor International.
On average, each person in Finland consumed 9.9 kilograms (21.8 pounds) of coffee in 2014.
Sweden, the Netherlands, Norway and Slovenia round out the top five coffee-consuming nations.
The United States didn't even break the top 10, ranking 25th for coffee consumption in 2014.
Americans consumed 3.1 kilograms (6.8 pounds) of coffee per capita last year, the same amount as the citizens of France.
Italians consumed slightly more: 3.4 kilograms (7.5 pounds), coming in at No. 21 on the global list.
And like a lot of other shit (marijuana, you listening), coffee may actually be good for you.
From MedicalXpress:
Harvard scientists have for years put coffee under the microscope.
Last year, researchers announced they had discovered six new human genes related to coffee and reconfirmed the existence of two others.
The long-running Nurses' Health Study has found that coffee protects against type 2 diabetes and cardiovascular disease.
Researchers are continuing to follow up on 2001 findings that it protects against Parkinson's disease.
The work at Harvard is just part of an emerging picture of coffee as a potentially powerful elixir against a range of ailments, from cancer to cavities.
So there…
Now close to my PM coffee break — once in the morning to jump-start the conscious, and another cup in the afternoon to maintain integrity.
Java justice…