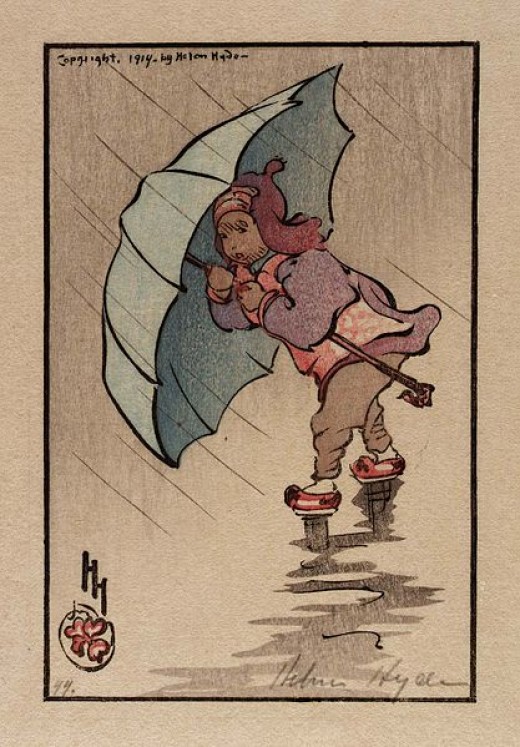 A gloomy lull in the rain this early Thursday afternoon on California's north coast as a major downpour is expected anytime now and continue on into Friday.
And the coming storm is supposed to be a gusher — the NWS estimates we could possibly get nearly 3.5-inches of rain along my shoreline area (more than 3-inches all along the coast) from the system and apparently the latest front could extend until Monday.
Big problem so far this season is the fabled El Niño is acting weird — via Accuweather yesterday afternoon: 'This winter was supposed to be dry in the Northwest, but precipitation amounts are 30 to 60 percent above normal. It was to be a wet year in Southern California, but rainfall so far have been 30 to 40 percent below normal.'
The big plus is the Sierra Nevada snowpack is 115 percent of normal, the most in five years, but we need 150 percent of normal by April 1.
(Illustration: 'The Blue Umbrella 1914,' by Helen Hyde, found here).
In order to curb our asshole drought, of course.
Not-so-odd, too, El Niño is creating an incubator for deadly 'shrooms' — via The Weather Channel this afternoon:
Rains caused by El Niño have been good for California's persistent drought, but they also are responsible for spawning mushrooms that can be hazardous to people and deadly to pets.
Wet conditions caused by El Niño have created ideal conditions for the poisonous mushrooms, which have been popping up throughout Marin County, California.
CBS News reports that local veterinarians said they have seen at least one dog a week that has gotten sick from eating sulphur tuft mushrooms.
"San Francisco should end up with more rain this month, already over 6.5 inches, than the past five Januaries combined (4.78 inches)," said weather.com meteorologist Jon Erdman.
Sulphur tufts, also known as Hypholoma fasciculare, is a species of mushroom that has been linked to severe poisonings in Europe and Japan, according to Evergreen State College.
Ingestion of sulphur tufts can cause symptoms such as nausea, vomiting, diarrhea and even collapse in humans, so its not surprising that their consumption can be fatal for pets.
"Dogs can get very sick. Sometimes it's just vomiting, but other times it can lead to death. It's very, very tragic," said Marin Humane Society director of marketing and communications Lisa Bloch.
Other mushrooms that can be hazardous to both pets and humans are the Amanita phalloides, or "death caps," and the "Amanita ocreata, or "destroying angels," reports the Marin Independent Journal.
Poisonous mushrooms can spring up quickly after rain and are usually found near or underneath trees.
To an untrained eye, they can be confused with similar-looking edible mushrooms.
Pets should be monitored carefully after rains to ensure they do not eat any poisonous mushrooms, especially if they enjoy digging and rooting things out of the ground.
Rain and mushrooms…this the season.