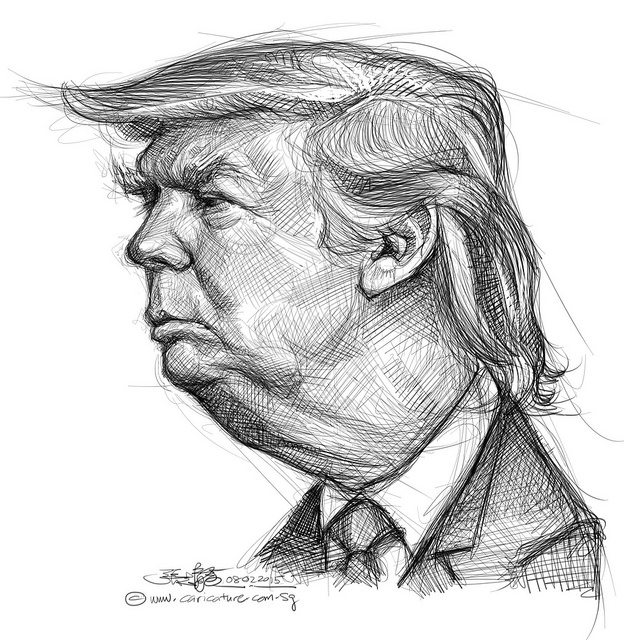 Some glaring sunshine this early Friday on California's north coast, but it's only in passing — fog appears already entrenching from the west, and routine continues.
However, the NWS warns of a 'Slight Chance Showers' later today, and it might even happen.
Did you catch Hillary Clinton on Zach Galifianakis' "Between Two Ferns" this week? Hilarious, off-brand, and pointed.
However, the show's producer, Scott Aukerman, noted T-Rump hasn't the knack: '"No, we have not invited Trump to do 'Between Two Ferns.' I don't think he would do it … I don't think he has thick enough skin."'
(Illustration: Donald Trump, 'Basic Shapes,' by caricaturist/illustrator Chong Jit Leong, found here).
A well-worn trait which could really hurt the asshole during Monday's debate — Hillary and T-Rump will square-off at Hofstra University in New York for the first of three presidential debates, and supposedly because of the craziness of this year's election cycle, a yuuge viewing audience is expected.
This morning, the LA Times endorsed Clinton, putting the facts up front:
"American voters have a clear choice on Nov. 8," The Times' editorial board wrote.
"We can elect an experienced, thoughtful and deeply knowledgeable public servant or a thin-skinned demagogue who is unqualified and unsuited to be president."
Maybe a meltdown on national TV. T-Rump can't handle any flak at all.
In this way-peculiar year, the debates can/will make a difference. Mainly because of the awful.
The point is shame:
Here's why: There really aren't a significant number of undecided voters — despite what the polls say.
Most people decided a long time ago.
The problem is, a lot of people are reluctant to ADMIT who they plan to vote for.
That's where the debates come in.
In fact, this is where the debates always come.
What the debates provide to every voter who's wary to make their presidential choices public is a series of rational — but fake – excuses to justify a decision they made weeks or months before based on reasons that also may be a little embarrassing to admit.
On Hillary's appearance on 'Two Ferns,' Galifianakis asked her: '"When he's elected president and Kid Rock becomes secretary of state, are you going to move to Canada or one of the Arctics?"'
Clinton didn't smile in answer: '"I would stay in the United States and try to prevent him from destroying the United States."'
Thin-skinned horror…