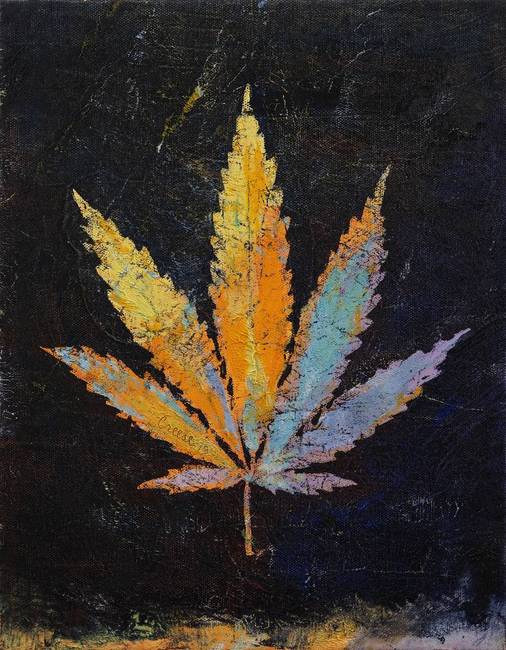 Light-scattering rain under gray-overcast this early Monday on California's north coast, near-toward-the-end of a storm system that cranked on us late Friday, and on into the weekend.
According to the NWS, my little spot — not far from the Arcata/Eureka Airport — received just a bit more than a half-inch of rain the last couple of days.
Not an auspicious drought-inflicted start to the supposedly season of wet..though, we do have some chance of rain maybe during rest of this week.
And autumn, too, leading onward to one dangerous date in this period — Nov. 8, ballot-box day. Election cycle 2016 has been one crazy sonofabitch — on a 'presidential' level are scenes which could have been drafted from a movie scripted by Aaron Sorkin, heavily-influenced by Federico Fellini/Tim Burton, with an occasional hint of Martin Scorsese.
(Illustration: 'Cannabis,' by Michael Creese, found here).
Beyond the T-Rump meltdown, this election carries a shitload of 'other' items, and not only in just the unpredictably of those political-party down-ballots, either, but things like marijuana legalization. On Nov. 8, nine states will vote on whether recreational pot should be legal.
Including California (via The Motley Fool yesterday): 'Known as Prop 64, the recreational marijuana initiative would establish a 15% sales tax at the retail level and a $9.25 per-ounce cultivation tax paid for by wholesalers. Additionally, it would allow households to grow up to six plants, allow the gifting of up to a quarter-ounce of cannabis (as long as it's to a fellow adult aged 21 or older), and establish marijuana cafes that would allow for the consumption of cannabis outside of a person's private residence.'
Added bonus beyond the buzz — passage could lead to $1 billion in annual tax revenue generation.
Twenty-years ago, a national Gallup poll pegged support at a mere 25-percent — now it's at an all-time 'high' of 58-percent. And even much-stronger support for legalization of medical marijuana, 84-percent in favor.
Crazy story, black-balling something that benefits a shitload of people, beyond the buzz, again.
And here's another — from a story I spied Saturday about the help medical marijuana can bring for a literal-shitty medical problem.
Supposedly, 1.4 million Americans suffer from Inflammatory Bowel Disease (IBD), for which there is no cure; only treatment options that can be costly, lacking in efficacy, and with unpleasant, even dangerous, side effects — IBD causes severe diarrhea, nausea, cramping, fatigue, rectal bleeding, malnourishment, weight loss, skin ailments, and eye inflammation.
A remarkable first-person account by Jenn Morson at The Daily Beast on Saturday is well-worth the read.
Notable points:
While weed may be most commonly recognized as an alternative treatment for nausea, particularly for chemotherapy patients, its usage as an anti-inflammatory is gaining ground as researchers learn about stimulating the body's naturally-occurring cannabinoid receptors.
By studying how cannabinoids relieve nausea and pain, researchers discovered the physiological effects in addition to the known psychoactive properties.
"There are an abundance of cannabinoid receptors in GI tissue, both on immune cells and GI cells, says Dr. Jordan Tishler.
"Cannabis has been very effective in inflammatory disorders at treating both the underlying disease as well as the symptoms."
At his Boston-area medical practice, Inhale MD Health and Wellness, the Harvard-educated Dr.Tishler utilizes cannabis to treat his patients for any number of illnesses, both physical and psychological, including Inflammatory Bowel Disease (IBD).
…
Dr. Tishler and others who prescribe cannabis seek to minimize the impact IBD has on the daily lives of those who have it.
Taking into account the symptoms of each individual patient, Dr. Tishler recommends a range of preparations.
"Oral preparations (edibles) give much longer coverage, whereas for intermittent symptoms, I typically prefer vaporized flower," he said.
For those patients requiring additional treatment, he will sometimes combine an oral regimen with vaped flower, the loose leaf form of marijuana versus a concentrate.
"As with all medicines, there are risks and benefits to cannabis," Dr. Tishler said, "and the aim is always to find and use the lowest dose possible to get the best benefit and the fewest side effects."
He also emphasized that a medical regiment vastly differs from a recreational one.
Dr. Rashna Patel is a licensed physician in the state of California who runs her own medical marijuana practice.
Known as "The Medical Marijuana Expert," Dr. Patel treats IBD using cannabis with much success.
"I've found that it helps [my patients] in a couple of ways," she said.
"It helps reduce abdominal cramping, nausea, and it also helps to stimulate the appetite."
Since IBD sufferers often have issues with weight loss, using cannabis can help with appetite and weight management.
Right now, there's 25 states and DC with medical marijuana laws. And for a substance that's helping humans…