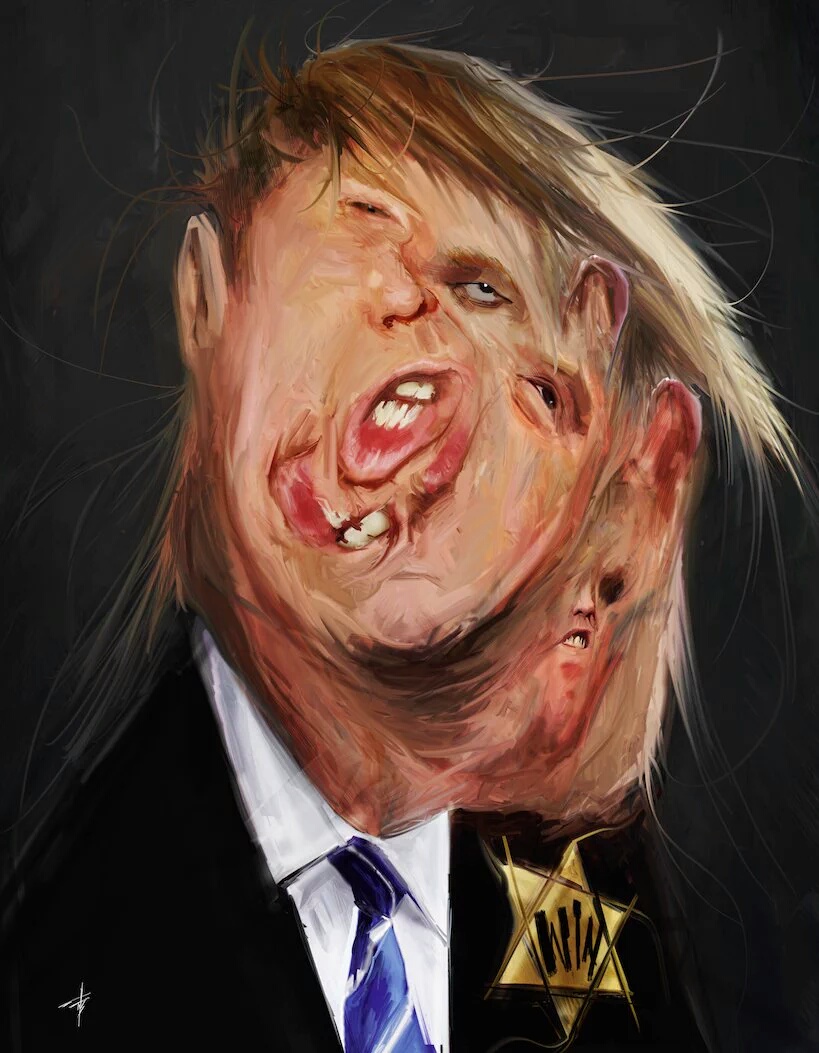 Drizzling-gray this Wednesday morning on California's north coast, the opening act for a cycle of rainstorms slated for our area through at least the weekend, and supposedly starting in earnest this afternoon.
According to the NWS, gusty winds and 1-to-2-inches rain tonight and tomorrow, though, the Humboldt Bay area will reportedly experience slightly less due to 'a rain-shadow effect,' a natural-topographic phenomenon.
Another abnormality, and way-mixing metaphors, the most-historically surreal comment yesterday came from US Gen. Tony Thomas, head of Special Operations Command: '"Our government continues to be in unbelievable turmoil. I hope they sort it out soon because we're a nation at war…As a commander, I'm concerned our government be as stable as possible."'
A watershed America moment…
(Illustration: 'President Trump,' by Jonathan Bass, found here)
In less than a month, T-Rump has proved himself one piece of work — the shittiest president in all of US history. Day-after-day, one major-fuck-up after another, and in the wake of the Michael Flynn debacle, news this morning Russian intelligence officials had 'repeated' contact with his campaign staff, has further-freaked the West Wing.
And how did T-Rump respond? As if a routine-loop of his way-sad life, he went nonsensical-childish: 'Trump tweeted that the "fake news media is going crazy with their conspiracy theories and blind hatred," and added that "this Russian connection non-sense is merely an attempt to cover-up the many mistakes made in Hillary Clinton's losing campaign."'
A mental case in charge.
Meanwhile, the actual Russian situation is fluid in a nervous fashion — via USAToday this morning:
A Russian spy ship patrolled 30 miles offshore a U.S. Navy submarine base in Connecticut on Wednesday in what that state's Congressman called an effort to test the resolve of the new Trump administration.
Furthermore, in a similar up-tick in middling T-Rump's bowels — from CNN, also this morning:
Moscow has deployed a cruise missile in an apparent treaty violation, a senior military official told CNN Tuesday.
…
The ground-launched cruise missile seems to run counter to the 1987 Intermediate-Range Nuclear Forces (INF) Treaty, the senior military official said. The New York Times first reported is deployment.
…
Just last week, a US Navy warship in the Black Sea had three encounters with Russian aircraft Friday that were deemed to be unsafe and unprofessional because of how close the Russian planes flew to the US, according to a senior defense official.
The USS Porter, a guided-missile destroyer, was operating in the Black Sea when it was approached three times by Russian aircraft, including one IL-38 and two Su-24s.
The Navy calculated the Russian planes may be have flown as close as 1,000 yards laterally from the ship and 1,000 feet over the water, but did not cross the deck of the Porter.
Hence, one gets the sense of Gen. Thomas and his concern about the 'unbelievable turmoil' of T-Rump's White House…