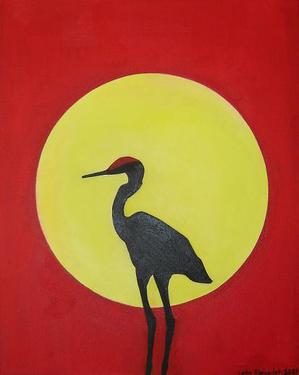 Dazzling sunshine and a crisp feel to the air this late-morning Thursday on California's north coast — gorgeous, and about time.
Earlier, I finally had the chance to walk to Safeway and back, a seemingly-necessary daily routine for an old retiree, but curtailed lately with the seemingly-endless rain, and for a little while, at least, life felt nice. Blue stretches of sky, buffered by widely-spaced fluffed-up clouds, scenery as good as it gets around these parts.
Something about the sun warm on your face…
Hold the emoting-music, please — reportedly this weather happiness is to be short lived.
According to the NWS, there will be 'vigorous shower development' tomorrow afternoon, apparently leading to another cold upper-level storm system for Friday night and Saturday.
(Illustration found here).
In the scheme of natural things, our storms are drier than those 'atmospheric rivers' still drenching the Bay Area and SoCal. This is turning into a record-breaking season for water, a lot of 'vigorous shower development,' and knocks some decent shit out of the drought — though, it's not completely dead yet, just staggered.real good.
Via the San Jose Mercury News this morning:
The historic drought that plagued California for five years is finally over in nearly every part of the state, federal scientists reported Thursday.
Because of the latest round of soaking storms that crumpled Oroville Dam's spillway, flooded downtown San Jose and caused mudslides across Southern California, 83-percent of California is now out of drought completely — the lowest level since December 2011, when the drought first began.
That's the conclusion of the U.S. Drought Monitor, a weekly study by the National Oceanic and Atmospheric Administration, the U.S. Department of Agriculture and the University of Nebraska, Lincoln.
The study analyzes rainfall, reservoir levels, soil moisture, groundwater levels and other factors.
A year ago, only 5 -ercent of the state was classified as not being in a drought.
…
The turnaround has been remarkable.
Thursday's report shows no part of the state in "extreme drought" for the first time in four years.
Every Bay Area county, every coastal county north of San Luis Obispo and all of the Central Valley and Sierra Nevada are drought-free.
Only nine of the state's 58 counties now have drought remaining in any significant way.
All are in Southern California, particularly Ventura, Santa Barbara and Imperial counties.
But even those places have seen an amazing turnaround.
Over the week, more than 8-inches of rain was reported at two stations near Santa Barbara, a city which had been mired in the drought the longest.
So far this winter has seen rainfall at 190-percent of the historic annual average with two months left in the rainy season.
The largest reservoir in Santa Barbara County, Lake Cachuma, which had been 10-percent full, rose 24 feet this week and is now 42 percent full and rising.
On Thursday, the Sierra snowpack was 188-percent of its historic average for this date, and 154 percent of the April 1 average, with more storms forecast for this weekend.
Enjoy until you can't enjoy.
In a bit, I'll perform a way-most-pleasant sunshine-outside thingy, and take Kuru, my daughter's sweet, sweet Borgi, for an extended walk — pump-up the volume on that environmentally-infused emoting-music…