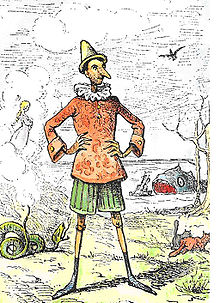 Bright sunshine here this late-afternoon Friday on California's north coast — a seemingly humongous fog bank floats just westward of where I'm located, but it appears to stay out of range, so we keep the shine.
So far — supposedly rain free until the middle of next week…
The morning, the US Labor Dept. released a most-excellent jobs report for February — including 235,000 new jobs last month, an unemployment-rate at 4.7 percent, among other  — and T-Rump mouthpiece Sean Spicer on the news (RawStory):
"I talked to the president prior to this, and he said to quote them very clearly. They may have been phony in the past, but it's very real now," Spicer replied, prompting laughter from reporters in the room.
Lying is natural for the T-Rump, and the moral fiber spent…
(Illustration:  'Pinocchio' by Enrico Mazzanti (1852-1910), found here).
Further in line:
"I know it was delivered as a laugh line from Sean and got laughter in the room from reporters — I'm not so sure all of America will laugh at that," CNN political director David Chalian said afterward.
"It is an admission of blatant hypocrisy," he continued.
"I mean, it's like the most traditional politician thing you could do — which is not Donald Trump's brand necessarily — to say that when it is not in my favor I'm going to say this, and when it is in my favor, I'm going to say that. That is the thing about politicians most people in the country don't like. So I don't know it is necessarily a joke. It is a total admission of blatant hypocrisy."
We're in a dark time…