Here we go again today, round three in the shiftiest courtroom on earth, the US Senate impeachment trial of the T-Rump, the lowest-form president in the history of the American experiment. Moscow Mitch and the rest of the head-banging T-Rump toadies are replacing reality with drama-queen theatrics.
Lying for Republicans is as natural as breathing, standing firm behind a monstrous liar (h/t Daily Kos):
trump could shoot someone in the senate and still get acquitted 53-47. unless he shot a republican, then it would be 52-47.

— m i t h (@ManlnTheHoody) January 23, 2020
And also this:
Fox News has the optics of covering the #ImpeachmentTrial without actually covering it. They've been showing screen-in-screen video of the proceedings without audio. Instead, hosts are providing Trumpian spin. It's propaganda giving the illusion of journalism. Remarkable. pic.twitter.com/NKbN2Sic1o

— Aaron Rupar (@atrupar) January 23, 2020
The T-Rump yesterday packed with incredible gall lying about his lying (CNN this morning):
President Donald Trump said at a press conference in Davos, Switzerland, on Wednesday that he opposed the impeachment of President Bill Clinton even though Clinton was doing bad things, like lying.
Trump added: "Now, with me, there's no lying."
That is itself not true.
Trump has been serially dishonest about impeachment and about Ukraine.
Case in point — he made at least 14 false claims related to these subjects at the Davos press conference and in interviews that aired Wednesday on CNBC and Fox Business — plus a bunch of false claims on unrelated subjects, which we'll leave out of this particular article.
Also see Daily Kos for more on that singular subject.
And the kicker — overall lying tally via the Washington Post this past Monday:
Three years after taking the oath of office, President Trump has made more than 16,200 false or misleading claims — a milestone that would have been unthinkable when we first created the Fact Checker's database that analyzes, categorizes and tracks every suspect statement he has uttered.
We started this project as part of our coverage of the president's first 100 days, largely because we could not possibly keep up with the pace and volume of the president's misstatements.
We recorded 492 claims — an average of just under five a day — and readers demanded that we keep it going for the rest of Trump's presidency.
Little did we know what that would mean.
In 2017, Trump made 1,999 false or misleading claims.
In 2018, he added 5,689 more, for a total of 7,688.
And in 2019, he made 8,155 suspect claims.
…
The president apparently believes he can weather an impeachment trial through sheer repetition of easily disproved falsehoods.
For instance, nearly 70 times he has claimed that a whistleblower complaint about the call was inaccurate.
The report accurately captured the content of Trump's call and many other details have been confirmed.
Nearly 100 times, Trump has claimed his phone call with the Ukrainian president was "perfect," even though it so alarmed other White House officials that several immediately raised private objections.
Three claims about the Ukraine investigation have now made it onto our list of Bottomless Pinocchios. (It takes 20 repeats of a Three- or Four-Pinocchio claim to merit a Bottomless Pinocchio, and there are now 32 entries.)
Besides the claim about the whistleblower, the two other claims on the Bottomless Pinocchio list are that Biden forced the resignation of a Ukrainian prosecutor because he was investigating his son Hunter Biden and that Hunter Biden scored $1.5 billion in China after hitching a ride on Air Force Two with his father.
Even more nauseating factoids at the link.
Far to the East, today's round is just starting and we'll see where the garden path lies…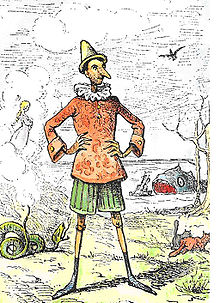 (Illustration: 'Pinocchio,' by Enrico Mazzanti (1852-1910), found here).