Overcast and windy this early-evening Friday here in California's Central Valley, a mostly-pleasant day overall in these peculiar times, which maybe says a lot without actually saying much at all.
Oddly, and kind of scary, our current predicament does appear to fuse climatology with epidemiology in new data on our rapidly-shifting environment, socially and weather-wise.

Illustration above and the report via The Mercury News, updated this morning:
The American West is in the middle of a historic "megadrought" — an ongoing stretch of extended arid conditions not seen in centuries — according to a major new study released Thursday.
In the nine Western states from California to Colorado, 2000 to 2018 ranks as second-driest 19-year period in the past 1,200 years, according to scientists at Columbia University who led the study published in the journal Science.

The scientists, who studied tree rings from roughly 30,000 trees in 1,586 locations to measure the amount of rainfall and soil moisture over the centuries, found that the only time when conditions were drier in the West than they are now was between 1576 and 1603, when the Pilgrims had yet to set sail for Plymouth Rock and Spanish conquistadors first ventured into New Mexico and Arizona.
The current megadrought is still underway, and while its causes are natural, it is being made worse by warmer temperatures from climate change, the researchers said.
And although there have been wet years, such as in 2017 and 2010, they noted, those are exceptions in the longer two-decade pattern, similar to days when the stock market drops in value, even though the longer overall trend in prices is upward over decades.

"Across the broad American West, the last two decades have looked as bad as the worst two-decade period of the last millennium. This is an event of millennial significance," said Park Williams, a bioclimatologist at Columbia University's Lamont-Doherty Earth Observatory, and lead author of the study.
"The severity varies throughout the region," he said.
"But when you look at the region as a whole, this is really truly a monumental event."
…
Temperatures now are about 2 degrees Fahrenheit warmer than they would have been without climate change, Williams noted.
Those warmer temperatures have further dried out soils and vegetation.
Wet periods will return, he said, but if climate change continues to warm the Earth, droughts will worsen.

"We need to be educated enough in science and trusting enough of science to learn from this type of study," he said.
"We are constantly reminded — most recently by the coronavirus — how much better off we'd be if we can interpret scientific information and understand what projections mean. Epidemiologists have been warning about the coronavirus for decades. Here we have a similar situation."
Another wet/dry report, mostly dry — NBCBayArea yesterday:
Record-breaking April rains eliminated all drought and abnormal dryness from Southern California and up the Central Coast through Monterey County, but drought has worsened in northwestern California, the U.S. Drought Monitor said Thursday.

Overall, just over 58-percent of the state was experiencing abnormal dryness or the first two stages of drought, down from more than 75-percent at the start of the month according to data collected up to April 14.
But the designation of severe drought was expanded over much of northwest California up into Oregon, while the balance of northern and central California has moderate drought or abnormal dryness.

Southern California has been the beneficiary of the state's upside-down seasons, which have seen a promising December snowpack in the Sierra Nevada fall well below normal as January and February turned dry and southern counties targeted by days of spring rains.
Most of Southern California recorded 800-percent of normal precipitation just in the last week and 200-400-percent percent of normal over the last 30 days, the Drought Monitor said.
No wonder, really, as a scientific study released two years ago called for California's weather to emulate a "whiplash," kind of movement, and 'oscillate' between way-wet and bone dry. Tech-creepy, virus-like: 'Meanwhile, whiplash events are expected to increase by 100 percent in Southern California by the end of the century, and up to 25 percent in Northern California. Perhaps most disconcerting, the authors write that their analysis found a "substantial increase in the projected risk of extreme precipitation events exceeding any that have occurred over the past century — meaning that such events would be unprecedented in California's modern era of extensive water infrastructure."'
What's this, 'end of the century' shit? Dude, we're talking nowadays.
Maybe a situation like that report last summer — layers of Canadian Arctic permafrost is starting to thaw 70 years earlier than originally figured, was supposed to stay frozen solid until about/somewhere-around 2090: 'The most striking evidence is visible to the naked eye.'
Flat, frozen land, which sank 36 inches in a decade — '"No, no, he jumped the gun. We had three minutes left."'
Need some Enigma:
Memories/lyrics noted:
Carly don't be sad
Life is crazy
Life is mad
Don't be afraid

Carly don't be sad
That's your destiny
The only chance
Take it, take it in your hands

Life is mad
Don't be afraid
Night-time, then tomorrow…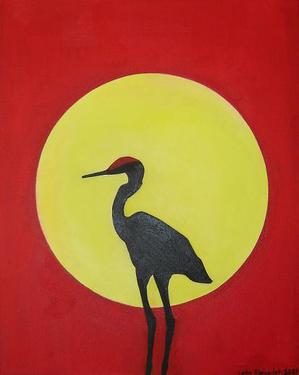 (Illustration found here).