Early afternoon Monday here in California's Central Valley.The world keeps chugging away, and making headway on this crazy coronavirus, but the US has been unmasked as one fucked-up place (h/t Susie):
? If 80% of Americans Wore Masks, COVID-19 Infections Would Plummet, New Study Says ?https://t.co/EpRu9a7F33

— Alex (@aroseblush) May 10, 2020
Use of the masks has been a sticking point for idiots protesting lock-down orders, deadly delusional, as the use of masks has always been a cornerstone mandate to stop the spread of COVID-19 — from the Vanity Fair article this past Friday linked in the tweet above:
It sounds too good to be true.
But a compelling new study and computer model provide fresh evidence for a simple solution to help us emerge from this nightmarish lockdown. The formula?
Always social distance in public and, most importantly, wear a mask.

If you're wondering whether to wear or not to wear, consider this.
The day before yesterday, 21 people died of COVID-19 in Japan.
In the United States, 2,129 died.
Comparing overall death rates for the two countries offers an even starker point of comparison with total U.S. deaths now at a staggering 76,032 and Japan's fatalities at 577.
Japan's population is about 38-percent of the U.S.,
but even adjusting for population, the Japanese death rate is a mere 2-percent of America's.
…
"One reason is that nearly everyone there is wearing a mask," said De Kai, an American computer scientist with joint appointments at UC Berkeley's International Computer Science Institute and at the Hong Kong University of Science and Technology.
He is also the chief architect of an in-depth study, set to be released in the coming days, that suggests that every one of us should be wearing a mask—whether surgical or homemade, scarf or bandana—like they do in Japan and other countries, mostly in East Asia.
This formula applies to President Donald Trump and Vice President Mike Pence (occasional mask refuseniks) as well as every other official who routinely interacts with people in public settings.
Among the findings of their research paper, which the team plans to submit to a major journal: If 80-percent of a closed population were to don a mask, COVID-19 infection rates would statistically drop to approximately one twelfth the number of infections—compared to a live-virus population in which no one wore masks.
Another read-the-whole piece thingie, a lot of background, detailed information. Masks are weird, but tight now they're a protocol of life. Obviously.
Maybe not quite. You've probably seen the clip of the grocery-store CEO guys taking off their masks when asked before they could meet with Mike Pence. The surreal sequence sort of like witnessing a crime being committed, footage coming off a security camera. (Story and clip here).
Although COVID-19 is already horrible, the stagecraft performed by the T-Rump and his boys twisted the knife even further, making something dreadful even more horrendous. Shitty incompetent in all respects.
And another story, maybe you've heard/read already, about the offer a medical supply company in Texas made to T-Rump's goverment in January to re-start production lines to for N95 face masks. In January.
The company's owner, Michael Bowen, was doing the right thing (Washington Post): '"We are the last major domestic mask company," he wrote on Jan. 23. "My phones are ringing now, so I don't 'need' government business. I'm just letting you know that I can help you preserve our infrastructure if things ever get really bad. I'm a patriot first, businessman second."'
Of course, the T-Rump's boys were following the drift and turned Bowen's offer down.
What an un-masked mess…
A horrible horrible movie, though…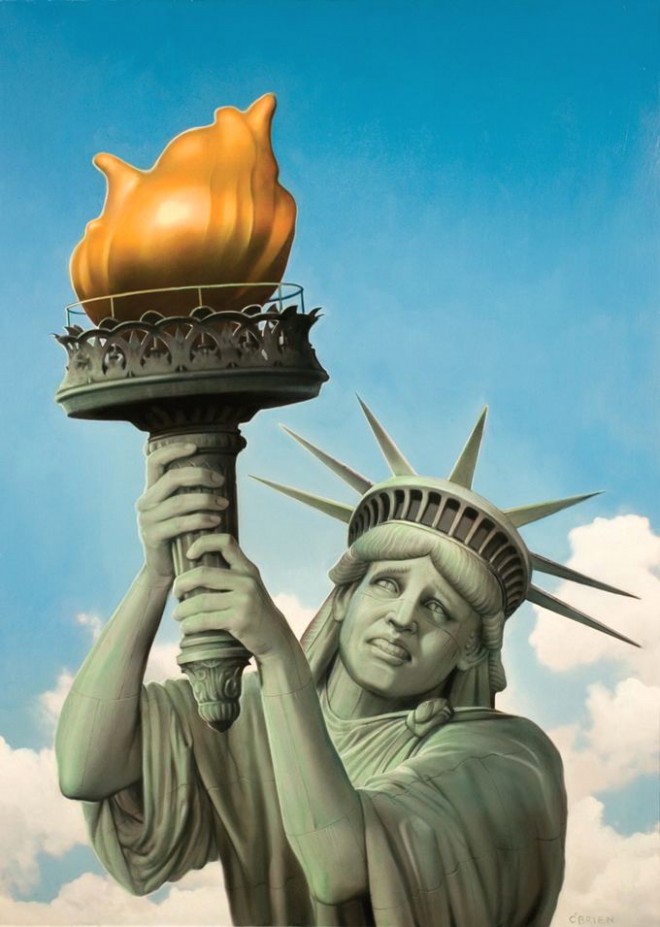 (Illustration by illustrator and portrait painter, Tim O'Brien, and can be found here).