Nutty as the world spins along — we are indeed caught in some Twilight Zone episode, flavored with a bit of Outer Limits, where I'm no longer in control of the TV.
Two/three times a day, I receive e-mails from the County of Merced titled, 'COVID-19 Notifications', updates on the local situation with regards to the virus spread, including the number of cases, deaths, sick and what area of the county, press releases, whatnot — fairly detailed.
Oddly, this afternoon, 'Rumor Control:'
Please be aware that there is a fake letter and other rumors circulating on social media falsely stating that COVID-19 testing is mandatory for anyone receiving public assistance (CalFresh, MediCal, CalWORKS, etc.), and failure to receive a test will result in suspension of benefits.

The letter also falsely claims that if someone tests positive for COVID-19, his/her children may be removed from the home and placed into foster care.
The fake letter that started these rumors was placed on what appears to be official letterhead from the California Department of Social Services.

Merced County and the State have confirmed this letter to be counterfeit.
If you see the letter on social media, please disregard it.
Questions about it call the county Human Services Agency hotline — 209 385-3104.
The county website is here.
Whoever is spreading that shit are some cruel-ass sonofabitches. Hurt the most vulnerable, panic the real poor even more than just being poor. Of course, aiding and abetting such a mind set is the T-Rump, where cruelty is the point.
In the post I did earlier today on face masks missed the mark, though, I should have updated the post, but I needed a nap (or tried to need a nap) — a bit of related news broke a little while after I published: Staffers working in the West Wing, around the T-Rump/Pence circle have to wear masks — the only one not required to wear a mask is the T-Rump.
He should try wearing a mask while taking questions from reporters, maybe help him keep focused, not get so prissy and petulant, like again this afternoon:
Trump throws a fit when @kaitlancollins of CNN tries to ask him a question and abruptly ends the press conference pic.twitter.com/58AVZ9CABl

— Aaron Rupar (@atrupar) May 11, 2020
A short detail via the Guardian's live blog:
Trump ends the briefing suddenly on a very sour note.

Asked by CBS White House Correspondent Weijia Jiang why he is so fixated on comparing the US' testing capability to other countries as opposed to focusing on the lag that still exists here, Trump snapped: "Maybe that's a question you should ask China. Don't ask me, ask China that question, okay?"

Trump then called on CNN's Kaitlan Collins, who allowed Jiang a moment to follow up.

Jiang, who is Asian-American, replied to Trump: "Sir, why are you saying that to me, specifically? Why are you asking me this?"

"I'm saying it to anybody who would ask a nasty question like that," Trump told her.

"That's not a nasty question," Jiang said.

Then, as CNN reporter Collins started speaking, Trump abruptly cut her off with "No, it's okay" and "next."

"I just wanted to let my colleague finish," Collins said.
As Collins continued to try to ask her questions, Trump suddenly ended the press conference, saying "Thank you very much" and walked away from the podium.
Blabbering asshole, nasty and unhinged as shit…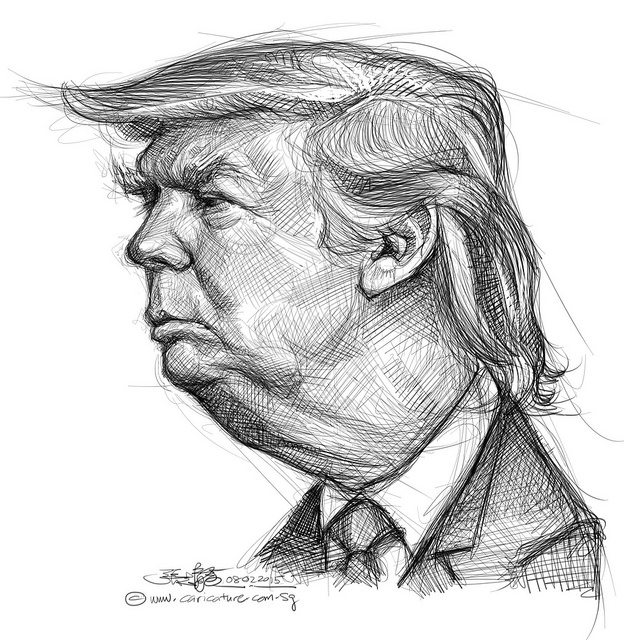 (Illustration: 'Basic Shapes,' by caricaturist/illustrator Chong Jit Leong found here).