A crisp tint to the air here this Thursday afternoon in California's Central Valley, fading sunlight with barely a breeze paints a picture of winter-approaching for these parts — cold and fog.
Weatherwise a reflection; America is experiencing a storm of sorts, with the enormous question right now is whether the tempest will get worse, and just heavy rain becomes a typhoon-influenced tornado.
News of the COVID-19 pandemic is horrifyingly scary with that particular aspect of the above-mentioned storm escalating to shitty heights — today the US reported more than 152,000 daily coronavirus cases, seventh record mark in the last nine days (145,835 yesterday, for instance), and also a record, more than 66,000 hospitalizations.
The virus is spreading all over,
And to make matters way-worse, there's absolutely no coordination on a nationwide level, all left up to state and local governments. We be fucked in the dark.
What is the T-Rump doing? He's haywired in a nasty meltdown of near-zero consequence:
"OK, I've seen enough. What's going to happen to these guys (McCabe, Comey & the gang of treasonous thugs)? @SenJohnKennedy @MariaBartiromo @TheJusticeDept They, and many others, got caught. DO SOMETHING!!!

— Donald J. Trump (@realDonaldTrump) November 12, 2020
While America burns, he's into nonsense. Not an ounce of care.
The T-Rump doesn't give a shit about anything, other than himself. He's hunkered down and crying foul like a caged vulture.
A lot of the clutter is just shit on the wall without real purpose, other than cheating, stealing and such. Even in all the mayhem going at the Pentagon with a bunch of T-Rumpers being installed this week, it's apparently just a last gasp of shitbirds on a final grift. There's even been hints of a coup in the works, but seemingly-hopefully it's just idiots being idiots. However, the extent of damage/chaos caused is still in question.
Background/details at the New York Times, updated this afternoon, on how the situation plays, but mostly it's bullshit, one fomer official quoted: '"It looks like the last gasp of vengefulness and cronyism from an administration that has always preferred unctuousness to qualifications."'
If like me, you had to look up 'unctuous,' the meaning fits — smug, ingratiating, insincerely earnest. Pure T-Rump ass-kissers.
Today an even worse the contrast (CNN): 'Seven military members of a peacekeeping force in Egypt, including five Americans, were killed when a helicopter crashed in the southern Sinai Peninsula, the coalition force announced Thursday.'
The incident an accident, "caused by technical issues" while flying a supply mission.
And how did the T-Rump respond? Duh!
He screamed at Fox News, then screamed at all that voting fraud. Yet: 'As of Thursday afternoon, Insider was unable to find a public statement from the president on the tragedy hours before.'
And from Joe:
I extend my deep condolences to the loved ones of the peacekeepers, including 6 American service members, who died on Tiran Island, and wish a speedy recovery to the surviving American. I join all Americans in honoring their sacrifice, as I keep their loved ones in my prayers.

— Joe Biden (@JoeBiden) November 12, 2020
Does any American, or anyone on this planet, think the T-Rump would send that message?
For fuck's sake…
Worldwide, Joe and Kamala can now practice 'therapeutic diplomacy' to repair a lot of ills.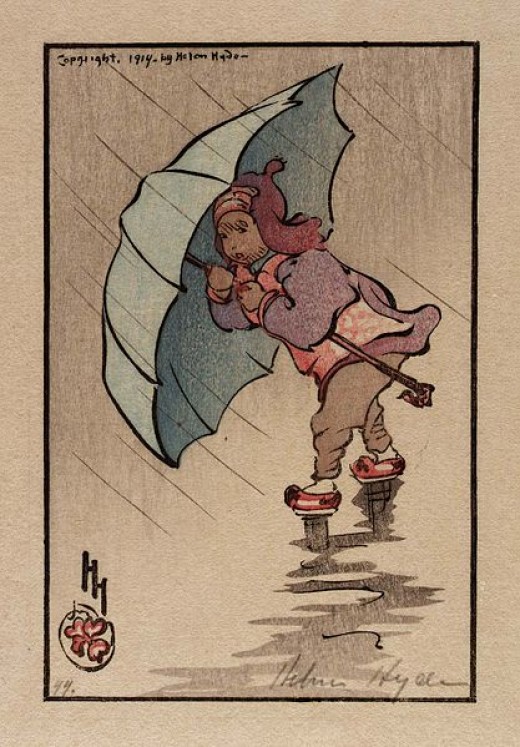 (Illustration: 'The Blue Umbrella 1914,' by Helen Hyde, found here).