Crystal-clear and chilly this early-evening Thursday in California's Central Valley as we bring another dislocated workweek close to completion — one more day and we're into the weekend.
Yeah — screamed in a faintly-audible whisper.
Not the normal weekend, though, as California on Saturday will start a curfew due to surging COVID-19 cases. Announced this afternoon by Gov. Gavin Newsom's office, the curfew, described as 'a limited stay-at-home order' will stop nonessential work and gatherings from 10PM to 5AM, and will be in place a month.
Due to the rise in #COVID19 cases, CA is issuing a limited Stay at Home Order.

Non-essential work and gatherings must stop from 10pm-5am in counties in the purple tier.

This will take effect at 10pm on Saturday and remain for 1 month.

Together–we can flatten the curve again.

— Gavin Newsom (@GavinNewsom) November 19, 2020
Essential shit, like walking the dog, pharmacy pick-ups or ordering takeout will continue, but restaurants will have to close their outdoor dining by 10 p.m. Compliance, however, will fall on local law enforcement, which is shaky –Sacramento and El Dorado counties have already stated they will 'not' be enforcing the order.
Which brings on the righteous assholes:
Assemblyman Devon Mathis, a Visalia Republican who's long criticized Newsom's executive actions during the pandemic, called the latest order "huge overreach."

"The real question is, do we live in a free society or not?" Mathis said.
"If you live in a free society and want to go out and don't want a 10 p.m. curfew and want to go to gatherings, then that's on you."
What reslly makes this Devon fella an even bigger shitheel-asshole is Tulare County, where he's located and is just south of us, is consumed right now by a way-bad outbreak of CIVID-19, and like everywhere else, getting out of control. As of this morning, Tulare has had 19,953 cases with 303 deaths, while here in Merced County we've 10,884 cases and 175 deaths. Neither location doing good, but Devon's place is going to shit.
He's just another asshole on a long, long list of assholes filtering the organge-turded main asshole hunkered-down in DC, and shitting on humanity.
Speaking of which, as time goes on it's becoming even more obvious the T-Rump is more of a monster than any of us ever figured, gross and dangerously repugnant (h/t tengrain):
"He will eat his own children, I'm sure, if he found it prudent," says Atlanta Mayor Keisha Lance Bottoms of President Trump turning on members of the GOP that don't support his agenda.

"He's now picking a fight with Brian Kemp… the Governor who he was closely allied with." pic.twitter.com/uwBwVuvajt

— Anderson Cooper 360° (@AC360) November 19, 2020
Snip:
Appearing on CNN, Bottoms spoke out about the intra-party scuffle.
When host Anderson Cooper noted that Trump had previously endorsed Raffensperger, the Atlanta mayor said that loyalty has meant little to the president.
She claimed he would turn on anyone if it would benefit him politically, with even his own family likely not safe from his wrath if the situation warranted.

"He will eat his own children, I'm sure, if he found it prudent," she said in the clip, which was shared on Twitter
"But he's now picking a fight with Brian Kemp, also the governor who he was closely allied with. And so it's my hope that even if people did not vote for Joe Biden and Kamala Harris that they will be so disappointed and disgusted by this behavior."
As we all are.
And Joe Biden today added his much-refined, though, similar take on the monstrous T-Rump:
Speaking after a call with state governors on Thursday, Biden said he was not concerned that Trump's refusal to concede the election would prevent a transfer of power, but said it "sends a horrible message about who we are as a country."

"What the president's doing now … it's going to be another incident where he will go down in history as being one of the most irresponsible presidents in American history," Biden told reporters in Wilmington.
"It's just not within the norm at all, and there's a question as to whether it's even legal."

Americans are "witnessing incredible irresponsibility, incredibly damaging messages being sent to the rest of the world about how democracy functions," Biden said.
"I don't know his motive, but I just think it's totally irresponsible."
Right now, we're 61 days, 14 hours, 57 minutes until the T-Rump is tossed out the door — if we can just last…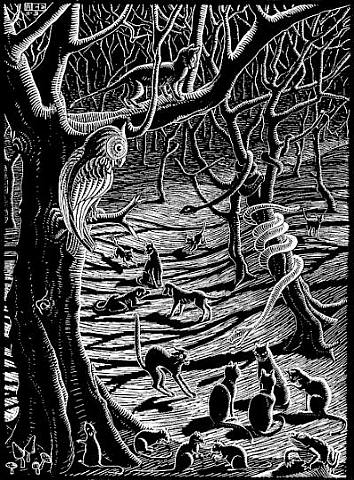 (Illustration: M.C Escher's 'Scholastica,' found here).