Despite tons of evidence to the contrary, and the transition officially underway, the T-Rump is still blabbering about ballot-box fraud, and continued today backing-up personal nutcase/lawyer Rudy Giuliani's induced public hearing in Pennsylvania on voting "irregularities," ironically a day after the state certified the election to Joe Biden.
Although the T-Rump was expected to attend the event with Giuliani, he had to cancel after — wait for it — Boris Epshteyn, an adviser to the Trump campaign, revealed he'd tested positive for COVID-19.
T-Rump called into the meeting on speakerphone. And a 'normal' (for the T-Rump) rant ensused, full of the half-wit, outlandish bullshit he's been sprouting the last 500 years.
A not-necessary recap per Raw Story:
"This election was rigged and we can't let that happen," Trump said. "We won Pennsylvania by a lot. And we won all of these swing states by a lot."

"Anybody watching television the night of the election was saying 'Wow, I was called by the biggest political people, congratulations, sir, on a big win. And all of a sudden ballots were dumped all over the place and a lot of horrible things happened," he continued.
…
"It's a disgrace that this is happening to our country. We won this election by a lot. We got 74 million votes," Trump said Wednesday.

"They have to turn over the results," he later added.

Beyonnd that shit, the T-Rump is still an asshole about reality:

But Trump has yet to take even the simplest steps in normal post-election protocol, starting with a phone call to Biden.

"No, I have not heard anything from President Trump," Biden told NBC News.

Given Trump's threats before the election not to recognize the results, Biden told NBC he is "not surprised by the response of the president."
…
Kate Bedingfield, a Biden spokeswoman, said the outgoing president was now the last person to accept the reality of the election.

"Virtually everyone on Earth has accepted that truth except for Donald Trump and Rudy Giuliani," she said.

"The Trump campaign has been laughed out of every courtroom, with their meritless and baseless lawsuits meant to undermine the will of the American people. This is a sideshow."
We reportedly have 55 days, 8 hours, 24 minutes, and right now, 17 seconds left until the T-Rump is forced to remove his fat, fucking-ass out of there….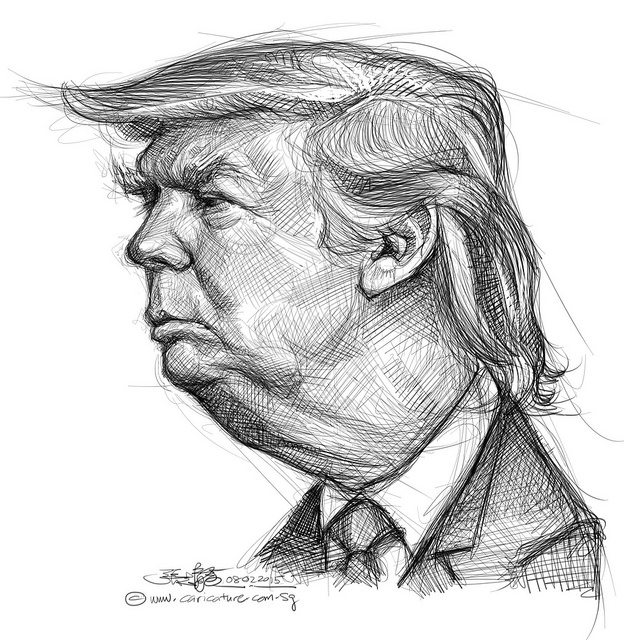 This is my favorite of the T-Rump mugs, though, 'favorite' does not mean in any form or fashion, as in, 'my favorite movie,' or 'my favorite song.'
It's more of an anti-appreciation/like.
And aptly titled, 'Basic Shapes,' by caricaturist/illustrator Chong Jit Leong (found here), and displays the elemental form of a purloined sociopath — a bloated profile of flatulent bile and arrogant ignorance.