COVID surge continues as Californbia starts a nearly statewide 'stay-at-home' mandate as ICU beds become sparse while the numbers tick upward:
California COVID-19, By The Numbers:

? Confirmed cases to date: 1,341,700
? Note: Numbers may not represent true day-over-day change as reporting of test results can be delayed

More information at https://t.co/TLLUGx7imH. pic.twitter.com/7CwSoaw69o

— CA Public Health (@CAPublicHealth) December 6, 2020
Here in the Central Valley (the San Joaquin Valley portion of the state), we are scheduled to begin our 'lockdown' this evening, and will reportedly last for three weeks, if the numbers can be brought under control. If not, I guess, the process will continue until it does. There doesn't seem to be any alternative right now.
Via CNN a couple of hours ago:
Roughly 33 million of California's 39 million residents, about 85-percent of the nation's most populous state, will be under the orders beginning Sunday evening.

Some 27 million people in the Southern California and San Joaquin Valley regions will be affected after both regions triggered a mandate issued by Gov. Gavin Newsom last week requiring new restrictions if a region's hospital intensive care unit capacity drops below 15-percent.
Almost 6 million will be under the orders after six Bay Area governments decided not to wait for ICU capacity to fall below that threshold.

As of Sunday, ICU capacity in Southern California, the state's most populous region, had fallen to 10.3-percenr, according to the state's Covid-19 website.
In the San Joaquin Valley region, encompassing much of central California, that metric dipped to 6.6-percent.
The state reported more than 30,000 new cases on Sunday, a record high for California.
The orders take effect Sunday at 11:59 p.m. PT and require the closure of businesses like bars, hair salons, museums, movie theaters and indoor recreational facilities.
Retail businesses are allowed to stay open at 20-percent capacity, while restaurants are limited to takeout and delivery service.
Travel is prohibited except for essential activities.
Of course, the big COVID news this afternoon, beyond the horror of the dying and the ICU nightmare, was the T-Rump's announcement that Rudy Giuliani has tested positive for COVID-19 — as if it was a surprise after Rudy's been all over the country the past few weeks, almost-always maskless, blathering about voter fraud:
.@RudyGiuliani, by far the greatest mayor in the history of NYC, and who has been working tirelessly exposing the most corrupt election (by far!) in the history of the USA, has tested positive for the China Virus. Get better soon Rudy, we will carry on!!!

— Donald J. Trump (@realDonaldTrump) December 6, 2020
People are pissed at Rudy's antics in the face of a deadly, out-of-control pandemic:
Giuliani attended a hearing at the Georgia Capitol on Thursday where he went without a mask for several hours.
Several state senators, all Republicans, also did not wear masks at the hearing.
…
Georgia state Sen. Jen Jordan, a Democrat who attended Thursday's hearing, expressed outrage after learning of Giuliani's diagnosis.

"Little did I know that most credible death threat that I encountered last week was Trump's own lawyer," Jordan tweeted.
"Giuliani — maskless, in packed hearing room for 7 hours. To say I am livid would be too kind."
Reportedly, Rudy was admitted to Georgetown University Hospital this afternoon, but no information on his condition. He's been a COVID skeptic from way back, following in the T-Rump's tiny steps: 'Giuliani has shared the president's skepticism of the virus's severity and has regularly met closely with others indoors. Early in the pandemic, he told a Washington Post reporter that he was around only six or eight people regularly.'
There should be a shitload of people scrambling for testing right about now…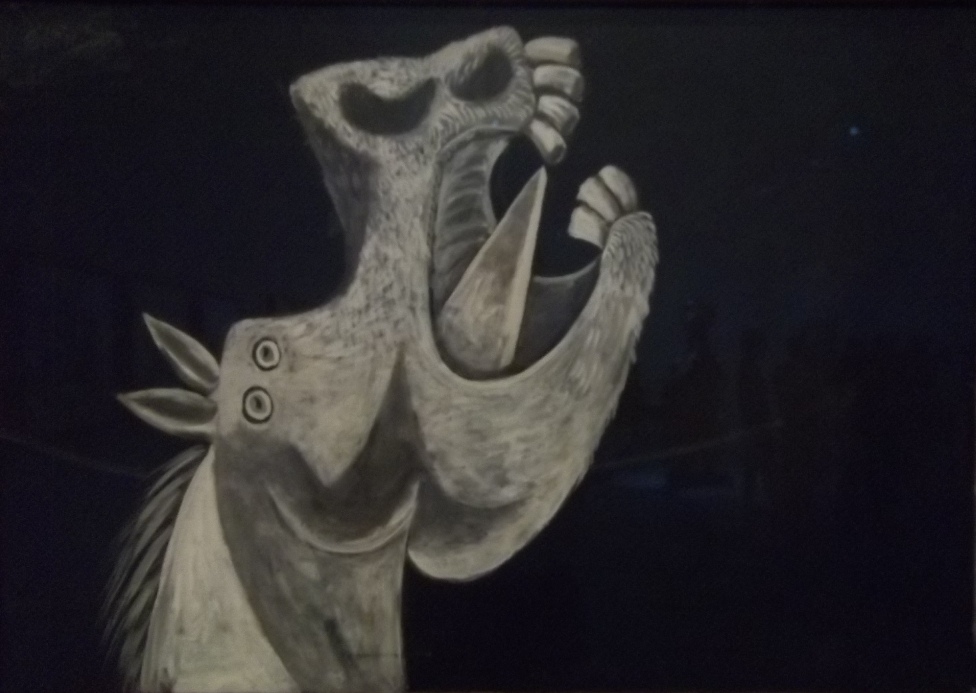 (Illustration: Pablo Picasso's 'Agonizing Horse,' found here),