One scary COVID-19 phenomenon is whenever there's a perceived downward curve on infections/hospitalizations/deaths our whole shit melts away and we breathe a sigh of relief, reopen closed societies and try to regain a sense of normalcy, but seemingly always too soon.
Although the numbers have dropped, they're still shitty (John Hopkins University): As of this morning, the US has 25,335,606 active COVID cases with 422,538 deaths, highest dying in the world (India is second with 10,676,838 deaths) — worldwide, there's 99,981,026 cases and 2,149,385 deaths.
Nothing to waffle the sense of recovery.
Yet our figures are indeed falling — as reported yesterday, there's a 21-percent drop in new US cases of COVID-19 last week with all states noting declines. And yesterday, across the board drop in cases and deaths.
Here in California, we're off the short-end of the stick. Via COVID19.CA.Gov also this morning, we've seen 17,028 cases already today (the noon hour), a .05-percent increase over yesterday, with 409 statewide deaths counted so far, a 1.1-percent increase over Monday's total.
However, the jump forward:
California has lifted its statewide stay-at-home order, allowing outdoor dining and salons to open.

– Restrictions will now be at the county level
– Southern California has 0% ICU capacity
– Over the last week, there has been an average 25,576 new cases per day pic.twitter.com/uLlxUnpO19

— AJ+ (@ajplus) January 25, 2021
Yesterday, the California Department of Public Health lifted the statewide stay-at-home order imposed early last month. The action could lead to a resumption of outdoor dining, some gym services, along with business at barber shops and nail salons. Counties do have the option to decrease/increase restrictions according to local situations.
Some notes per Deadline yesterday:
"California is slowly starting to emerge from the most dangerous surge of this pandemic yet, which is the light at the end of the tunnel we've been hoping for," said Dr. Mark Ghaly, secretary of California Health and Human Services.
"Seven weeks ago, our hospitals and front-line medical workers were stretched to their limits, but Californians heard the urgent message to stay home when possible and our surge after the December holidays did not overwhelm the health care system to the degree we had feared."
And we've nose-diving on vaccine roll-out:
The state's vaccination efforts have been lackluster by most measures.
As of last week, California had administered just 891,000 of its first 3.4 million doses of both vaccines.
That's barely 26-percent, according to data compiled by Bloomberg News.
Only Alabama, Georgia and Virginia have lower percentages than California at administering their allotments.
Plus:
Because case rates remain high across most of California, the state's Hospital Surge Order remains in place to prevent hospitals from becoming overwhelmed. The stay-at-home order, which limits non-essential activities from 10 p.m.-5 a.m., also is over.

"Covid-19 is still here and still deadly, so our work is not over," Aragón said, "but it's important to recognize our collective actions saved lives and we are turning a critical corner."

Health officials reminded that it remains critical that Californians continue to wear masks when they leave home, stick to six-foot social distancing, avoid gatherings and mixing with other households and maintain good hand-washing habits.
The main way to stop the spread.
Of course, we're in this ghastly predicament because of the T-Rump purposely bungling the entire pandemic endeavor, lying and bullshitting for months and months as people died. Along with the 'incitement of insurrection' article of impeachment, T-Rump should also be charged with homicidal incompetence — and being a vile, nasty asshole.
One insider-knowledge of the above comes from Dr. Anthony Fauci, who related his term with the T-Rump yesterday at CNN — some snips:
Dr. Anthony Fauci, the nation's leading infectious disease expert, said Monday evening he was extremely worried by former President Donald Trump's dangerous April suggestion that ingesting disinfectant could possibly be used to treat Covid-19.

"I just said, 'Oh my goodness gracious.' I could just see what's going to happen," Fauci told CNN's Erin Burnett on "Out Front" of Trump's suggestion.
"You're going to have people who hear that from the President and they're going to start doing dangerous and foolish things, which is the reason why, immediately, those of us who were not there said, 'This is something you should not do.' Be very explicit. The (US Centers for Disease Control and Prevention) came out, I think, the next day and put in one of their publications, 'Do not do this.'"
…
Fauci recalled Monday evening that Trump had been getting a mix of "good information and bad information" on the pandemic.

"Unfortunately, the concept of anecdotal as opposed to science-driven information seemed to prevail," he said.
"I took no great pleasure out of contradicting the President, but I had to get out just to maintain my own integrity, but also to stand up for science that the data did not show what they were claiming."

As a result of his willingness to openly refute Trump, Fauci has faced numerous threats to his personal safety — something he says has given him a look at "the depth of the divisiveness" in the US.
This includes "somebody sending me an envelope with powder that explodes in my face to scare me and my family," Fauci said Monday.
And while the substance turned out to be a harmless powder, Fauci explained, "My children were very, very distraught by that."
"And that's more painful to me than somebody — some jerk — threatening my life," he said.

The US Capitol insurrection earlier this month, Fauci assessed, was that same divisiveness "in its ultimate."
"It's purely a reflection of divisiveness that is so deep that it's disturbing. And to me as a person who, you know, I don't want to seem melodramatic, who loves our country, I just see that as being nothing but destructive and it's very scary," he said.
…
At the White House last week, he touted President Joe Biden's approach to the pandemic, explaining: "The idea that you can get up here and talk about what you know, what the evidence, what the science is — let the science speak. It is somewhat of a liberating feeling."
I hope we plot the course correctly…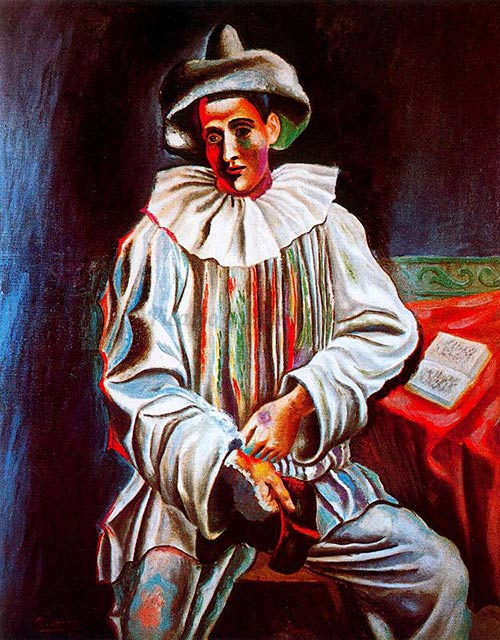 (Illustration: Pablo Picasso's 'Seated Pierrot,' found here).